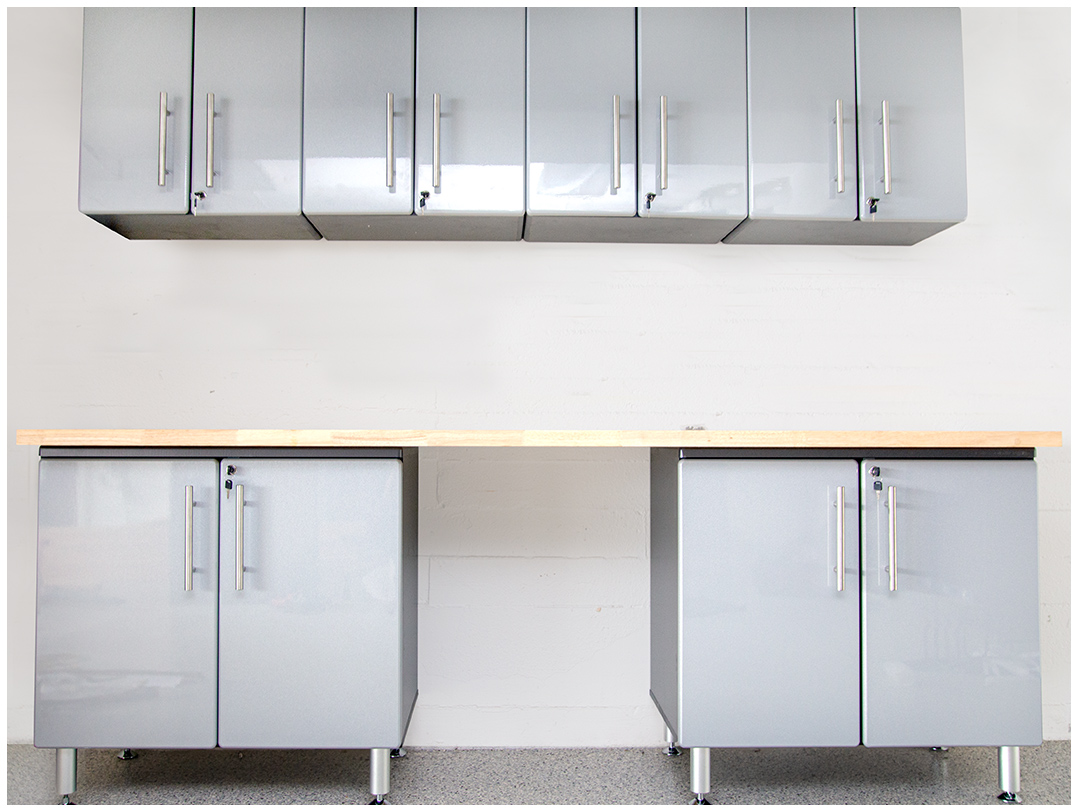 Just like with fast fashion vs. high fashion, recognizing whether to scrimp or splurge on garage cabinets can be tricky when looking to upgrade your garage in
Beverly Glen
. Are cheap garage cabinets worth the hours if not days of searching? Or should you invest in something custom and long-lasting? To help you answer that question, our Garage Excell experts have broken down the best approach to cabinet shopping in this post.
Are More Expensive Garage Storage Cabinets Worth the Cost?
Whether you're buying cabinetry or a car, remember, you get what you pay for. There are several different options at a variety of price points, and understanding each option's value will help you make the right choice for your garage project.
When browsing the market, it helps to think about the garage you are designing – are you planning to use it as a workshop, a home office, a fitness center, a recreational hub, or something else?
If you're building a sophisticated garage workshop with all the bells and whistles, you'll make different decisions than if you are installing a few cabinets before putting your house on the market. Both projects will require some pre-planning and will be made easier with the help of a garage design professional.
For your dream garage in Brentwood, working with an expert – like the ones at Garage Excell – will help you take your vision and translate it to cabinet colors and styles.
If you've decided to invest in custom garage cabinets in Beverly Glen, keep in mind that you do your homework before choosing the cabinetry maker. Make sure you work with someone who can back their workmanship with a rock-solid guarantee.
On that note, did we mention that Garage Excell's exclusive custom cabinets come with a 10-year guarantee? Just saying. Anyway, there are three different categories of garage cabinets.
3 Different Categories Of Garage Cabinets
#Pre-Assembled Or Ready-to-Assemble Cabinets
Also known as stock cabinets, these are easy to install yourself. It is common for these cabinets to use cheap particle board or plastic for the box of the cabinet and they may have solid wood doors. Premade garage cabinets are obviously cheaper than custom ones, but they won't give you the same boost to your home's value that would come with solid wood garage cabinets or premium MDF board cabinets.
Ready-to-assemble garage cabinets may seem like a good idea to save money, but unless you know how to assemble them precisely you may want to reconsider. Keep in mind that some of these cabinets will be holding a lot of weight, like power tools, paint cans, fertilizer bags, etc. Any mistakes in assembling the garage wall cabinets may cost you more money and headache later on.
Also, with stock cabinets, you are limited to pre-determined sizes and styles. If your garage has tight or oddly-shaped corners, you may have wasted space when using these cabinets. We'll tell you the same thing we tell our clients – consider your time as part of the investment when calculating the cost savings for your ready-to-assemble furniture.
#Semi-Custom Cabinets
Semi-custom garage cabinets in Seal Beach are a popular choice as well, and while they also come in pre-determined sizes, you can usually customize them to a certain degree. Options like changing drawer and door pulls, material selection and finish, and other little customizations give you more flexibility than stock cabinets.
Some of these customizations may also allow you to better fit your Brentwood garage and value to your home especially if you're planning to impress potential buyers. Accenting these garage storage cabinets with quality accessories like Slatwall panels and hooks is one way to enhance the visual appeal of your garage.
#Custom Cabinets
Custom garage cabinets in Pacific Palisades are pretty much self-explanatory. While the cost of customization is higher, you get a lot of additional benefits for the bucks you spend.
For starters, these cabinets can be customized in any color, finish, and style you want to set the tone for your overall garage. Higher-quality materials (that would usually not be found in sub-standard, mass-market cabinet brands) ensure that your garage will have that polished and sleek look.
With fully customized cabinets, you have the benefit of being able to fit any space in the way that works best for you. This gives you the opportunity to think about how you can use each corner and wall in your garage to its maximum storage potential.
Consider the items that you'll use regularly and like to have handy, such as gardening tools, sports equipment, bicycles, and workshop tools. We recommend going for a vertical design, i.e., focusing on off-the-floor garage wall cabinets.
Out of all the options, custom-built cabinets are the most expensive BUT they bring an incredible amount of convenience and value to your home. That being said, even if you have a tight budget, you can still get a customized garage storage system with the help of Slatwall panels and strategically installed racks and hooks.
The thing with custom cabinetry, be it for your garage or kitchen, is you must find the right manufacturer. You want to work with a company that will listen to your garage plans, understands the variety of options available, and is willing to help you sift through the choices to get the perfect solution for you.
This is probably the point where we should toot our own horn and talk about why Garage Excell is the perfect custom garage cabinet maker for you especially if you live in San Diego or Los Angeles. Our special made-to-order storage cabinets for the garage come with a 10-year warranty so you know you're getting the most bang for your buck.
Transform Your Garage With Hand-Built Custom Cabinets  
Do you have kids or a high-traffic garage? Do you plan to stay in your house for years to come and want your cabinets to last that long? Do you want personalized support even after the cabinets have been installed? If so, custom-made garage cabinets are what you need.
At Garage Excell, our cabinets feature sturdier construction and joinery methods which allow them to last for decades. Our experienced carpenters will make sure your garage becomes a source of pride and your cabinets are designed with elegance in mind.
Regardless of your budget and style, we can turn your garage into a functional, efficient, and beautiful haven for household storage as well as your car. Our flexible garage storage systems can be designed with a combination of open and closed garage cabinets, counter space and workbench, and PVC Slatwall panels.
Our custom garage storage solutions feature:
Cabinets with adjustable shelves to keep clutter out of sight and stay organized.
Loop hooks, J hooks, and double hooks to accommodate all types of tools and equipment.
Overhead racks to make use of valuable space on the ceiling for stashing away seasonal items.
Heavy-duty shelves to keep tools and equipment off the floor; this also helps prevent bending down, lifting, and moving heavy items.
Horizontal bike racks and vertical bike hooks to protect your bikes and save space.
Fishing rod hooks to store any size rods with reels in place.
Sturdy shoe shelves to prevent shoes from piling up at the door.
And much more.
More than just cabinets, our garage storage systems in Beverly Glen offer the ultimate flexibility – you can add, move, or change the accessories at any time. If this sounds like what you're looking for, book your free design consultation today. Give us a call at 877-573-6637 or send us a message here.