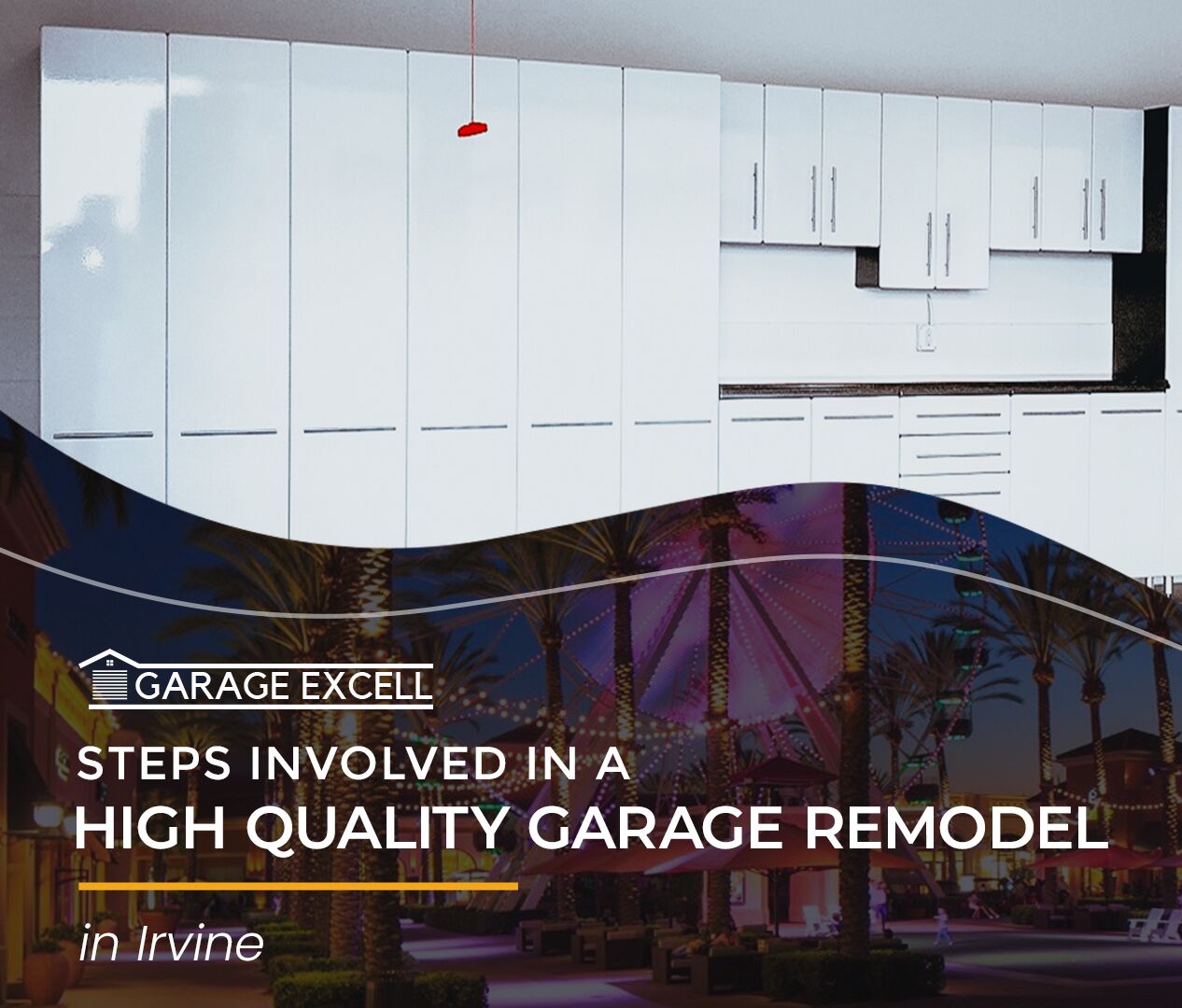 Steps Involved in a High Quality Garage Remodel
One of the largest urban planned communities in the country, Irvine covers a geographical area of 66 square miles. A sunny and hospitable climate characterizes the city, with nearly 300 days of sunshine each year. The moderate year-round temperature gives the residents and visitors the opportunity to make the most of Irvine's outstanding amenities. There are many opportunities for residents of Irvine to work, study, and have fun throughout the city.
At Garage Excell, one of the questions we frequently get from homeowners in Irvine is how exactly a garage remodel, garage upgrade, or garage conversion takes place? We encourage anyone who might be struggling with garage organization and considering new storage options to schedule a free design consultation with our team.
These are some of the steps involved in a garage makeover with us in Irvine, California.
Book a Free Irvine Garage Upgrade Design Consultation
To book a convenient time for a free Irvine garage remodel design consultation, all you need to do is pick up the phone and call us at (877) 573 6637. Our client coordinator will schedule a date and time when an experienced designer from our team will visit you in your garage, anywhere in Irvine to consult with you along with 3-D design for easy visualization. This service is 100% free and without any obligation.
Engage Closely with Our Designer and Share Your Ideas
It usually takes about one hour to have a detailed consultation with a client for a garage organization in Irvine. Our design expert will listen to your requirements and ideas regarding your need for garage storage cabinets in Irvine or a complete garage makeover. Where necessary, the designer will make their own recommendations and guide you about the latest trends and storage options available today.
Based on your garage space and your storage goals, our consultant will create your proposed 3-D garage design using advanced software. You will be able to view the virtual design right before you and give your inputs for any changes or additions immediately.
For a productive design appointment, you should consider in advance what kind of garage upgrade in Irvine you may be looking for, whether you need both custom garage cabinets and overhead storage racks in Irvine, and what purpose you want your garage makeover to solve for you.
Act Fast to Make Any Last-Minute Changes in the Garage Design
Once all of your Irvine garage remodel details are finalized and the design elements, materials, colors and measurements are secured, we will move forward with the cabinet making. But if at the last minute you wish to make some adjustments or changes to the design (perhaps you want additional garage storage racks in Irvine or want a change of color), you should contact us as soon as possible.
If you can do this within the available lead time before the garage storage cabinets are actually ordered, we may be able to accommodate your request for change. We will incorporate the changes to the design, update your estimate and get the revised plan approved from you before we go ahead.
Materials that are ordered for custom garage cabinets and other custom products are non-refundable.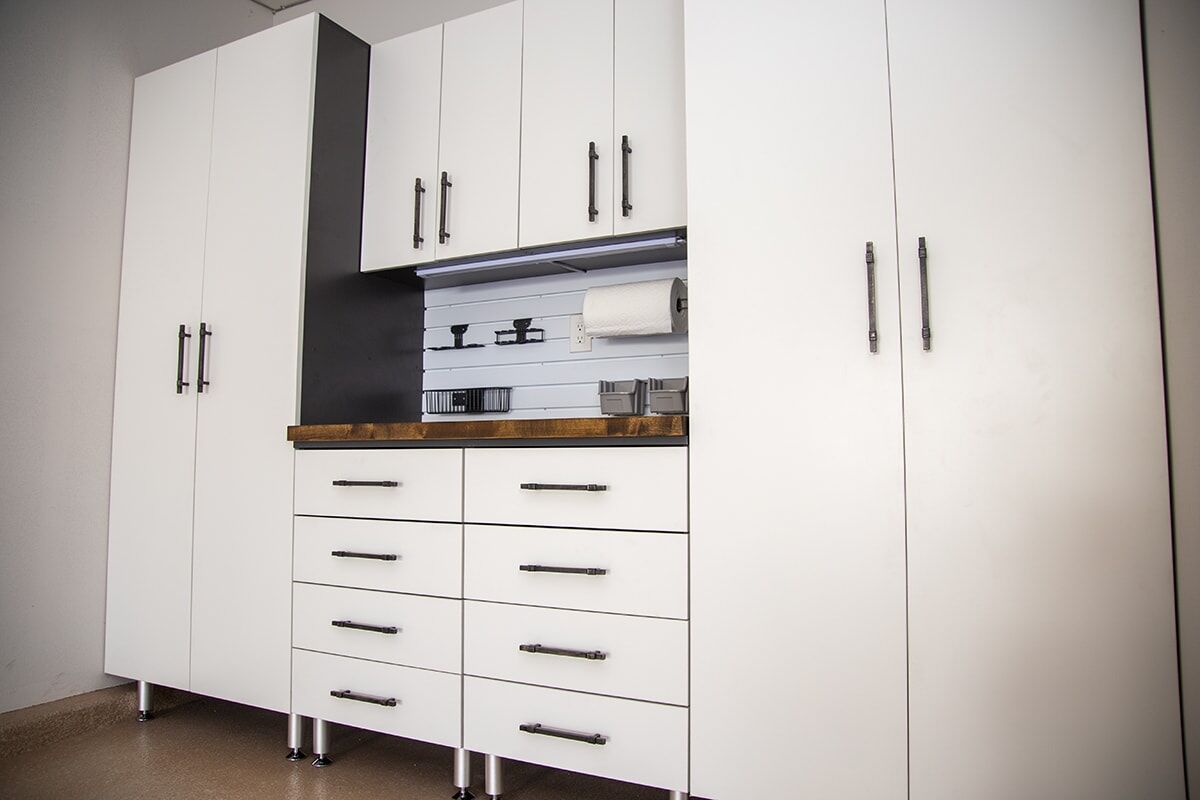 Next Steps in Your Irvine Garage Remodeling Project
Prepping Your Garage
Based on your requirements, our trained and experienced crew members can remove the old cabinetry from your garage and have drywall, paint, and texture installed. Our team can look into enclosing your water purification system or water heater.
If you want to add a utility sink to the laundry zone, our crew is prepared to do it for you. All you need to do is discuss with our design consultant the updates required for your old layout.
Garage Flooring
Flooring is an ideal starting point for your garage conversion in Irvine. We provide high quality garage epoxy floors in Irvine that are built to last. Our unique selling proposition is a lifetime warranty on the flooring job.
Our comprehensive three step flooring process sets us apart from other companies in California and is the secret behind the durability of our garage floors. Our design team will help you customize the flooring to go with your custom garage cabinets in Irvine and the storage walls.
Storage Cabinets
You can choose from Garage Excell's premium range of Irvine garage storage cabinets that come in five captivating colors. You can choose between 36" and 24" wide styles for upper cabinets. For base cabinets with doors, you will have the option of 36" and 24" width, while drawers come in 36" width.
We can mount the lower cabinets with stainless steel legs or install them in a "floating" set up on the garage wall. You will also have the option to choose our exclusive Monterey cabinets line. These are 100% customized, handmade garage storage cabinets in Irvine, which can be built-in material, color and finish of your choice.
Overhead Storage
The final key element in your garage makeover is overhead storage cabinets in Irvine. Our ceiling-mounted cabinets are built with lab-tested, industrial grade materials. The heavy duty construction includes cold-rolled steel for secure loading of up to 600 lbs. Our integrated grid design for garage overhead cabinets in Irvine is sturdy and solid with separate wire and frame.
For the perfect finishing touch to your Irvine garage makeover, you can choose from wood or laminate worktops. Finally, consider adding a slat wall organization system with accessories to hold sporting equipment, gardening tools, hoses, bicycles, and DIY tools.
Choose the Trusted Name for Custom Garage Cabinets in Irvine, CA
When you want total peace of mind with your Irvine garage upgrade project, you should think of Garage Excell. Our slatwall systems, garage cabinets, and garage epoxy floors in Irvine are all produced with exquisite craftsmanship and using high-end materials. The installation is performed by licensed and bonded professionals. To learn more about us or to set up a complimentary design consultation, call us now at (877) 573 6637.