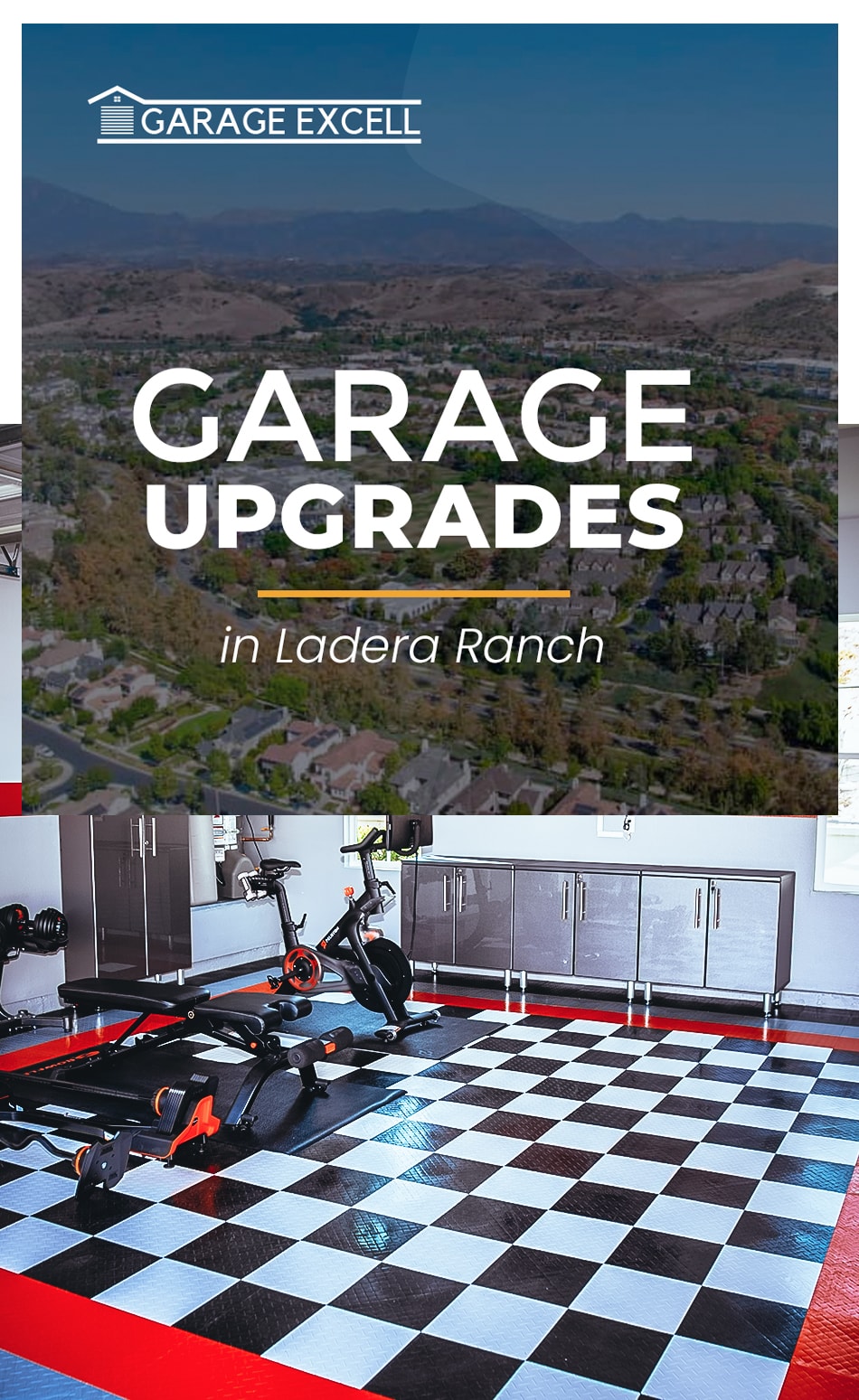 Garage Remodel in Ladera Ranch: Don't Ignore The Ceiling And Floor
Ladera Ranch lives up to its ideal of creating a family-friendly community that gives roots to its families and wings to the children. Known for its excellent trails for hiking and mountain biking, the three districts and six villages of Ladera Ranch offer a range of exclusive, well-maintained amenities. The city has a number of local businesses and offers multiple options for healthcare, schools, and entertainment while retaining the comfort and charm of a small town.
Homeowners in Ladera Ranch are increasingly inclined to follow the general trend pervading across Orange County to upgrade the garage and add value to the home. If you are considering a garage makeover in Ladera Ranch, make sure to pay attention to the two key elements that sometimes get ignored: the ceiling and the floor. Talk to Garage Excell's professional garage organizers in Ladera Ranch to plan your garage remodel.
Overhead Storage Racks in Ladera Ranch for Your Garage
You can transform your garage storage system in Ladera Ranch simply by utilizing the ceiling space. Overhead garage storage racks are a popular choice for California residents. They can accommodate all types of unused and seasonal storage items and protect them well so you can use them year after year. These high-end garage storage racks in Ladera Ranch will easily maximize your space and remove clutter from your home.
Ladera Ranch garage ceiling storage racks from Garage Excell are designed for safety, strength and durability. Crafted and installed by experienced professionals, these overhead garage storage racks in Ladera Ranch are built using powder-coated, heavy gauge steel and have a sturdy design. With industry-leading capacity ratings for overhead storage, these functional yet elegant devices will store everything from seasonal décor to camping equipment.
For easy access, Garage Excell installs motorized ceiling racks, in addition to the regular overhead storage cabinets in Ladera Ranch. Moreover, you will have a choice of numerous systems and accessories to accommodate any odd-shaped items that you only use occasionally. During your free consultation for garage remodel in Ladera Ranch with Garage Excell designers, you will learn about the following highlights of our overhead storage cabinets:
Strength
Each 4' x 8' ceiling rack from Garage Excell has a load-bearing capacity of up to 600 lbs. Constructed with cold-rolled heavy-duty steel and using high quality screws and hardware that has passed stringent quality tests, these overhead racks are safe and built to last.
Design
The cutting-edge integrated grid design of these overhead storage racks in Ladera Ranch makes them sturdier and provides superior stability compared to the conventional ceiling racks with separate wire and frame. Garage Excell builds all products based on the safety-first principle.
Capacity
With the highest capacity ratings industry-wide, Garage Excell adjustable overhead storage hanging racks in Ladera Ranch are available in 2' x 8' as well as 4' x 8' dimensions and multiple depths to suit your storage requirements. Ceiling dropdown of 22-40 in. provides storage of up to 105 cubic feet.
Installation
Available in Black and White options, these solid, functional, and aesthetically superior garage ceiling cabinets in Ladera Ranch are installed by our fully licensed and bonded team of professionals. Our trained team can complete the installation in just one afternoon.
Garage Epoxy Floors in Ladera Ranch from Garage Excell
A vital element in your garage remodel in Ladera Ranch is the flooring. While most others offer the standard epoxy flooring, our premium garage epoxy floors are distinct from them in some critical aspects. Our advanced chemicals and a comprehensive preparation stage allow us to offer a lifetime warranty on our floors. In fact, Garage Excell is the one and only company in the region that offers a lifetime warranty on epoxy flooring.
Our actual garage epoxy flooring in Ladera Ranch includes three (sometimes) four components: (a) An epoxy base coat; (b) Multiple options in flakes in 1/16" to 1"; and (c) A polyaspartic top coat, which distinguishes Garage Excell floors from others. Polyaspartic top coat is highly resilient against exposure to harsh chemicals and abrasions. It also provides a superior 'wet look' compared to clear epoxy.
Here are some of the highlights of Garage Excell's Ladera Ranch garage epoxy flooring that set it apart from others:
We are specialists in custom epoxy coated garage floorings. Our master craftsman has been laying floors for nearly three decades.
Our epoxy base coat will seal the concrete floor surface, while polyaspartic top coat will add durability and a wet finish.
Our top coats for garage flooring are chemical resistant and include an ultraviolet inhibitor additive for a durable and clear effect.
Our epoxy flooring in Ladera Ranch is easy to clean, easy to care, and adds to the aesthetics with multiple colors and custom color blends.
Our secret sauce for garage epoxy floors in Ladera Ranch is our painstaking process of one full day for floor preparation (unlike many others that have crews prepping 6 to 8 garages in a single day). Garage Excell will not take shortcuts at any stage from design to preparation to installation.
You will know the real results of our detailed preparation and superior chemicals within a few months or a year. An ordinary epoxy coat with inadequate preparation will begin to fade or peel, while our epoxy flooring will stand the test of time.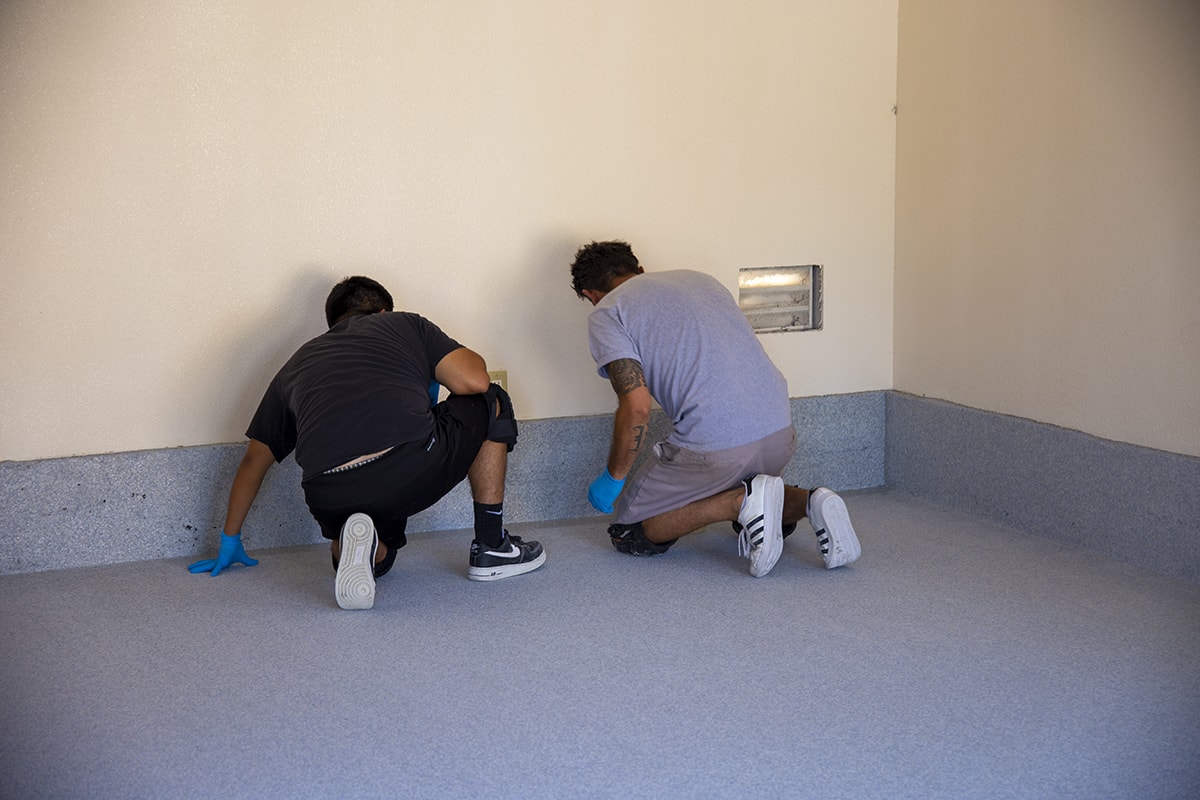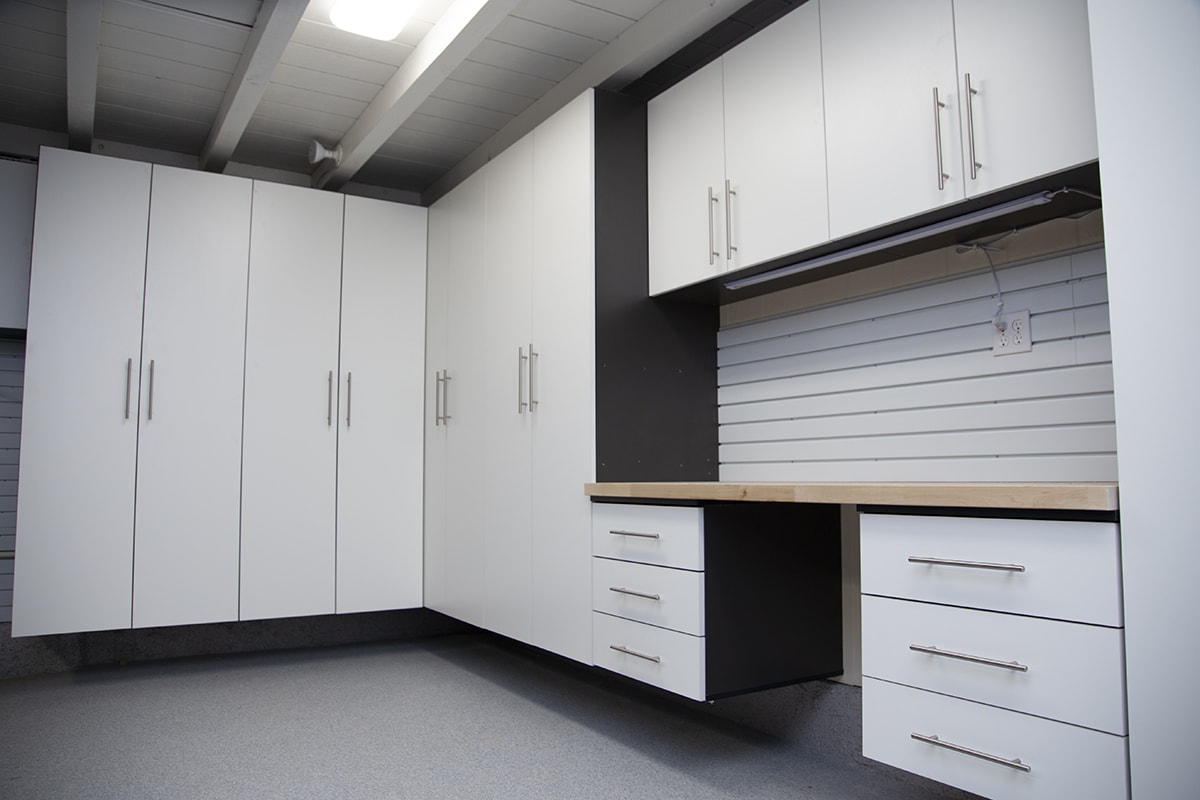 Ladera Ranch Garage Cabinets to Fit Your Budget
Homeowners throughout Orange County and all throughout Southern California trust Garage Excell for quality and service. When we create custom garage cabinets in Ladera Ranch or undertake complete remodeling, we will guide you about everything from the floor to ceiling in sync with your lifestyle, your space availability, and your budget. To set up a free 3-D design consultation for your garage, call us right now at (877) 573-6637.