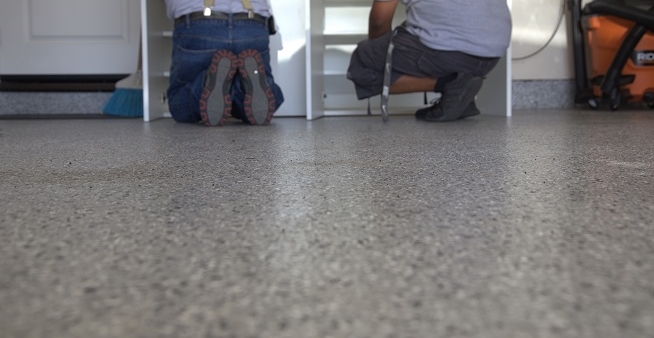 After the plans for your new flooring are final and the installation appointment is scheduled, it's time to get your garage ready for its upgrade. Epoxy flooring is a 2-4 day process and depending on the size of the space. Snap lock flooring can be completed in 1-2 days.
We want to make sure that your flooring installation goes as smoothly as possible. To ensure that we kindly ask you to prepare the following before our flooring crew arrives at your home.
1. Remove all personal items
Before work can begin, your garage floor should be clear of any personal items or furniture. When you are emptying your garage, we advise not storing your items outside just in case it rains. Epoxy flooring installation cannot be performed in humid conditions and as much as we wish we could control the weather, if rain is forecast your epoxy installation will have to be rescheduled. 
If you require additional storage, Garage Excell can provide you with your very own secure Volt located in our warehouse for $199 per month.
For your safety and our crew's, we ask you to ensure that you keep children or pets out of the work area during your floor installation. Not to mention, we'd hate your floor to be left with some pesky paw prints!
3. Designate alternative parking
 You can walk on the floor 12 hours after the installation, but please wait at least 72 hours for the floor to fully cure. After which, you may park your car inside and return any heavy objects to the garage.
4. Sit back, relax and we'll take it from here.
Our flooring team typically arrives onsite around 9:00 AM. The first day of flooring will be floor prep, where the crew will grind and smooth the floor and fill minor cracks. The crew uses an industrial vacuum to make sure there is no dust created during the process, so you don't have to worry about any nasty clean-up!

Following the extensive prep work, the crew will then apply the base coat, flakes/color and finally the top coat. Typically, the whole process can be completed in 2 days. However, depending on the condition of your concrete floor, it can take up to 4 days to complete your epoxy project.
We hope you love your new flooring and after your installation we would greatly appreciate it if you could leave us an online review. We're a small, family-run business and your comments are extremely valuable to us.