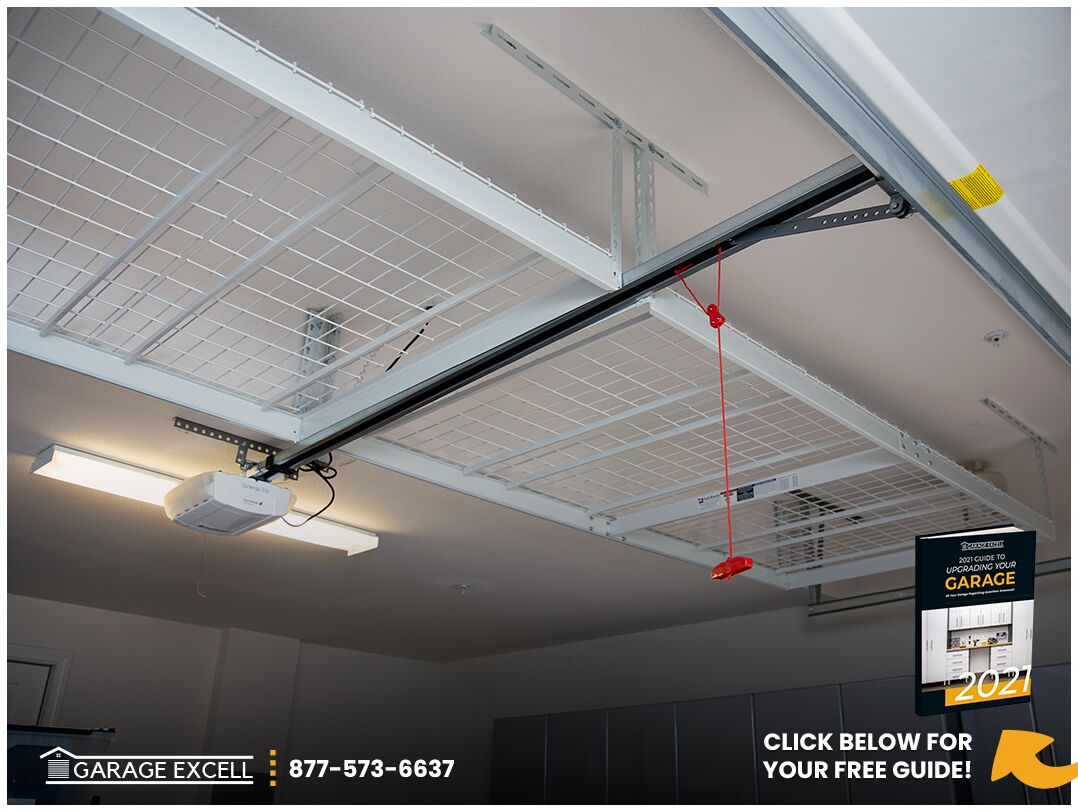 Seasoned jet-setters know that the secret sauce of a happy voyage is to travel light. Frequent fliers usually like to restrict their baggage to a carry-on bag that fits perfectly in the aircraft's overhead bins. Airlines that value these customers have gradually recognized their need to travel efficiently with only carry-on bags.
As a result, the airlines have worked with the aircraft manufacturers to increase the size of overhead bins, especially in single-aisle, narrow-bodied airplanes. In recent years, more spacious overhead storage bins in the airlines that can accommodate up to 50 percent more luggage than the traditional bins have become an instant success.
At Garage Excell, our San Diego garage cabinet designers have drawn inspiration from aircraft manufacturers such as Boeing and Airbus to come up with garage storage ideas that enable maximum space utilization for homeowners.
Just the way space is the most precious commodity in an airplane cabin (you pay more for extra legroom in first class), we recognize that the garage storage in San Diego is a high value real estate. If utilized well, it will not only dramatically improve your garage organization, but also boost the overall value of your home.
Take Cues from Airplane Cabins to Remodel Your Garage
Our San Diego garage remodeling experts at Garage Excell can help you re-imagine your garage like an airplane cabin and transform it into a tremendously functional and aesthetically appealing part of your home. Have you wondered how some airlines have managed to increase their cabin storage space by up to 50 percent within the same aircraft?
Well, the aircraft engineers have worked with the airlines on ideas to rearrange the ceiling structure, pipes and wiring with an aim to enhance the overhead bin space. The new spacious airplane bins are now taller by about two inches. This does curtail some headroom for the passengers, but no one is complaining. Our San Diego custom garage cabinet designers realized that if airlines can do it, so can we – especially when your garage is not a living room where people have to sit.
According to researchers, a conventional 60" overhead storage bin in an airplane can hold 4 bags, where as the innovative "Space Bin" version using the same 60 inches of length can hold 6 bags. In a Boeing 737-800, this design improvement translates to nearly 180 bags capacity instead of the conventional 120 bags. At Garage Excell, we are revolutionizing garage cabinet storage in San Diego using the same design principles.
"Top"-of-the-Box Ideas for Garage Ceiling Storage in Los Angeles
We are happy to share with you some of our innovative ideas for your overhead garage storage system in Los Angeles. Overhead as well as garage wall cabinets will free up plenty of floor space and help you do easy and efficient garage organizing in LA.
Hooks: Eliminate blank overhead space in your garage with hooks. Everyone uses hooks on doors and walls, but why not the ceiling? Your overhead cabinets and garage wall cabinets in Los Angeles can also hold hooks. You can store away chairs, ladder, bike, and luggage bags in this overhead space.
Containers: Choose the material for your garage overhead storage containers wisely. Don't make the mistake of using cardboard boxes because they are prone to mold and pest infestation if they catch moisture. Canvas or rubber bags, wire baskets, or transparent plastic containers are more dependable.
Pulley: A mechanical pulley system can do wonders for your overhead garage organization in Los Angeles and let your keep bulky items out of the way without having to do the heavy lifting yourself. Choose a reliable pulley system, which is secure and foolproof. You can use it to store things like a kayak, a bike, or a ladder.
Racks: Your free vertical space in the garage can be ideally utilized by installing overhead storage racks. You can use these garage storage shelves in Los Angeles to put away seasonal clothes, large or medium-sized boxes, and sports equipment. Racks affixed to your garage ceiling will optimize your storage options.
Storage Bins: Overhead storage bins are simple yet highly effective way to store away things like minor DIY tools, sports gear, memorabilia, craftwork, and books. Bins are popular because it involves minimal effort to handle them, and you can sort them or pull them down as needed. Label the bins appropriately and preferably choose airtight bins to preserve your stuff.
Customize Your Garage Overhead Storage in San Diego
The airline-inspired custom garage cabinets in San Diego from our designers at Garage Excell can help transform the empty vertical space in your garage into a functional storage area to de-clutter your home. We will work with you to help you select the right type of garage storage system in San Diego for the overhead space that meets your specific organizing goals for your home.
If you have a number of bulky or heavy items to be stored away, we may recommend heavy duty garage overhead storage racks that are custom crafted for your requirements. These high quality, smart looking and durable storage racks are built to last and will be able to sustain for years in a tough garage indoor environment.
From lawnmowers to camping gear to patio furniture, you can store all types of items in the overhead racks. Large storage bins can also be ideally placed in these storage racks. We can also design custom wall cabinets in San Diego to help you store away heavy duty items safely for years to come. With our creative garage remodeling in San Diego, the items that are currently causing chaos and clutter in your home can be stored away securely out of sight, and yet remain easily accessible whenever you need them.
Time-Tested Tips for Garage Organizing in Los Angeles
Our helpful team at Garage Excell will not just build and install the finest custom garage cabinets for your home, but also provide you valuable insights and tips on how to organize your items in your new garage storage system. Some of our time-tested tips for our prized customers include:
#Store in Groups
If you pay attention to the items you want to store in your custom garage cabinets in Los Angeles, you will see that a number of items are similar in usage. While storing them in the overhead racks or cabinets, create groups of like items and put them away together. Later on when you want to locate a small item, you will know in which group to look for it.
#Labels or Color Codes
Labeling or color coding the items after they have been placed in their appropriate groups will make life easier for you for years to come. This simple yet effective technique is particularly recommended when your overhead storage bins (unlike airplane carry-on bags) are similar looking. With proper codes or labels, you won't have to disrupt all the bins when you need a small item from a group.
#Preparation and Packing
Some items may need to be packed or wrapped properly before you store them away in your garage cabinets in Los Angeles. Items that can corrode such as home tools, bikes or gardening equipment should be cleaned and dried before storing. Consider oil change for motorized items. Use padding at the edges if the items have sharp corners.
#Remove Unusable Items
A good thumb rule to determine whether you need an item to be a part of your Los Angeles garage storage system is whether you have used it in the last five years. Things that have lived their full life or are no longer of any practical use to you will only clutter your space. Weed them out annually as you clean your custom garage cabinets in LA.
Bring the Efficiency of an Airplane Cabin to Your Garage Storage
Garage Excell has set itself apart with its stunning range of custom garage cabinets, overhead garage storage, and complete garage remodeling in Los Angeles and San Diego. We combine the engineering and design excellence of aircraft cabin interiors with the finest home décor art and aesthetics to give you world-class cabinet storage your garage deserves. Call us at 877-573-6637 or contact us online to set up your design consultation today.