Why Choose High-Quality Custom Garage Storage Systems in Tustin?
Established in 1927, the city of Tustin boasts of a rich culture and heritage. Some of the historic buildings in Tustin date back to more than a century. While urbanization has led to the removal of most of the trees in the city, it is still recognized as "The City of Trees." Some of the popular places for both visitors and residents in Tustin include The Market Place, Enderle Center, Marconi Automotive Museum, Tustin Ranch Golf Course, and Old Town Tustin.
While many homeowners recognize the importance of custom garage storage cabinets in Tustin to keep the space organized, some people wonder whether it is worth undertaking a high-quality garage upgrade in Tustin to prevent clutter at home. If you are not spending almost any time in your garage apart from parking your car, you may be particularly reluctant to invest in a customized garage storage system in Tustin. However, here are a few good reasons why it makes sense to go for a garage makeover in Tustin, CA.
Garage Storage Racks in Tustin, CA will Free Your Home from Clutter
Do you find yourself struggling to put too many items out of sight when someone is visiting your home? Do you prefer to avoid stepping into the garage as much as possible because the floor is cluttered with numerous seasonal things? To give your home and your garage a clean and tidy look, you need proper garage organization in Tustin, which is possible with custom garage storage racks.
Once you have professionally installed custom garage storage cabinets in Tustin, you will no longer have to worry about locating items when you need them. Your kids will not trip over the floor clutter because everything would be securely stored away in cabinets as part of your Tustin garage remodel. Pairing custom cabinetry with slat wall panels and overhead garage storage in Tustin will further add value to your home.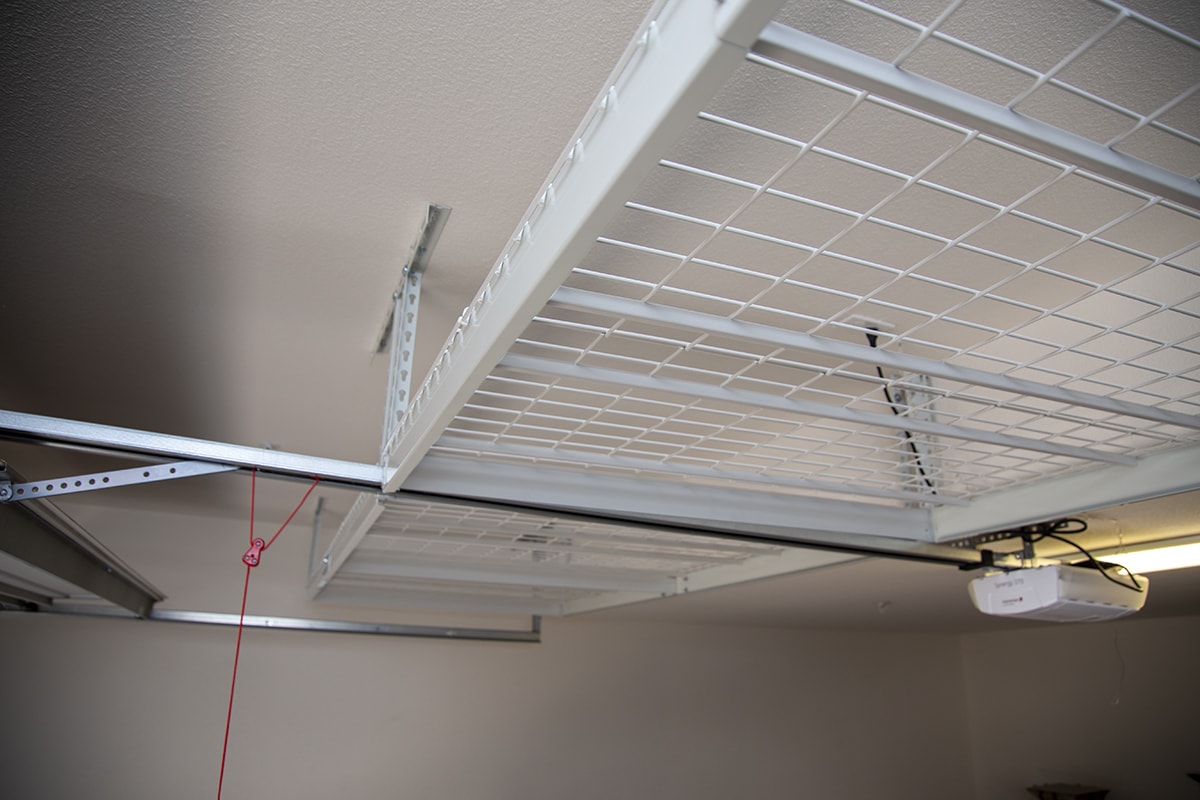 Take Your Garage Looks to the Next Level with Custom Cabinetry
With the exquisite craftsmanship of the garage storage designers and crew members at Garage Excell, your custom garage cabinets in Tustin will not just deliver functionality but will also add excellent aesthetic appeal to your space. Of course, to achieve the twin goals of appearance and functionality, you need to select the right type of cabinet materials, design, color, and finish, and perhaps match it with an attractive garage epoxy floor in Tustin.
You can make the right choices in close consultation with the design team at Garage Excell. Once the plan is finalized, our experienced craftsmen will custom craft your desired garage storage racks in Tustin and install them professionally. With a contemporary, well-finished appearance, your exclusive garage makeover in Tustin will become the talking point among your friends, visitors, and neighbors.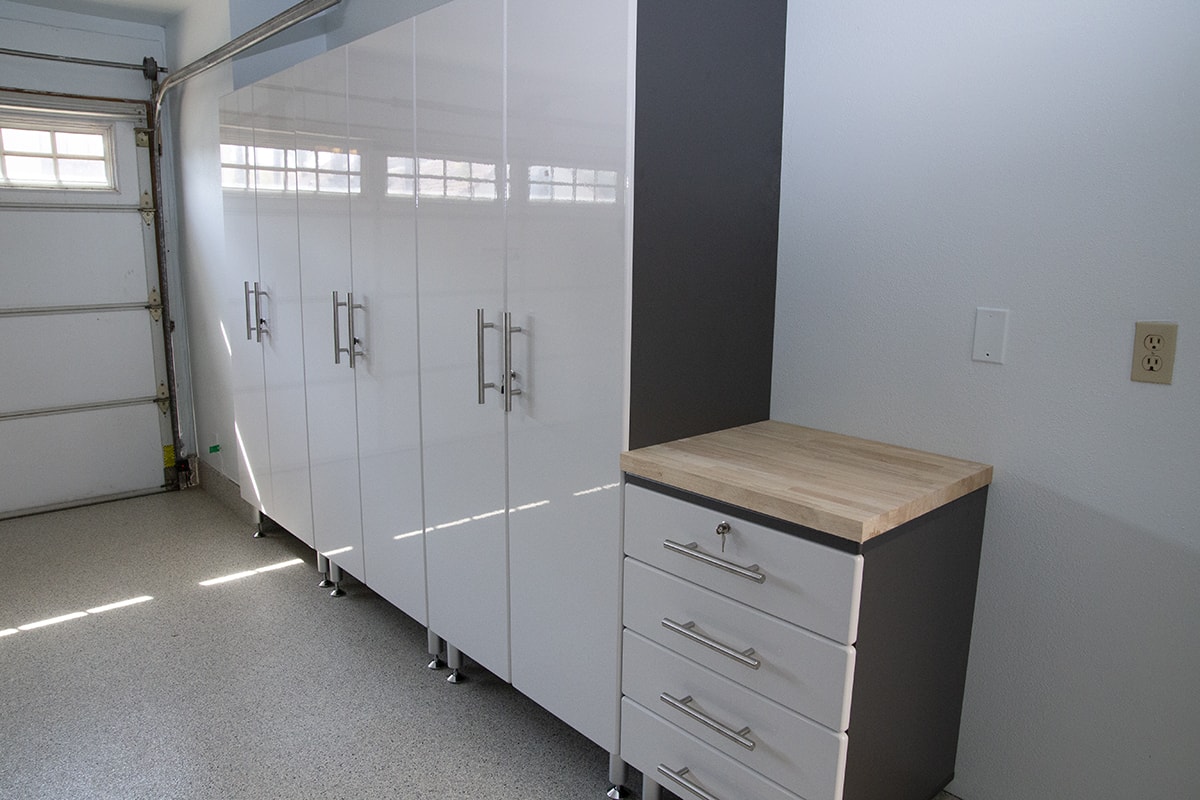 Garage Organization in Tustin will make the Garage Safer
A chaotic, cluttered garage is not just an eyesore or a poorly functional space. It is also unsafe for you and your family. In absence of a professionally built and installed garage storage system in Tustin, you may have items spread across the garage floor. Your garden equipment, DIY tools, and bicycles may be leaning precariously against the garage walls.
Leakages and spills will add to the risk of tripping for both children and adults. Exposure to hazardous chemicals and inflammable materials, such as paints and solvents, automotive fluids, abrasive cleaning agents, and pesticides and fertilizers can be harmful to anyone who visits a messy garage.
Apart from human hazards, a cluttered space also increases the risk of damage to your cars as well as any valuable items lying unorganized on the garage floor. Getting rid of the clutter with custom garage storage cabinets in Tustin will significantly improve the safety levels of your home. If you have little kids, our experienced designers at Garage Excell can help you childproof your space by creating custom garage cabinets with locking systems to securely store hazardous chemicals and sharp DIY tools.
Increase Your Home Equity with a Garage Upgrade in Tustin
A proper garage makeover or garage conversion in Tustin will not only enhance your lifestyle for years to come, but it's also an investment that will pay off when you are ready to move. For discerning homebuyers in Southern California, a well-maintained garage with adequate storage space and a clutter-free floor for parking the cars is an attractive buying proposition.
You will be able to command a better value for your home, and chances are that your property will sell faster than other similar houses on the market. Prospective buyers are going to be impressed when you have high-end custom garage storage cabinets in Tustin as well as a superior quality garage epoxy floor with a classic wet look.
But don't forget that the opposite is also equally true. A cluttered or messy garage space with insufficient or cheap looking garage cabinets in Tustin chosen from a low-priced big box store are likely to create an underwhelming experience for many buyers. 
Your Home Deserves a Contemporary Garage Remodel in Tustin
Are you ready to undertake garage organization in Tustin with premium garage wall cabinets, overhead garage storage, and slatwalls? At Garage Excell, we have been delivering dependable and lasting garage makeovers in Tustin and other parts of Orange County for years.
Our industrial grade materials combined with skillful craftsmanship will give you the garage of your dreams at prices you can afford. Our designers are happy to meet you for a complimentary, no-obligation design consultation at your garage. To schedule an appointment, call us today at (877) 573 6637.