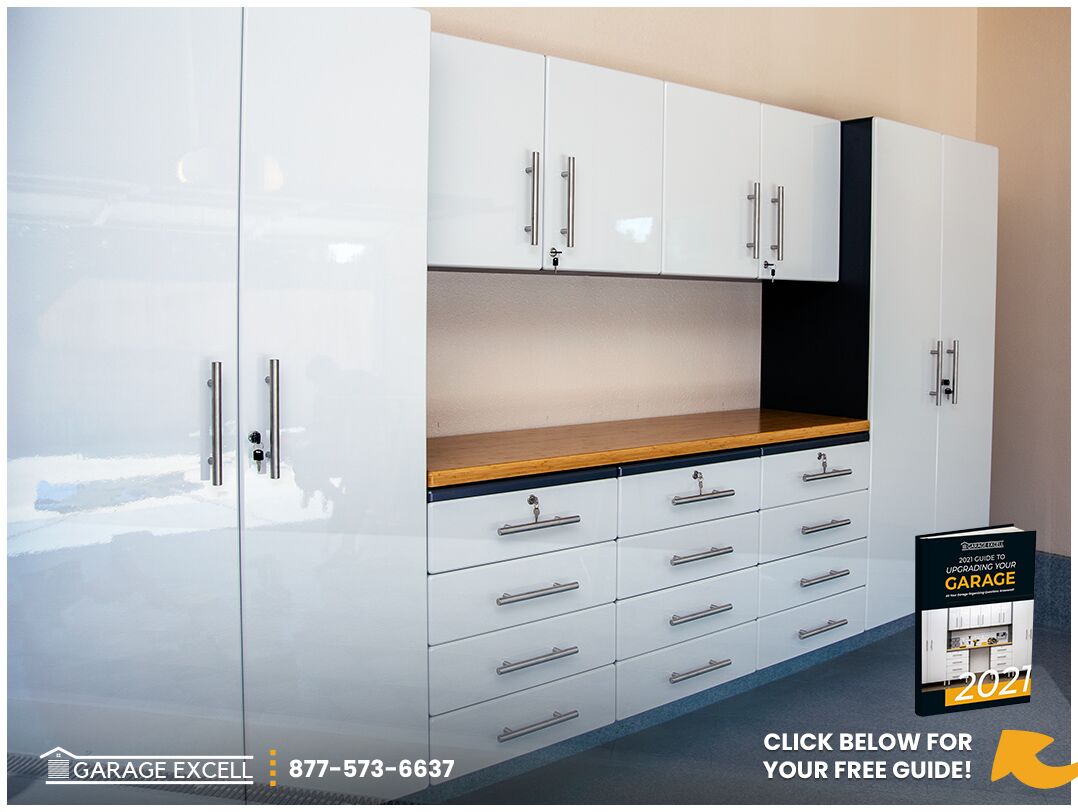 Do you ever just look at your garage and mutter under your breath: "Huh, I have no clue about garage organizing!" Well, we can tell you from experience that that you are not alone. In San Diego, many residents own plenty of garage space that could be so much more valuable than they realize. So, what is going wrong?
There seem to be more questions than answers. So, our cabinet experts at Garage Excell decided to take the initiative of answering some of San Diego's most frequently asked questions about garage organizing in Los Angeles. Here we go:
All Your Questions About San Diego Garage Organization Answered
#1. How Do I Maximize My Garage Storage?
One of the most frequently asked questions is: "How can I maximize my garage storage in San Diego?" Lucky for you, we already have talked about this on multiple occasions. So, let us answer this grand query.
The short answer is 'garage organization in San Diego'. The long answer is a two part list. One part of it includes functional fixes, like de-cluttering the space and installing custom wall cabinets in San Diego. The next part is the aesthetic fix. These include paint jobs and decor. Here's what the list looks like:
1. The Functional Fixes
1.1 Assembling Everything to Declutter the Space
This step is simple but tiring. You pull out everything from the depths of your garage and assemble them on the driveway. Now survey what you "need" versus what you "might need." If you haven't found something handy in the last two years, it's time to get rid of it.
1.2 Wall Cabinets
You can choose to install a pegboard or a Slatwall storage system in San Diego. By installing these garage wall cabinets, you are utilizing space in your garage storage that might have stayed unused. Optimizing the available space is about half of all garage remodel in San Diego.
1.3 Garage Overhead Storage Cabinets
These wonderful San Diego garage storage cabinets can utilize the space on your garage's ceiling. Before we knew about garage overhead storage, we did not even consider using the ceiling. But that makes so much sense. You can hang lesser used tools or tools that you don't want the kids to reach in these cabinets.
2. The Aesthetic Fixes
2.1 The Floor
If your floor's material is difficult to clean, it might look dirtier than it is. Get yourself an epoxy floor in San Diego so that cleaning your garage is no longer a drag. Cleaner floors make for more spacious looking garage storages.
2.2 Getting a Paint Job
The color of your San Diego garage storage cabinets actually does determine how cluttered it looks. Get lighter paints on the walls, and maybe a shade's difference on the ceilings to have a very aesthetically pleasing and spacious look.
2.3 The Focal Point Hack
If your garage storage system in San Diego has room for decor, highly consider putting an eye-grabbing piece of decor towards the center. Like a pendulum clock, or wall trophy, or a desk. These draw the attention towards the center and the rest of the garage ends up looking more spacious.
#2. Where Do You Start When Organizing a Garage?
Right, where do we even begin? So much stuff to do and we have just two little hands. Here's how you get started with garage organizing in San Diego:
Get the cleaning supplies: This includes heavy-duty dustbins, strong brooms and/or vacuum cleaners, a catch-all basket.
Organize the clutter: Go easy on yourself. Clean the basic stuff. We're talking about

oil stains
chemical stains
cobwebs
other insects or animals that may have been crashing at your garage cabinets/ garage storage
nails and other tiny items lying around (You may choose to donate them, keep them, recycle them or just serve them to the trash.)

Mark garage zones: This doesn't necessarily mean you have to mark territories with chalk. Decide the purpose of each little corner of your garage. Which is the recycling center? Where is the tool shop? Where do the kids stash their sports gear? Where do the car supplies go?
Plan Garage Storage: Now that you have sorted out which section is where, you can stay clutter free by planning your garage cabinet storage in San Diego. This will mean:

Planning purchases and knowing which part of your garage you'll store them in.
Making separate garage storage cabinets for the hazardous chemicals and stuff
Utilizing vertical space. This might mean getting utility racks, building storage cupboards, or installing garage wall cabinets.

Buy less, use more: There's a high chance that your next garage purchase might not be entirely necessary. Think profusely about the stuff you already own. Be mindful and intentional about every purchase. Remember, more stuff = more clutter.
Stay updated with garage organizing: Keeping this garage organizing deal consistent is the challenge. You must not break your streak. Quick sweeps every now and then stop the dust from piling up. A good hard look at accumulating clutter every other week also goes a long way. A great plan is to clean your San Diego custom garage cabinets twice a year.
#3. Why are Garage Cabinets Off the Floor?
This is one of those things that happen so often that no one questions it. Or that's what we thought. It is virtually impossible to find garage storage cabinets in San Diego that are on the floor. So….why are almost all garage cabinets off the floor?
#Functionality
Garage wall cabinets are sleek ways to store your garage supplies and keep them secured. You can strategically use the shelves at different heights depending on how you want something to be stored. For example, if you are storing something that might be at risk of getting dirty, you can easily pick the higher shelves for it.
#Cleanliness
Let's think of a garage cabinet for storage that sits on the ground. Now let's think of when you would want to clean the garage. That's right, you'll have to move it all around your garage storage to clean the ground below it. Contrast that with a garage wall cabinet that can be easily dusted off.
#Makes Your Garage More Spacious
Like already mentioned before, garage wall cabinets are very effective at saving up space. They clear up much needed area from the floor and enable you to use the wall room. Otherwise unused, wall space can be very reliable to clear up clutter from your garage storage systems using custom garage cabinets.
#Saving your Joints
Garage wall cabinets in San Diego can literally save your joints. No, seriously! Here's how:
Every year, hundreds of people (especially the elderly) hurt themselves trying to lift heavy stuff from the ground in San Diego itself. So, garage storage cabinets set up on the ground are the cause. However, these same injuries may be avoided by installing garage wall cabinets as picking up the same weights from a height decreases the chances of getting hurt.
#Protection from Moisture
Many of the garage tools are made of metals that are prone to rusting. Of course, you can slow down their rust rate by scratching them with sandpaper every now and then. But you can almost entirely avoid it by limiting their exposure to moisture.
That's where garage wall cabinets come in so handy. In San Diego, that numerous water leakages reported every day puts your garage at the mercy of lots of seeping moisture. If your tools are stored high up on a garage wall cabinet, you can rest easy and let the water dry itself.
#4. How Much Do Garage Cabinets Cost?
Garage cabinets in San Diego can cost anywhere between $300 and $1500. Here's what their price depends upon:
Depth: Typically garage cabinets have a depth of 16 inches. However, many homeowners are starting to build garage storage cabinets that are 24 inches deep (which is the costlier alternative).
Height: Most medium sized, two-car garages can fit about two tall garage storage cabinets. Garage professionals, like Garage Excell, recommend tall cabinets to be 36 inches wide and 26 inches deep. These cabinets typically cost about $1,000 in standard white build.
Width: While there is not a lot of variety when it comes to width, the price of your custom garage storage cabinets will go up as the width increases.
#5. How Do You Store Garage Boxes?
Long story short − you don't. Long story long, cardboard boxes, if stored in your San Diego garage storage can easily cause a gigantic mess.
The reason is constant exposure to moisture and insects. Cardboard boxes added with moisture are like a vacation to Amazon rainforest for insects. Before you know it, they will turn your house into their playground.
Instead of putting all your stuff in cardboard boxes, put them in plastic bins. It is totally worth investing in high quality plastic bins due to their durability, reusability, and low prices.
Utilize a variety of plastic storage bins to include in your garage storage system. Buy them in different sizes and materials and stack them above each other neatly to double down on your storage space. Your priority for garage organizing should be to save as much space from the floor of your garage and utilize as much of your storage cabinets as you can. Which is why, we suggest you use San Diego garage wall cabinets and garage overhead storage systems to store your stuff as often as possible.
Moreover, other things that need to be stored in cardboard boxes will get ruined in your garage storage in San Diego no matter where you put them. Things like woolens, and old clothes you might have been saving for a rainy day, will be infested by the insects we mentioned. So, consider moving them to another part of your home, as long as it is away from your custom garage cabinets in San Diego.
#6. How Much Does it Cost to Install Garage Storage?
Garage storage cabinets are a great addition to your household, especially in San Diego – both for technical reasons as well as to elevate your standard of living. Most people out here struggle to keep their garages tidy. Probably because of just how many things garages can store. They provide you with safe places to store your vehicles, offer extra room for things that can not fit into the four walls of your house, and even act as storages for garden supplies and valuable tools.
And due to the sheer magnitude of its scope, garages often tend to get cluttered. And this is where garage cabinets come in. San Diego garage storage systems and other garage organizing solutions keep it simple to maintain and easy to clean up. Depending on the size of your garage, a garage storage system in San Diego might cost somewhere between $1,500 and $3,500.
A medium sized two-car garage, with several tall garage storage cabinets, garage overhead storage, and shelves cost around $2,000. You may go a step further and invest a sum of $5,000 for standard white fronts, aluminum shelving, and aluminum pulls.
Several things determine the cost of your garage storage, which include:
Size of your garage
The color in which you want your garage storage system (custom colors cost about 10 to 30 percent more).
Whether you are going for custom garage cabinets or the presets offered to you (custom garage storages cost between $2,500 and $5,000).
Get a Professional Team of Garage Remodelers in San Diego on Your Side
Installing a garage storage system for your household in San Diego might be a daunting task. But that is exactly what professionals like Garage Excell are here for. Garage Excell offers complete garage remodeling in San Diego. Build your dream workstation, free up space from your cluttered garage, give your kids a sleek place to stash their bikes in – and do it all in style with Garage Excell.
Access our San Diego garage organizing plans, and install custom garage cabinet, garage wall cabinets or overhead garage storage cabinets tailored to your unique requirements. We have San Diego garage storage cabinets to fit any and every budget. Take advantage of the savings and build a long lasting relationship with Garage Excell. To schedule a free design consultation today – call us at 877-573-6637 or contact us online.