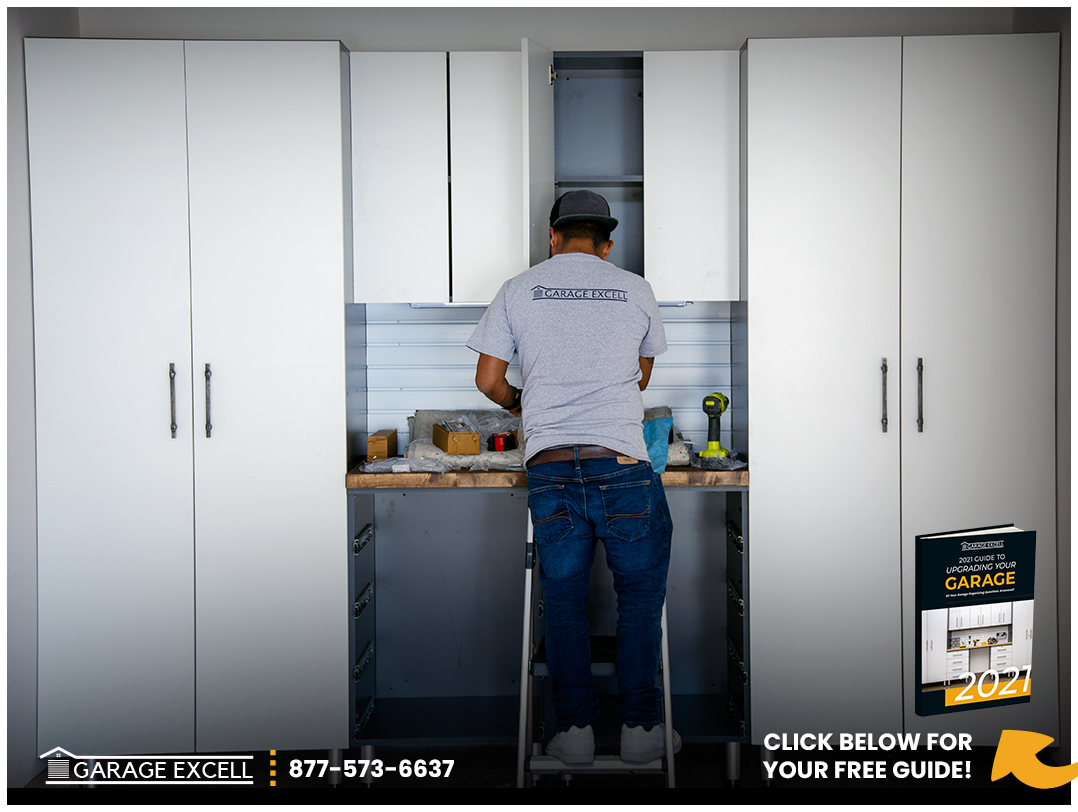 Organizing your garage storage is no one's favorite part of the day… or month… or year. Sure it looks fun when Vin Diesel is with his family, fixing his fast and furious cars. But let's be honest. Our families would much rather fall asleep to Netflix than rearrange the garage storage in Palm Springs on a lazy Sunday afternoon.
Now you have two choices. You could let your garage cabinets in Palm Springs get dustier, more cluttered, and in the future, turn them into a cave. Or, you could take control of your garage storage system and get it back to what it was supposed to be – a functional, safe, and secure space in your home that you are proud of.
Raise your hand if you picked the second one. Alright, we see you. Let's begin our Palm Springs garage remodeling journey. With some effective garage storage hacks, you can up your garage organizing game several notches. You won't have to be stuck cleaning up your garage's mess all week if there is no mess.
Here's how you do it. Our Palm Springs garage storage system team at Garage Excell presents a few tried and tested garage storage hacks, straight out of our experts' handbook.
Boost Garage Storage with these 5 Expert Hacks
Hack #1: Optimize the Garage Door
That's right! Your garage door can actually be way more than just an up-and-over style door. You can install custom garage cabinets in Long Beach, or construct DIY garage cabinets to fit your needs and turn your garage door into an effective storage space. This works especially well for tall items. We're talking about sports bats, golf clubs, long gardening tools, fishing rods, etc. Here's how:
Fix brackets to the back of the door. Make sure your brackets have some space between. Also make sure that you attach at least 3 brackets on the same level. Now you can slide in your long items and store them at the back of your garage door.
You can also hang mesh tote bags behind your garage door. These can be netted, plastic, or anything cloth-like as long as it can take up some weight. These will serve as storage for little things, like a pair of lightweight flip-flops.
Hack #2: Install Flow Wall Garage Cabinets
Flow wall garage cabinets in Long Beach homes are nothing short of pure genius. This awesome garage storage lets you create custom spaces and step up your garage organizing. How is that? And… what is a flow wall? A flow wall is essentially a wall panel which has a number of little utilities attached to it – all of which make it a garage storage powerhouse.
The elements that get attached on a flow wall are:
Hooks to hang light tools like mops, gardening forks, etc. Can also be used to hang sports gear like helmets and rackets.
Shelves keep cans and other plastic storage bins. What your shelves can hold is entirely up to you.
Bins to store more of your tools. Most times bins are stacked on top of each other. We suggest labeling bins clearly to avoid confusions
Cabinets for your garage provide endless options to store your stuff. Garage cabinets that come with flow walls are generally best used for semi-frequently used tools.
Drawers with dependable locks to help you secure your important tools safely.
Hack #3: Create Bike Ceiling Storage
Do you walk into your garage in Riverside in the dark and stub your toes onto the bikes? Or perhaps you just wish to free up space from the floor? After all, there are few items that take up as much space in the garage as bikes do. Well, we have good news for you.
You can now attach sturdy and strong "bike hooks" on the ceiling of your Riverside garage storage systems. These bike hooks go straight into the rims of the tires of the bike and hang them from the ceiling. This right away clears tons of space from your garage storage and lights up your garage organizing like nothing would.
Not only can you store stuff more effectively in your garage now, but you can even buy that new bike that junior has been pestering you for. It hardly takes any effective storage space as most bike hooks are placed towards corners and bikes are hung vertically.
Alternatively, you may use bike lifts. If your garage is more on the narrower side of the spectrum, bike lifts can be especially beneficial for you. You can use roped hooks and a pulley system for this. Attach the steering and seat of the bike to lift it up. These bike lifts are some of the new age garage storage designs and keep your bikes at ceiling's length – therefore, clearing up space.
Hack #4: Consider Garage Wall Cabinets
Some of the most creative solutions are often laying in plain sight. Garage wall cabinets in Ventura are arguably among the best storage solutions. Here's why:
They are utilizing unused wall space. In an average garage, homeowners will try to stuff as much as they can on the floor and create an inevitable mess. Oh, bless the average homeowners! With these nifty garage wall cabinets installed, you are multiplying the storage space manifold.
They are easier to clean. Actually, to call garage wall cabinets "easier to clean" might be an understatement. Because newsflash – garage wall cabinets require little to NO cleaning. Furthermore, garage wall cabinets stay clear of the floor. This is how you say your goodbyes to dust depositing under heavy shelves.
Bye bye messy garage storage. Say hello to sleek, affordable and easy-to-clean garage wall cabinets. If you are unsure about how to go about installing garage storage cabinets in Ventura, call us at 877-573-6637 or reach us online.
Hack #5: DIY Plastic Bottle Racks
This is easily the greenest entry on the entire list. We are guilty of plastic. Point blank period! The yearly plastic bottle demand in the US is equivalent to 17 million barrels of oil. That is enough oil to fuel the entire Fast and Furious franchise. You get the picture. What can we do about it?
Reuse the huge plastic bottles we buy each year. How, you ask?
Drill holes in the caps of your plastic bottles. Attach these holes to eyebolts.
Take these eyebolts and fix them with two nuts each. One inside the bottle, and the other above the cap.
Lastly, cut a hole – about your fist's size – on the bottle's shoulder.
You can now hang these eyebolts into hooks across your garage and store tiny things (like nails, small tools, or even candies). Some of these may even be used as "lost & found" compartments for the household. Even if these plastic bottle racks are knocked off accidentally, most of the stored items won't spill out.
Let Our Top-Rated Garage Remodeling Experts Help You!
Garage storage systems in Riverside can be hectic to maintain. But with the right systems in place, they become a walk in the park… and by 'park', we mean 'garage'. Employ these genius garage storage hacks and take your garage organizing in Ventura to the next level.
Remember that it is always in your best interest to learn more about the latest custom garage cabinet ideas and garage remodeling solutions. Don't let the information overload scare you. Take it one step at a time, install the things you do need, and set yourself up for a comfortable life in your garage.
We at Garage Excell provide professional consultation and offer Palm Beach garage organizing plans for every budget. To book a free design consultation today – call 877-573-6637 or contact us online.