Elegant Ideas For Garage Organization in Laguna Niguel
The hillside town of Laguna Niguel is best known for its vast park and trail system. This space includes as many as 4 county parks and 31 city parks. The Crown Valley Community Park in Laguna Niguel is the hotspot for a variety of recreational activities and programs throughout the year. The city is primarily residential, having a median household income almost double the national average. Real estate is a major industry in Laguna Niguel, CA.
Many California homeowners are looking for garage upgrades in Laguna Niguel so as to create an adequate garage storage system that can help eliminate clutter from the living spaces in their home. However, even when you have sufficient free space available in the garage, it still requires proper garage organization to achieve your goal of a clutter-free home.
Here are a few elegant and functional garage organization ideas from our Laguna Niguel design team at Garage Excell.
Create a Garage Storage Plan
You may already have some broad vision is mind about you want your garage makeover in Laguna Niguel to add value to your home and enhance your lifestyle. But it is prudent to make a step-by-step plan, which will give you clarity and help you take appropriate actions in a systematic way.
Your first decision should be about how you wish to utilize your garage. Is it only going to be a place to park your vehicles, or do you want a more functional space with garage storage racks? Once you are clear about adding new storage, it is time to request a free consultation at your Laguna Niguel residence with our design team at Garage Excell.
Our designers will use 3-D software to enable you to have clear visualization and make any required changes in the plan on the spot. This kind of professional planning allows you to proceed more purposefully and within a pre-determined budget and schedule. Our team will help customize new garage storage cabinets that are tailored to meet your family's needs.
Divide Your Storage into Zones
Consider how many different types of items you have in your home, which must be securely stored away, and how many zones they should be divided into. Get rid of anything in your garage that you no longer use, so as not to make the space seem cluttered. Now, you'll be able to make more space for the things you love. Some of the common items for garage storage in Laguna Niguel include bicycles, gym equipment, sports equipment, garden gear, holiday decorations, automotive, and DIY tools.
For items that you expect to use less often, you can plan to store them in a zone that is closer to the ceiling (overhead storage racks in Laguna Niguel are popular). On the other hand, items that you and other family members may need more frequently should be stored closer to the eye level for quick accessibility. Storage zones will also depend on whether you are planning for a garage conversion in Laguna Niguel to include a workspace, living area, workout zone, or even a mudroom.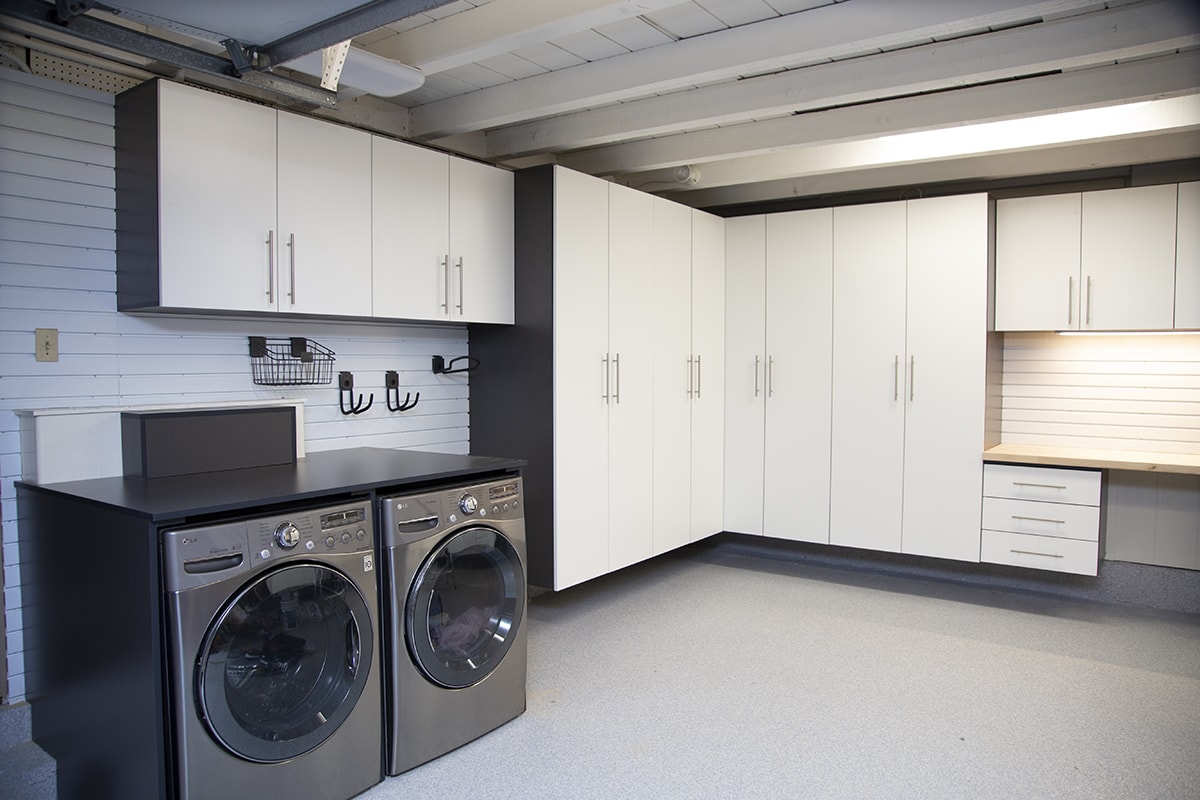 Choose Custom Garage Cabinets in Laguna Niguel
Once you know the items that will need to be stored in your garage and the zoning of those items is fairly clear in your mind, you can finalize the plan for garage organization in Laguna Niguel along with the designers at Garage Excell. Based on the number, size and shape of the items, you can order custom garage storage cabinets that fit your requirements.
With Garage Excell's professional quality of materials, craftsmanship and installation service, it will remove the guesswork from the equation. You will have solid garage cabinets in Laguna Niguel that are made from high-density MDF and some particleboard. The cabinets can be laminated to give them a stylish appearance and make them last longer in a tough garage environment.
Open Racks
Open shelving and garage storage racks give you a free view of your stored items for easy access. Many Laguna Niguel homeowners also prefer to store seasonal things or camping equipment higher up on the wall using open garage shelves.
Wall-Mounted Storage
This is ideal to store sports and gym equipment as well as bikes and skis if you use them frequently but do not want them out of the way. Custom wall storage cabinets in Laguna Niguel are key to your garage makeover plans because it ensures everything gets stored off the floor.
Ceiling Storage
To leave more free space for your vehicles, it is almost always a smart idea to optimize the ceiling space. Overhead garage storage in Laguna Niguel from Garage Excell comes in both standard and motorized ceiling rack options. It is available in multiple depths to match with your unique storage requirements.
Stör Slatwall
This is the in-house branded product for garage organization in Laguna Niguel from Garage Excell. Made from PVC, Stör Slatwall is built to sustain the harsh garage environment year after year. You can choose from a host of accessories to store a variety of oddly shaped or loose items using the versatile Stör Slatwall in Laguna Niguel.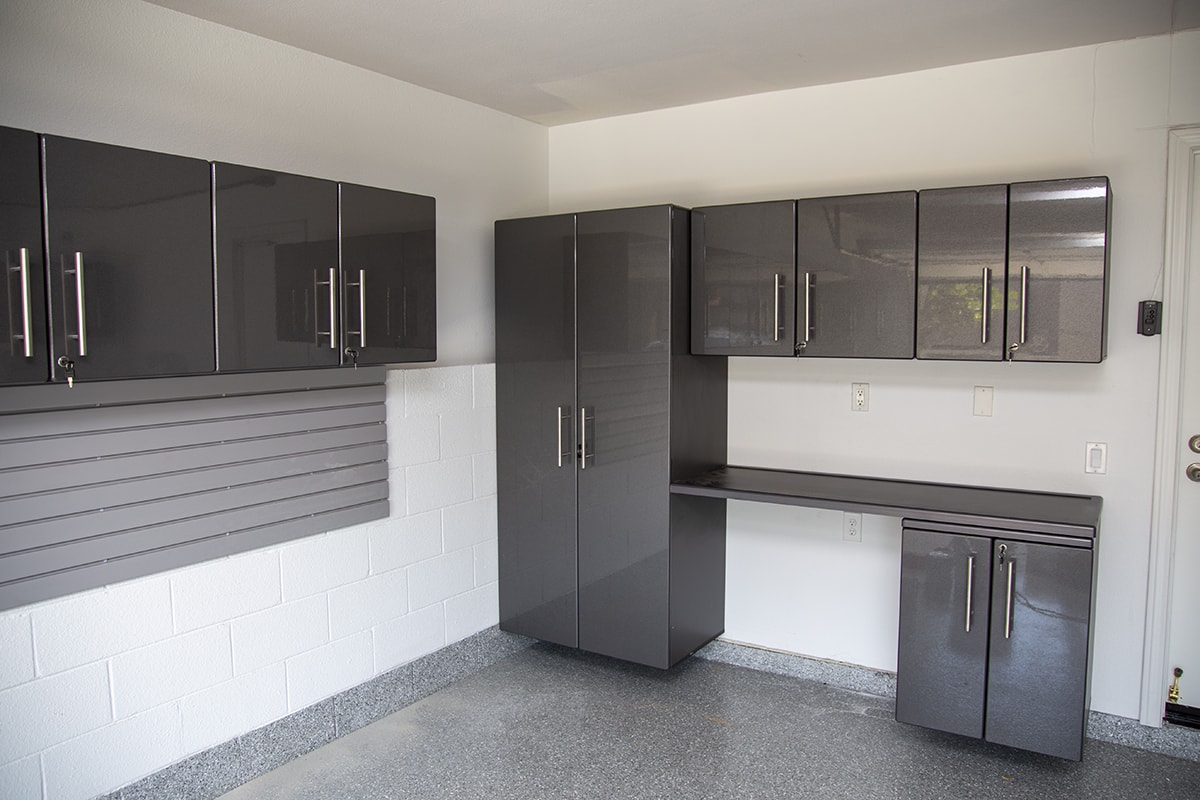 Time to Get Your Garage Organized in Laguna Niguel
At Garage Excell, we know from experience how garage organization in Laguna Niguel provides much-needed freedom from clutter and gives lasting peace of mind to California residents. We create and install garage storage systems in Laguna Niguel as well as undertake complete garage makeovers that will add value to your home and take your lifestyle to the next level.
Get ready to turn your garage into a prime space that becomes a source of joy and pride rather than stress or embarrassment. To learn how our designers can help you achieve this transformation swiftly and within your budget, give us a call today at (877) 573 6637.