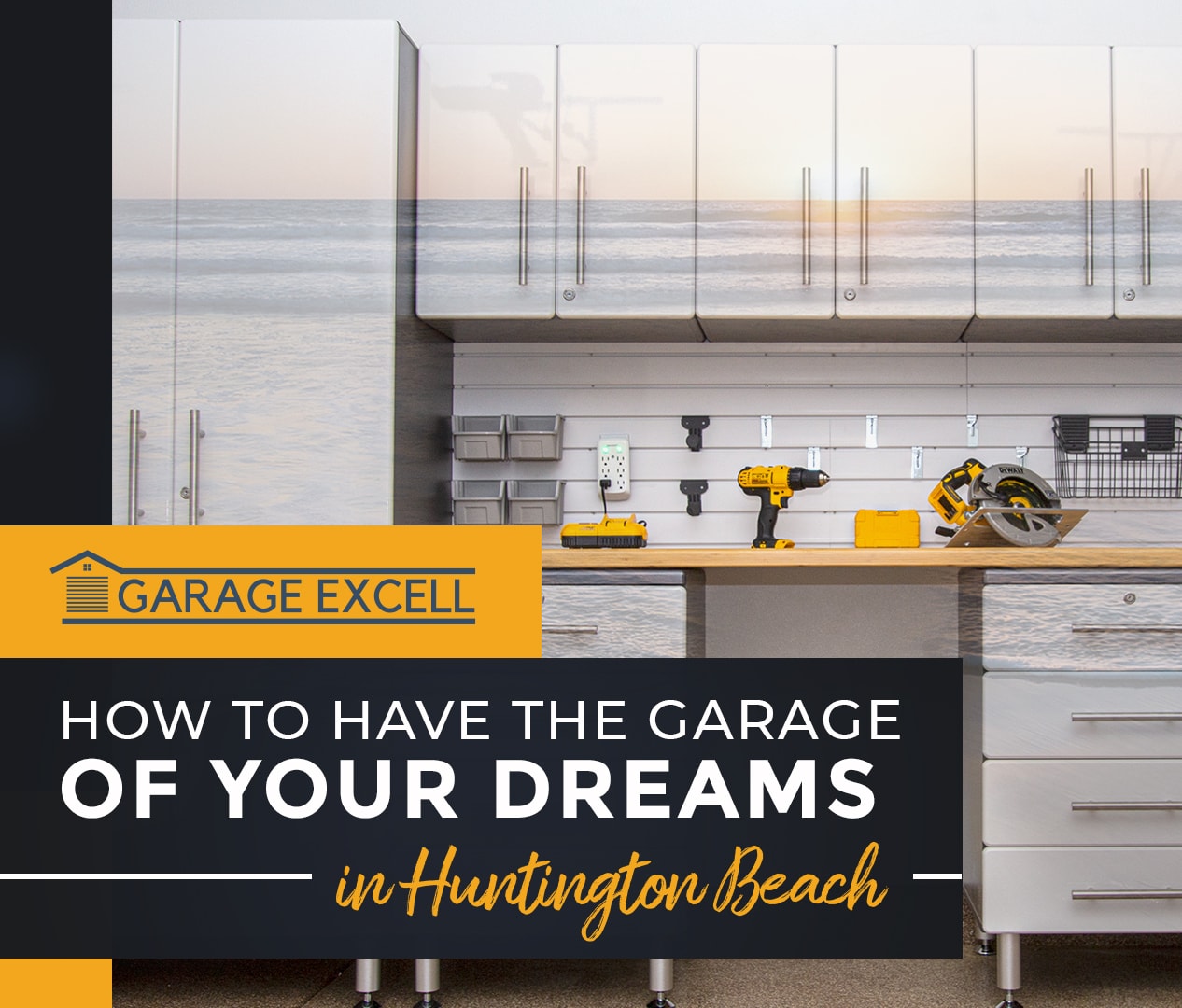 How to Have the Garage of Your Dreams
Huntington Beach, a city located southeast of Los Angeles, is popular for its surf beaches and is home to the International Surfing Museum. Apart from the city's five beaches that are spread across several miles of coastline, it also has the expansive Huntington Central Park that consists of lakes, gardens, fields, and an equestrian center. Huntington Beach offers a variety of dining options, nightlife, spas, and wellness and some of the finest stores for shopping.
When you are planning a garage conversion in Huntington Beach or a garage makeover that includes installation of a new storage system, you will have to decide between cheap DIY options and custom garage storage racks crafted and installed by professionals. While low cost offers for cheap plastic or particle board garage cabinets in Huntington Beach can be tempting, they may not serve your purpose or match with the quality and class of the rest of your home furniture and fixtures.
Why Custom Garage Storage Racks in Huntington Beach are a Better Choice?
Once you are ready to invest your time and effort to go for a Huntington Beach garage upgrade, cutting corners on quality would be a short-sighted approach. In almost all cases, homeowners in the city end up regretting the decision to choose low cost or DIY garage cabinets because they end up wasting precious space, do not last long, and provide little value in terms of both function and aesthetics.
On the other hand, when you choose professionally built and installed storage systems for your garage organization in Huntington Beach, it will prove to be far more cost-effective over time. Although you will initially have to spend more than what you would otherwise spend on readymade shelves from a big box store, the cost will be long forgotten while you and your family will enjoy the benefits of custom garage cabinetry day after day for years to come.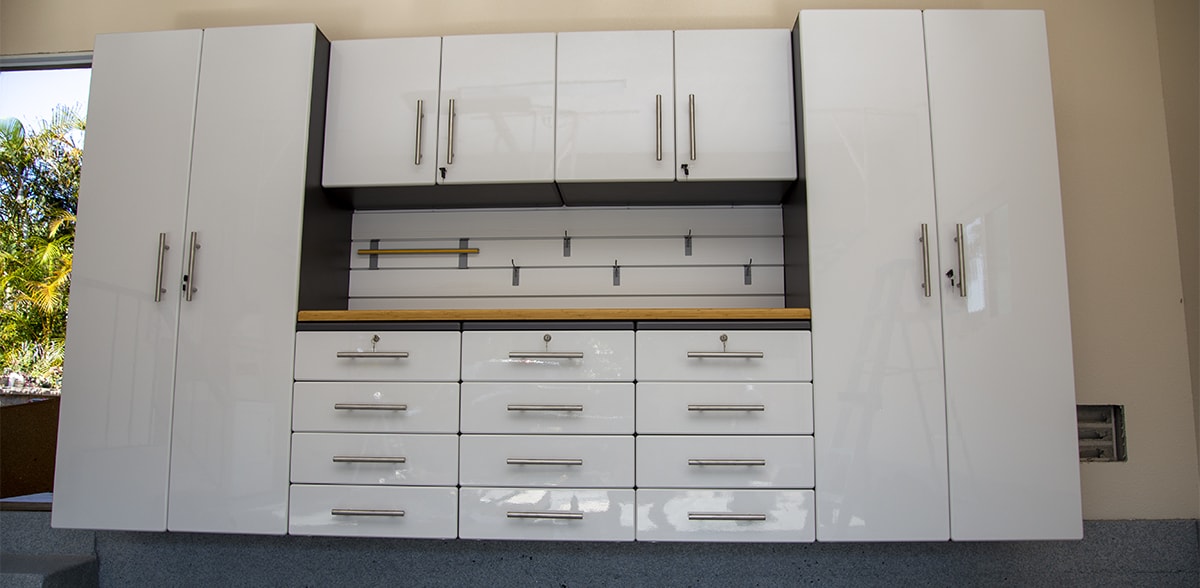 Garage Excell Provides Sturdy and Stylish Custom Garage Cabinets in Huntington Beach
Garage Excell is the proven and established specialist maker of high end custom garage cabinets, serving homeowners across Southern California for nearly 15 years. We also provide garage epoxy floors and undertake complete projects for garage remodeling in Huntington Beach. Here are three good reasons why you should choose our exclusive, luxury garage storage racks in place of cheap readymade or DIY options.
Custom Designed to Fit Your Needs
At Garage Excell, we know that each home has a unique personality, and every homeowner has unique storage requirements. Moreover, the size, dimensions, location, and parking needs of each garage are different. Our design team will take all factors into account and then create a custom plan for your Huntington Beach garage storage system in close consultation with you.
From complete wall garage cabinetry to overhead storage racks, we can craft a solution to match your space and your budget. You can choose from countless combinations of size, colors, and handle style. Depending on your needs, we can also provide you handcrafted custom garage cabinets in Huntington Beach made by highly experienced carpenters.
Built to Last for Years (or Decades)
The Ulti-Mate line of garage cabinets in Huntington Beach is manufactured from a combination of superior quality MDF and particle board. We don't use 100% particle board, which has no place in your garage because of the harsher indoor environment in the garage.
Ulti-Mate cabinets are designed to be moisture-resistant and will not easily get chipped, scratched, dented or damaged. Customers who choose a garage makeover in Huntington Beach with us know that our Ulti-Mate cabinets come with a 10-year warranty.
Professional Installation for Safety and Reliability
Garage Excell has a team of fully licensed and bonded professional installers who are trained and experienced for this job. We will book a convenient date and install your Huntington Beach custom garage storage cabinets as quickly as possible.
We will ensure that your industrial strength Ulti-Mate cabinets are lifted off the floor with adjustable stainless steel legs or are wall mounted, depending on your plan. Our off-the-floor design will make sure that the heavy duty cabinet materials have no contact with water or other liquids that may spill on the garage floor.
Types of Cheap Garage Cabinets You Should Avoid
Before you get attracted by cheap prices for off-the-shelf options in garage cabinets at big box stores, remember that there is no such thing as a free lunch. It is almost always unwise to adopt a thrifty approach when it comes to garage cabinets.
In any case, we would recommend you to avoid the following items for your garage in Huntington Beach:
Cheap Metal Cabinets
You can find a number of options for cheap steel or aluminum cabinets for your garage in big box stores or on e-commerce websites. Higher gauge steel cabinets typically sold cheap are actually of low thickness. Aluminum cabinets might be recycled and made of inferior grade metal.
Cheap Plastic Cabinets
Even if the label on the readymade cheap plastic garage cabinets says "molded plastic" or "made with polypropylene resin" etc. the reality is these plastic cabinets are probably unviable and undependable for your Huntington Beach garage storage needs. They are weak in construction and are unlikely to last long in a tough environment.
DIY Garage Cabinets
Woodworking is an excellent hobby if you are a DIY enthusiast. But that doesn't mean you can meet the storage requirements of your home simply by following instructions on YouTube to create DIY garage cabinets in Huntington Beach. It may not only be unfit for your garage space, but could also prove hazardous if it is not reliably built or installed.
Invest in a Custom Garage Cabinet System in Huntington Beach
Garage Excell has the expertise and years of experience in transforming spaces through garage remodeling in Huntington Beach, CA. If you are ready for a dream garage, it is time to set up a complimentary design consultation with our team. Call us at (877) 573-6637 to know how we can help you meet your garage storage needs with excellent quality and workmanship and well within your budget.