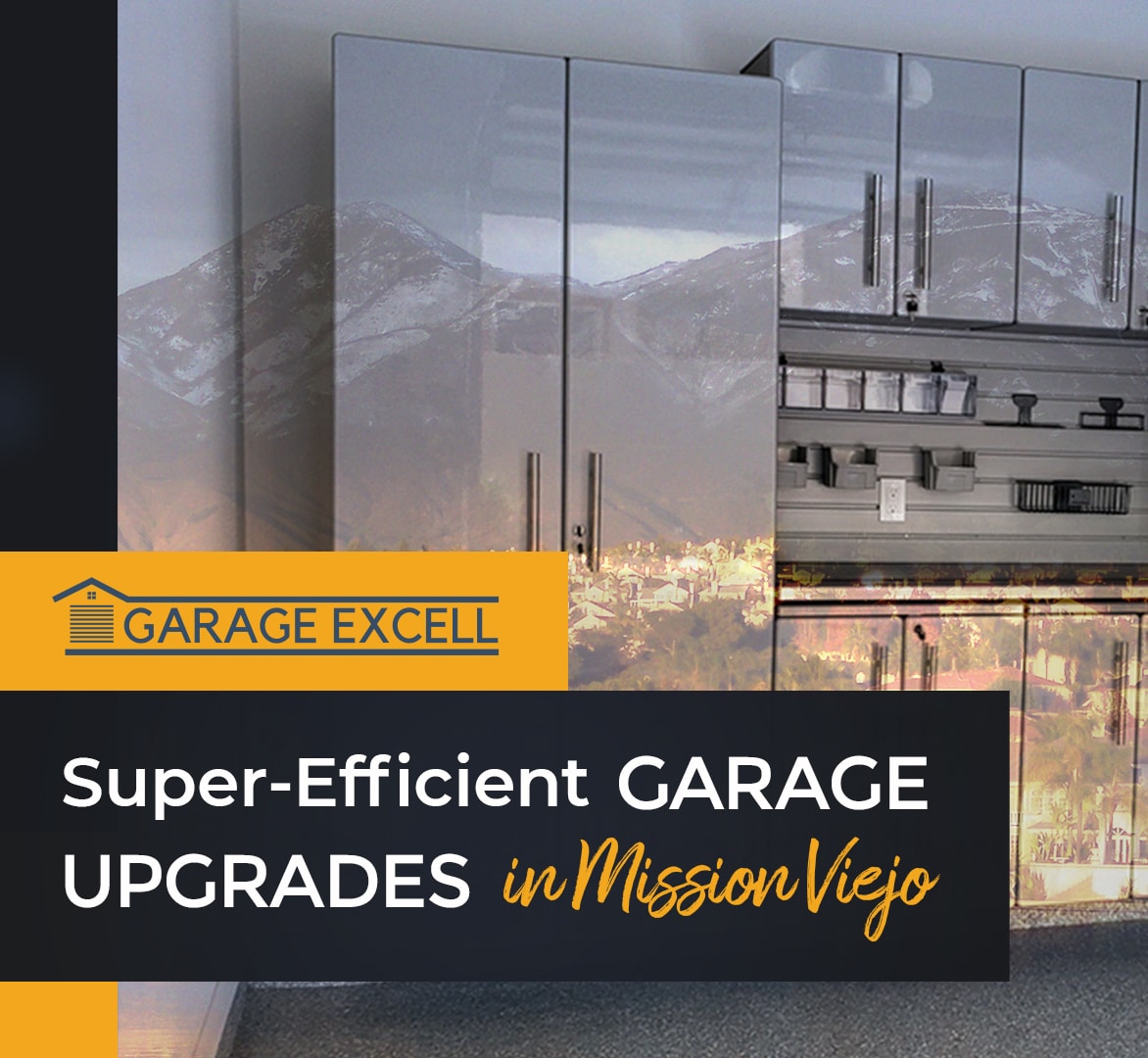 Super-Efficient Garage Upgrades
Located in the Saddleback Valley in Orange County, Mission Viejo is one of the bigger master-planned communities in the region with a population of more than 100,000. This primarily residential community is home to numerous single-family homes, a local hospital, a community college, an artificial recreational lake, and a number of shopping, dining, and entertainment options. With almost two parks for every square mile, the city of Mission Viejo offers great access to nature and green spaces to its residents.
Garage Makeover in Mission Viejo with Garage Excell
We have the dedicated expertise and 15 years of experience in designing and installing high-quality garage upgrades.
"Easy Button" Service
Our teams will begin by sorting and clearing out your existing garage space before they get on with the task of a full or partial garage conversion in Mission Viejo to suit your unique requirements. Garage Excell's "Easy Button" service is designed to relieve you of much of the burden of moving and garage organizing in Mission Viejo.
Our trained and friendly crew members will assist you in space clearance and even help you store it safely inside the home. This add-on service will ideally complement your full-scale Mission Viejo garage remodeling.
Garage Improvement Service
We offer a range of Room Improvement services to go with our garage storage racks in Mission Viejo. Our designers along with the installation team and support crew will work cohesively to perform your Mission Viejo garage improvement according to the custom plan determined in close consultation with you. Our enhanced garage improvement services include:
Plumbing: Replacement of plumbing fixtures (no involvement with pipes or other types of deeper plumbing)
Electricals: Our crew will punch through the garage electrical outlets, and may also move the electrical outlets at an additional cost.
Lighting: A designer will assist you in determining the ideal location for recessed lights; a discreet, efficient approach to light the garage.
Add Garage Slatwall Systems in Mission Viejo
As part of your Mission Viejo garage upgrade, you can add innovative slatwall organization systems along with a variety of accessories. This addition will significantly boost your garage storage capacity and give you more choices to hang different items from bike wheels to DIY tools. Garage Excell offers slat walls in multiple colors and sizes to suit your needs.
This affordable and highly user-friendly storage system will practically get every item up off the garage floor. Our Mission Viejo garage conversion experts can either directly install slat walls in complete 4 ft. or 8 ft. panels, or cut them to a custom size to fit the available space in your garage walls. With more than a hundred slat wall accessory options, your home in Mission Viejo can achieve excellent garage organization that's tailored to your lifestyle.
Slatwalls are a useful element in your Mission Viejo garage upgrade for these reasons:
Slatwalls are ideal when used above a workbench in a one-foot single panel configuration.
Slatwalls can be combined to cover a bigger area to hold garden tools, sports equipment, and bicycles.
High degree of customization is possible with slatwall accessories depending on your needs for garage organizing in Mission Viejo.
Slatwall organization system will give your garage a clean, clutter-free look and create plenty of free floor space.
Installation of a custom slatwall in Mission Viejo is easy and can be completed in less than a day by our licensed team.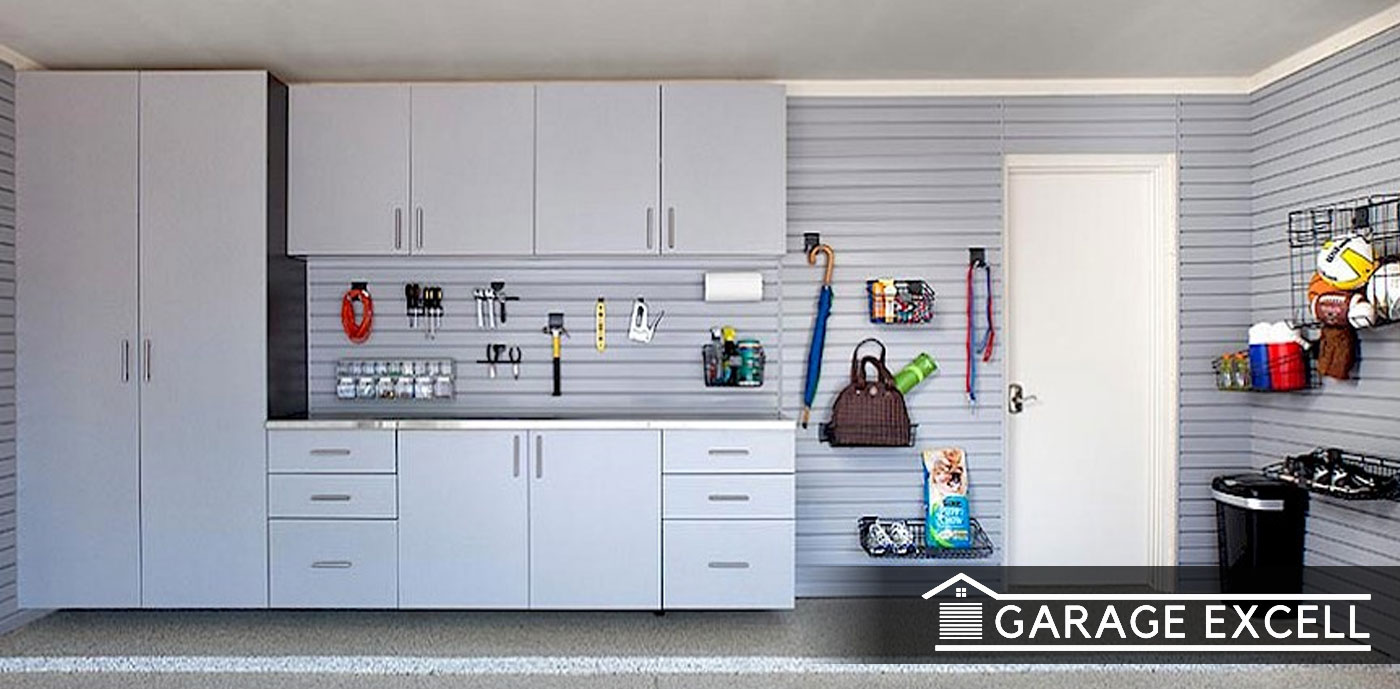 Install Custom Garage Cabinets in Mission Viejo for a Luxury Look
Superior quality, custom designed Mission Viejo garage storage racks will not only improve the aesthetics and function of your garage, but also increase your home value. Custom garage cabinets are probably the most important element in your garage upgrade plan.
At Garage Excell, customization in garage cabinets is our specialty area. Our experienced designers have the flexibility to provide you the right solution to fit your space, and our skilled craftsmen will give the desired shape and finish to make your garage look like a million bucks.
You will have an opportunity to select from an eclectic range of latest materials and styles for garage storage cabinets in Mission Viejo, CA. Our design team will visit your home to provide you a 3-D design consultation for free. This will help you visualize how your garage upgrade will appear in its final form so that you can make an informed decision.
Exquisite Garage Epoxy Floors in Mission Viejo
Your Mission Viejo garage remodel probably requires the final touch with an epoxy floor. Our epoxy flooring at Garage Excell is distinct from the standard offerings on the market. Our preparation plan, materials and chemicals quality and impeccable installation enable us to offer a lifetime warranty on epoxy garage floors in Mission Viejo. Our flooring include:
A base coat of epoxy.
Multiple size and color options in flakes.
A top coat of polyaspartic material.
While most regular epoxy flooring providers would do the top coating with clear epoxy, at Garage Excell we use the polyaspartic top coat which is substantially more resilient against chemicals and abrasives and adds durability to your garage floor.
Get Ready for the Best-in-Class Mission Viejo Garage Makeover
Garage Excell has been providing garage upgrades in Mission Viejo for nearly 15 years. Homeowners across Southern California trust our workmanship and material quality for garage cabinetry, slatwalls, and epoxy flooring. To set up your complimentary design consultation, call us today at (877) 573 6637.