Garage Renovation in Anaheim Can Maximize Your Home Value
Anaheim is the most populous city in Orange County, with a population of about 350,000. In terms of geographical area, it is the second-largest city in the region. Widely known for its Disneyland resort, Anaheim offers fun and excitement throughout the year. For sports enthusiasts, the city has Angel Stadium, which hosts the professional baseball team Los Angeles Angels of Anaheim. The city is also home to a number of major industries, including aircraft parts, electronics, and canned fruit.
If you are planning a garage renovation in Anaheim, an added benefit is that it will boost the market value of your home. Many people undertake garage remodels in Anaheim just with the goal of increasing their home equity. It's paramount to understand how a garage upgrade in Anaheim can affect the resale value of your home, and which types of upgrades are more attractive than others to increase home equity.
Is a Garage Remodel in Anaheim Really Worth it?
Anaheim homeowners attach a great deal of importance to their garages. As a result, having a well-designed and well-performing garage makes a considerable difference to the market value of a home. If your home does not have a proper garage, prospective homebuyers will be hard to come by in Anaheim.
In any case, a home with a nicely maintained and fully functional garage is going to sell for a significantly higher amount than a home that either has no garage or an ill-equipped garage. While it is true that quality Anaheim garage epoxy floors, overhead storage racks, and garage wall cabinets in Anaheim are going to cost money, the living benefits, as well as the return on investment, will be well worth the effort.
According to realty experts, the absence of Anaheim garage storage, proper lighting, superior flooring, and poor electrical or plumbing in the garage can result in appraisal report deductions to the tune of thousands of dollars for residential properties on sale. For many homeowners in the city, having a well-equipped garage is not a luxury, but a necessity.
People like to have a space that makes them feel good when they return home from work, and more importantly, they want a space that provides a large storage capacity and frees their home from clutter and disorganization. That's why homebuyers in Anaheim are usually prepared to pay more for a house that has a fully equipped and modern garage.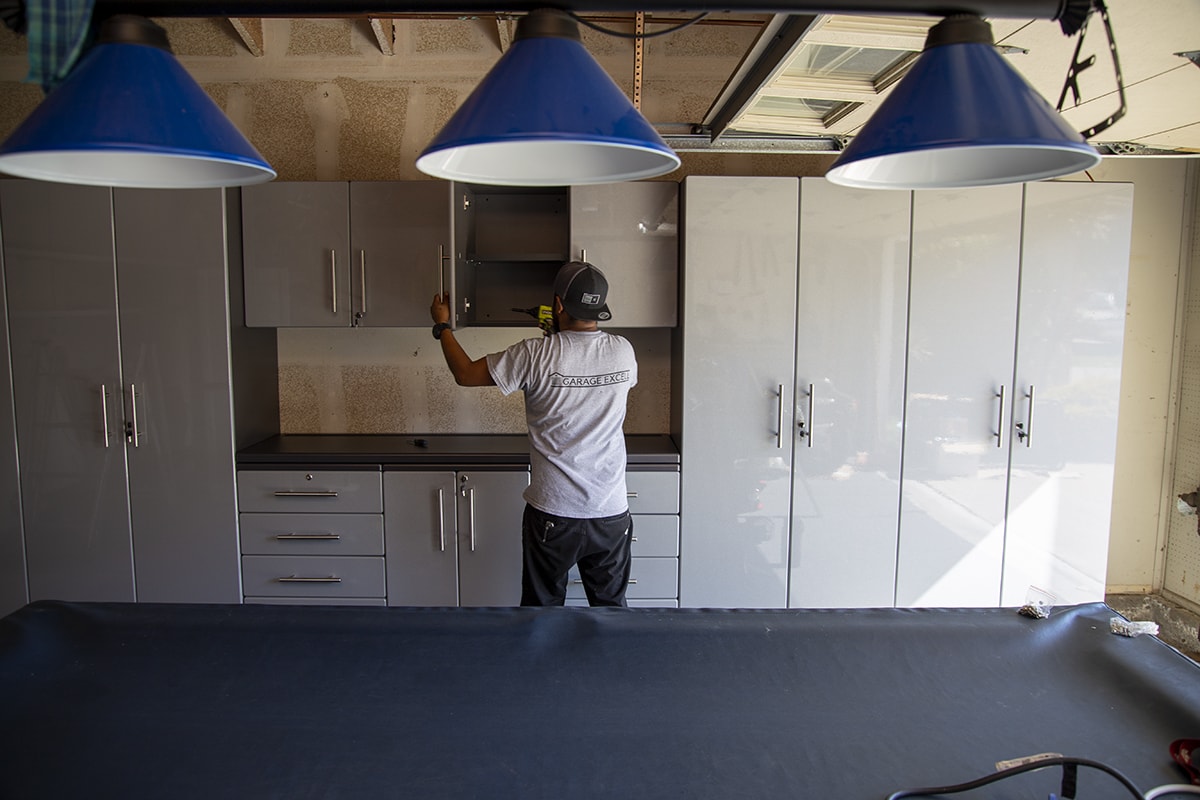 What Garage Design Ideas Can Make It More Functional and Stylish
A garage renovation idea to create a more functional space and add a sufficient number of garage storage racks in Anaheim is to install shelving. Garage shelving is a great way to store tools, sports equipment, and other items that may not have a place in the garage. Shelves can also be used for decorative purposes by storing items that tie into the new overall look of your garage. Realty experts generally recommend that if you have a two-car garage, it's important to make sure that both spaces are utilized to their full potential. Installing shelves and cabinets in one or both of the garages can help you do just that.
In California, garage organization and storage is a growing trend and garage remodeling for this purpose has become increasingly popular in recent years. Garage cabinets and garage storage racks are incredibly popular in the Anaheim region, especially among homeowners who want to make their spaces more functional.
What's great about garage storage racks and cabinets is that these pieces can be customized to fit your space and will keep everything in its place, which is especially useful for larger items that you want easy access to. For smaller items like tools, installing slat wall, alongside shelves could be another option.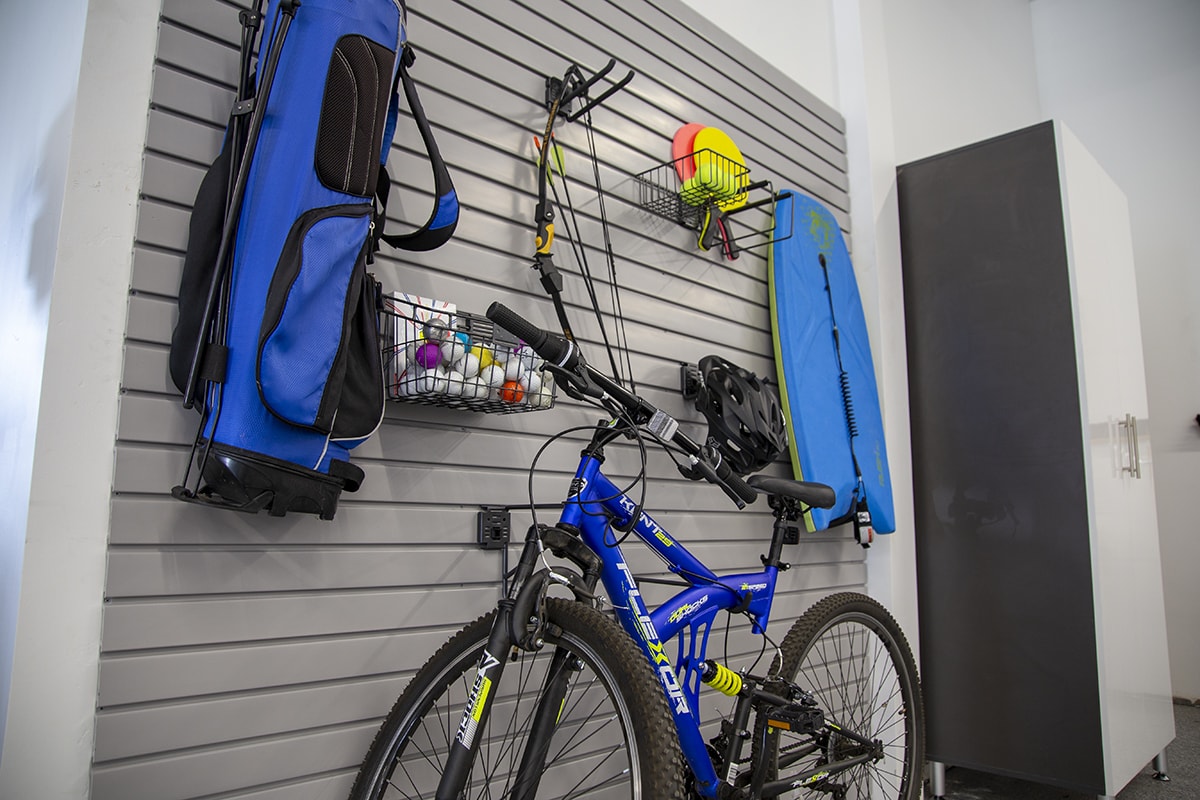 Should You Add Overhead Storage Racks in Your Anaheim Garage?
Whether you plan to use a part of your garage as a workspace, mudroom, or DIY activity area, or simply preserve it exclusively for your vehicles, you and your family will always benefit from high-end overhead garage storage in Anaheim. This can help eliminate all the clutter from your home and provide safe storage for countless things your family needs year after year.
Reliable quality garage ceiling cabinets in Anaheim from Garage Excell can turn your garage into a highly functional space – apart from pushing up the market value of your property. Garage Excell makes overhead garage cabinets in Anaheim using heavy gauge steel and other industrial-grade materials for maximum safety, strength, and durability.
Built with powder-coated heavy-duty steel, garage ceiling storage in Anaheim from Garage Excell comes with the industry best capacity rating. You can also choose from an array of garage organization systems and accessories we offer. These will let you store:
Bicycles
Surfboards
Lawn equipment
Camping equipment
Sporting equipment
DIY tools
Fitness equipment
Oversized bins with holiday decorations
All types of seasonal items
And more…
Book Your Free Consultation for a Garage Upgrade in Anaheim
Not all garages are made equal. Your home deserves a garage that sets your property apart from others, provides safety, comfort, and organization to your family, and boosts the value of your home equity. Speak to us to request your free 3-D design consultation for a garage renovation in Anaheim.
One of our experienced designers will visit your home to discuss a plan for custom garage cabinets, garage epoxy flooring, overhead storage racks, or a complete garage makeover in Anaheim. To know when we can visit to assess your garage space, call us at (877) 573 6637.