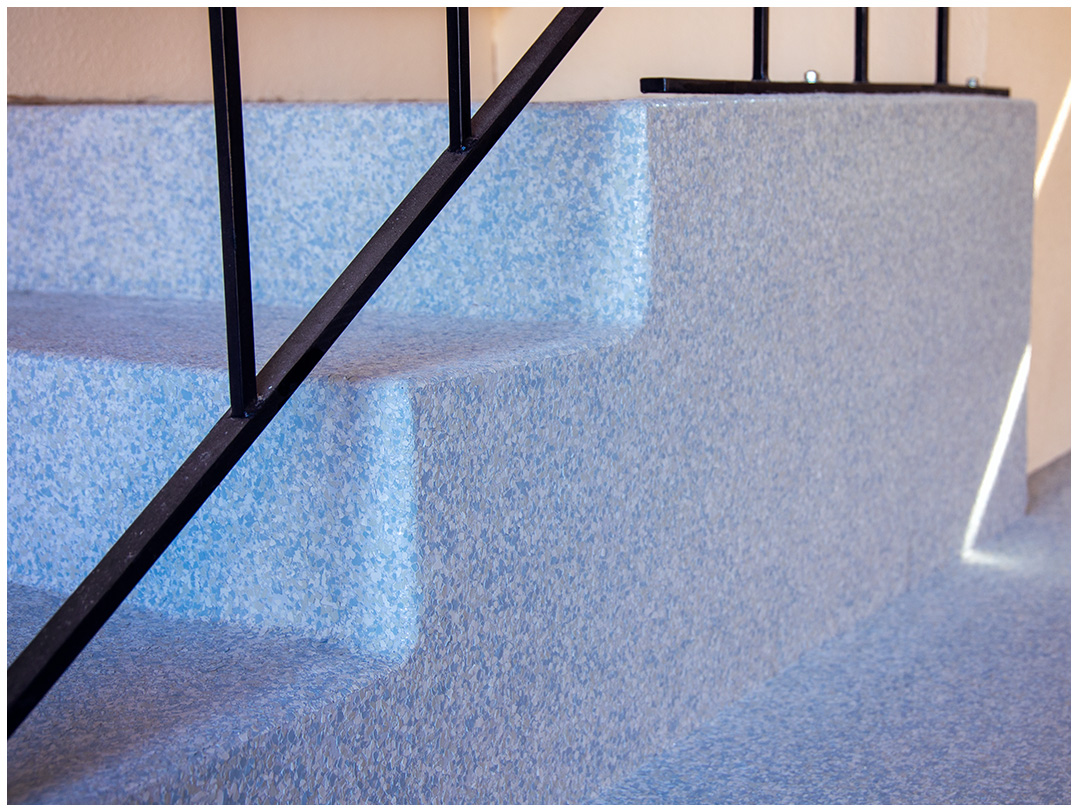 If you're looking to revamp your garage in
Los Angeles
, the best place to start is with that oil-stained, worn-out garage floor. And before you argue that point, let us make one thing very clear – no amount of lighting or paint can make the same impact on a garage as a brand-new floor, period.
Speaking of garage flooring, there are several options you can choose from such as garage floor epoxy, tiles, vinyl, concrete stain, and so on.  But judging by the title, you already know which one we are going to talk about here: yes, none other than our favorite polymer coating – epoxy. In fact, we are going to go even deeper and discuss polyaspartic epoxy coating that has emerged as one of the most durable flooring materials in recent years.
How Polyaspartic Epoxy Garage Floor Coatings Work
Epoxy for garage floors is not exactly a new thing; the material was created in the 1930s and soon became a hit among manufacturers across several industries. So while traditional epoxy coating tends to be cheaper and easier to apply than other flooring options, it's also vulnerable to cracking and peeling over time. Plus, it gets this faded, yellow tinge over time from exposure to sun rays.
This is where polyaspartic epoxy coating is different. Unlike the plain ol' epoxy coating, polyaspartic is extremely long-lasting and durable. Think of polyaspartic coating as the more evolved version of epoxy. It offers a granite-like appearance and can easily last a few decades when installed professionally.
This is not an exaggeration. The polyaspartic epoxy garage floors we install at Garage Excell in Studio City come with a solid lifetime warranty! These modern floor coatings have come a long way from traditional epoxy, and they are engineered to last longer, wear harder, and look better.
There's a reason why polyaspartic coatings were mainly used in commercial applications like factories, warehouses, airplane hangars, and hospitals until recently. A polyaspartic epoxy floor garage system consists of a base coat, a layer of vinyl flakes, and a clear topcoat.
This is not something you can buy at Walmart, regardless of what those cheap epoxy flooring DIY kits may claim. Polyaspartic coating sets at a lightning speed so you need at least 2 technicians to install it.
The Science Behind Polyaspartic Garage Epoxy Floor Coatings
Polyaspartic is a hybrid coating that looks very similar to polyurethane. First developed in the 1990s, it was used to coat steel during bridge constructions.
This is a synthetic polymer that is the result of a reaction between two components: an isocyanate and a resin. As a result of this chemical reaction, polyaspartic has a rubber-like quality that makes it a perfect alternative for older technologies like polyurethane and epoxy – but with a far better performance.
Not only is a polyaspartic coating resistant to UV rays, corrosion, and water damage, it also retains its color. In other words, once applied, your garage floor will experience very little loss of color or gloss over decades, even when exposed to direct sunlight every day.
Due to their chemical composition, polyaspartic epoxy floor coatings are exceptionally tough. They combine high-surface hardness with high elasticity, resulting in excellent abrasion resistance as well. If this doesn't make it the Holy Grail of garage floor coatings, we don't know what will. The bottom line is that all you have to do to ensure a long-wearing, stunning garage floor in your Hollywood Hills home is to go with a polyaspartic floor….and the right flooring installation company.
Not all polyaspartic coatings are created equal. The best type of polyaspartic flooring is one that is made from 100% aliphatic isocyanate material – this is what guarantees that durability we've been talking about. But there are many companies out there that use a blend of 49% aromatic and 51% aliphatic and still claim that is all aliphatic. This blend is cheaper and doesn't offer the same longevity as a 100% aliphatic compound.
So when you're talking to garage epoxy floor installation companies in West Hills, make sure you ask them about the product they are going to use. Anything less than a lifetime warranty may not be worth it.
Why Polyaspartic Epoxy Floor Coatings Are Better Than Regular Epoxy?
The benefits of polyaspartic coatings put traditional epoxy coatings to shame. Not only are they more durable, superior-quality, and way more damage-resistant, but polyaspartic cures in a fraction of the time it takes epoxy to cure.
Even though regular epoxy floors are popular among homeowners in West Hills, we see many issues with them over time. These include:
#Poor Flake Distribution: With epoxy coatings, there's always a high chance of poor flake distribution whether it's a professionally installed floor or a DIY epoxy floor kit job.
#Chemical Burns: Chemical burns are to epoxy what sunlight is to a vampire (unless all those vampire movies got it wrong. And no, Twilight doesn't count!). Diesel, gasoline, oils, and other spills can damage epoxy flooring severely and quickly.
#Flaking and Peeling: When your epoxy garage floor doesn't have a topcoat of polyaspartic material, it will start flaking and peeling at some point.
#Yellowing: Just imagine, you have invested a good chunk of money and time in a beautiful epoxy garage floor, only to have it start yellowing and fading within 10-12 months. Save yourself the horror, would ya?
#UV Fading: Once you've applied a regular epoxy coating on your garage floor, you will have to constantly worry about leaving the garage door open otherwise the UV rays will damage the floor.
#Hot-Tire Pickup: If you live in Los Angeles where the climate is warm year-round, we don't even need to explain this one.
Schedule A Free Polyaspartic Epoxy Garage Flooring Consultation in West Hills, LA
At Garage Excell, we transform damaged, dingy garage floors in Los Angeles into granite-like masterpieces using our polyaspartic epoxy garage floor coatings. We have spent 13+ years researching the benefits of polyaspartic floor systems and have perfected the installation process to ensure guaranteed customer satisfaction.
The secret to our success is quite simple: unlike other companies that are done "prepping" the surface within a couple of hours, our technicians spend an entire day preparing a floor before applying the advanced chemicals.
As a wise man once said, there are no shortcuts to success. When you rush to complete the floor preparation process, you're bound to have issues with the finished product's durability and appearance. And that's just not our style. Garage Excell's floors are made to last.
Once you have given us the go-ahead, our flooring technicians will prepare your garage floor using an industrial grinder. This includes repairing any surface damage and filling the cracks in the concrete (if any). Then a colored base coat will be applied, followed by decorative flakes fully broadcasted over the floor. Finally, a polyaspartic topcoat will be applied to give the floor that sheen and longevity that will make you one happy customer
Our signature polyaspartic epoxy floor coating comes with a variety of benefits:
Resistant to hot-tire pickup, yellowing, abrasions, and chemicals (including diesel and gasoline)
Resistant to peeling and flaking
Resistant to UV damage
Available in dozens of beautiful colors and chip flakes
Fast curing time; you can use your garage floor within 24 hours after installation
Lifetime warranty
Are you ready to work with Garage Excell in Hollywood Hills? Call us at 877-573-6637 or contact us online to schedule a free, no-obligation consultation.