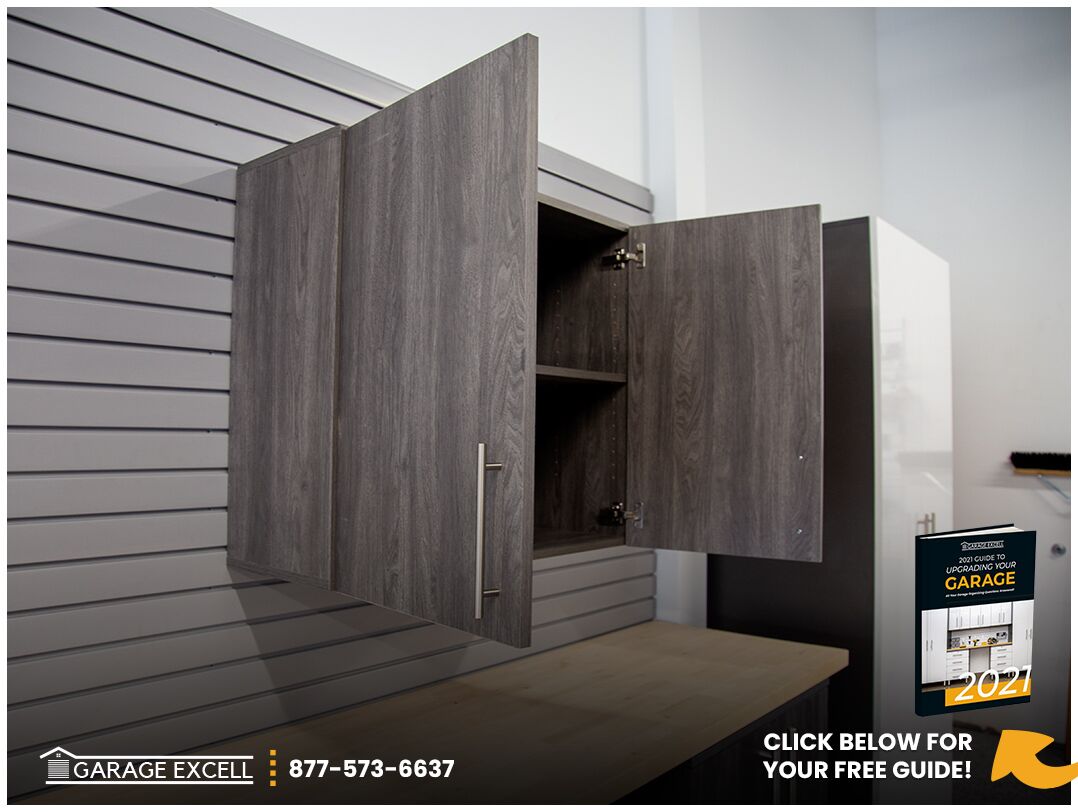 Getting new garage cabinets to completely change the look of your old, probably drab-looking garage can be exciting. But it can also be a nerve-racking experience for some, especially if they have a tight budget to work with.
This is where some DIY-loving folks start thinking about building their own cabinets and saving some money in the process. After all, there are free YouTube videos teaching exactly how to do that so how hard can it be?
Look, if you have the skills to build a set of sturdy cabinets, then building them would definitely save you money since your labor cost will come down to $0. "Skills" is the keyword here though. If you don't have the said skills, or you don't have time to build the garage storage cabinets from scratch, you'd be better off buying.
It all comes down to how much your time is worth to you. For those who have the skillset and the tools to build custom cabinets, go right ahead and build your own set. Nobody knows better than us how enjoyable cabinet-making can be!
But again, building cabinets – whether they are for your Newport Beach garage or the kitchen – takes a considerable amount of time and effort. You will need to schedule at least 1-2 weeks to build a whole set; this doesn't count the time it will take to stain or paint them.
Is Making Your Own Storage Cabinets For Garage Really Cheaper?
Do you already have the tools you'll need to make the cabinets? Do you have the level of skill it takes to build good-looking and long-lasting cabinets? If so, you can save money by making your own. But if you're not a seasoned woodworker and are new to the world of cabinet construction, you're going to have a hard time building cabinets in Laguna Beach that don't look like they were built by a sophomore in a shop class.
Then there's the matter of where you'll build them. This is something that will take a proper workshop or an area where you can lay the materials out, build the cabinets, then store them for a few days or even weeks while you finish the project.
So, to answer the question, of course, it's going to be cheaper to build your own garage cabinets – only if you already have everything it will take to do so. If you have zero experience, then buying them already built and having an expert install them is your only option.
Building Vs. Buying Cabinets For Garage Storage
Taking a look at the pros and cons of building and buying cabinets will make it easier for you to make a decision:
Building Pros:
You will save money since you'll be doing your own labor.
You can customize the cabinets precisely to your own needs; you can any color, style, material, or hardware you want.
You won't have to worry about having a crew in your house
Building Cons:
You will need to set aside considerable time; depending on the size of the cabinets, you will need at least 1-2 weeks.
It will take more time to come up with a design, take the measurements, and source the raw materials.
You will need to have enough space, away from your main living area, to work on the cabinets. This area should be well-ventilated as well if you're going to be painting, staining, or clear coating the cabinets.
Now when it comes to buying cabinets, you can either buy the pre-made ones from a big box store like IKEA or you can hire a cabinetry company to make customized ones.
Buying ready-to-use garage cabinets online or from a store can be cheap and fast; you won't have to wait for several days or weeks to get them installed. You can buy as cheap or as expensive as you want. This is the best option if you want your garage space to be functional as soon and as cheaply as possible.
But if you decide to invest in some custom-made garage cabinets designed and built by a trusted company in Newport Beach, here are the pros and cons of that:
Buying Pros:
Customization options regarding style, finish, color, and hardware are endless; your cabinets can be made to order.
The cabinets can be designed to fit in and around your personal belongings like your car, sports equipment, gardening tools, hobbies, etc.
Since custom cabinets are often unrestricted by budget and tailor-made, they are usually the best in quality and last a lifetime.
The experienced cabinet makers in Yorba Linda pay utmost attention to design and measurement so your cabinets make the best use of the available space.
Since custom garage cabinets use the best quality resources and the results are highly functional and durable, they add to the resale value of your home.
Buying Cons:
Custom cabinets can be an expensive investment.
It takes time to build them to your exact specifications, compared to if you were buying pre-made cabinets from a store.
Costs for Making Cabinets VS Buying Cabinets
You know now that making the cabinets by yourself can be cheaper, but how much cheaper? The costs for buying and building will depend on what materials you intend to use. Remember, the labor for building cabinets from scratch accounts for about 75% of the total price. This is why DIY garage cabinets can be less expensive. But you must be able to complete your project on your own, or without having to buy expensive equipment or hiring someone else, to save money.
Otherwise, you'd be better off buying them. You must have the skills, knowledge, and tools to build your own set of garage cabinets in Newport Beach. Cabinetry making requires special techniques that are different from regular carpentry. This is not something a "beginner" can handle.
Whichever direction you decide to take in terms of your cabinetry, investing in a proper garage storage system upgrades the value of your home, and transforms your garage into a fully functional living space.
The Leading Custom Garage Cabinet Maker In Laguna Beach: Garage Excell
Cheaper is not always better. Regardless of where you buy your garage cabinets, cheaper usually means less than stellar quality. But if you have some carpentry skills, you will be able to save money by buying a full set of cabinets and installing them yourself. If you have no skills, make sure to add installation costs to your budget.
At Garage Excell, we provide tailor-made garage storage solutions for those who don't have the time or inclination to make their own cabinets. While our seasoned designers and carpenters will be the ones building your cabinets, it's you who's needs, style, and budget we will be working with! Our hand-made garage cabinets come with a 10-year warranty because we are that confident in our ability to do a good job.
To schedule a free, no-obligation consultation with our cabinetry designers, give us a call at 877-573-6637 or fill out this short form online.