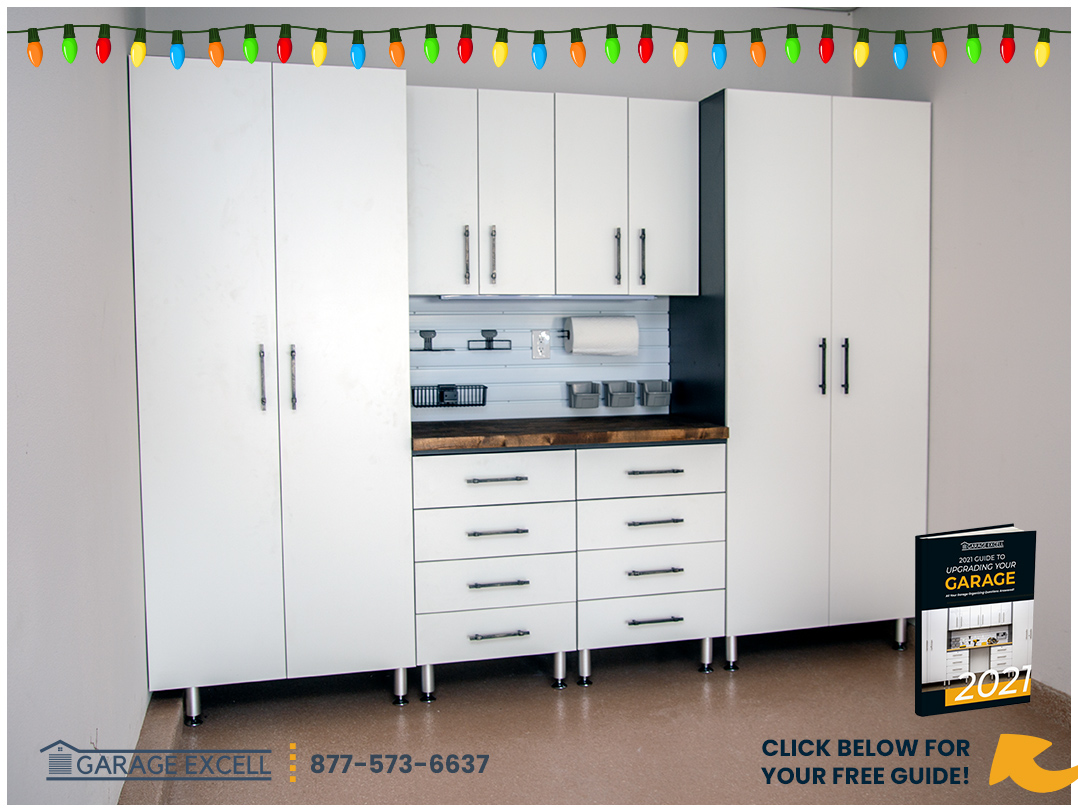 Holiday season is almost upon us. The guests called and they can't wait to be here. Everyone is at home, snuggled up nice and comfortable as the winter outside is starting to chill the streets… except for your vehicles? Wait, that doesn't sound right. In this article, you learn how to prepare a garage for holiday season.
As the holidays approach, you would want to be the perfect host and end the year on a beautiful note. Guess what makes it close to impossible? Having your Orange County garage storage so cluttered that your vehicles can't even get it. Only 30% of garage owners across the country are able to put their cars inside their garages. All due to the sheer amount of mess found inside.
But you do not have to be among the 70% of people whose cars never see the light of the day; or the dark of the garage. With some creative and strategic thinking, you too can clear up space and step up on your Orange County garage organizing journey so that there's room for your vehicles, your tools, and more!
Here's how to arrange your garage storage cabinets in Orange County before the holidays come around.
Best Way To Organize Garage For Holiday Season
#Store Common Items in Bulk
This is Beverly Hills Garage Organizing 101. The idea is to collect items, find the similar ones, and store them all together. And while this is just a simple rearrangement task, this tends to free up more space from your cluttered garage storage system in Beverly Hills. Here's what you can arrange based upon:
Frequency of use: Items that are used every day like shoes, helmets, gloves, car dusters, etc., can be stored together. Items used less frequently like lawnmowers, hose pipes, nails, hammers etc. may be stored together. The aim here is to store them based on their accessibility. One potential problem here is that often the sizes vary so much that storing them "together" is just not possible.
Intention of use: This is a more functional way of storing items. For example, gardening supplies may be stored together. Food for your pets should be stored together and well away from those hazardous chemicals in your garage.
#Label, Label, Label!
As the means of storage multiply, so does your probability of getting confused. The next thing you know is, you forgot where you stored the bike knee pads and right when the kids are about to go out, their afternoon is ruined. The only way to save these and many more afternoons is to label aggressively. That includes absolutely everything, every canister, every garage cabinet, every bin, and every custom garage cabinet in Santa Barbara.
This becomes even more important for holiday seasons. Because the thing is, it is easy to step up your Santa Barbara garage organizing game. However, it is also equally easy to step into your garage storage system months later and have literally no clue about what was stored where. It happens to the best of us. Don't stress it. Just label them appropriately, before you start moving too much stuff around.
#Set Up the Closets
These closets are not there for your clothes. The garage organizing may start to feel monotonous, boring, tiresome, and uninspiring. Articles after articles on the internet with the same thing being said don't help either. And the reason this happens is that there simply isn't a designated space for storing unwanted junk.
That's where closets come in. Utilizing the closet space can be a great solution to your garage organizing needs. Pick something that feels familiar, easy to use, and most importantly, has a lot of space. You should start off with only one garage closet as your garage storage cabinet. You can use it as your miscellaneous stash.
Soon, you will realize that you can (and should) upgrade to more. This will build up a consistent network of garage storage cabinets and therefore, build reliable, accessible, secure, and sturdy custom garage cabinets in Santa Barbara for you.
#Reuse Old Furniture
Maybe you are holding onto the dear old wardrobe dressers, hutches or armoires, and waiting for the right time to arrive. Waiting to give it away or donate it or sell it or anything. Maybe you are storing these good old storage racks in your garage itself – shut and unused. Here's a mind bender – don't shy away from using old furniture.
Whether it is old tables or closets, you can find storage uses for pretty much anything in your house if you are creative enough. Several people construct entire DIY garage cabinets in Newport Beach by reusing and recycling stuff from their households.
#Be Mindful of the DIY-ing
DIY garage organizing in Newport Beach can be the best solution in some cases, if it is done right. In skillful hands, DIY garage cabinets can be sleek, cheap, creative, and as personalized as they can get. While we are big on doing it yourself, we understand that DIY-ing your entire garage storage system in Newport Beach can get very complicated. It can be tempting to do it all by yourself, but it won't be as simple as taking just one weekend and sorting stuff out. Sometimes, it will require a lot of effective planning and "out of the box" thinking.
Moreover, not everybody can afford to spend enough time formulating, planning, and executing their Hollywood garage storage systems. And we are here to tell you that it is ok. Be realistic about what you can and cannot do. Be realistic about the expectations. Be realistic about how much garage organizing skills you do possess.
Be mindful of the purchases you might be making to DIY and fix the blemishes on your garage storage system. If done right, you can makeover your garage almost entirely with minimal effort and considerably low costs. However, if done wrong, you may throw more pennies on your DIY garage cabinets in Hollywood than you would if you brought professionals and went for highly attractive, resilient and functional custom garage cabinets in Hollywood.
Holiday season is no time to take risks and expose yourself to hazards if you are unsure about your do-it-yourself garage storage in Hollywood. Be realistic. Be judicious. Plan ahead, step by step. And map out your exact expenses as well as a plan of action.
Get the Garage Cabinet Pros to Work for You
Like we already mentioned, if your garage remodeling in Santa Monica is done wrong, you might end up spending more money as well as energy than you would if you just brought the professionals in. There is absolutely no harm in investing in bringing in professionals.
Garage organizing is a seriously underrated part of the American lifestyle. And because of how rare well-organized Santa Monica garage storage systems are, these efficient garages significantly boost the value of your home – both in terms of real estate as well as functionality.
And if you too have been putting off working on your garage cabinets all year, don't worry you're not alone. If it takes the holiday season's arrival for you to start taking action on your garage organizing, so be it. After all, it is never too late to start.
But holiday seasons don't really offer a lot of time, do they? If you don't have the time, energy, skills, or guidance needed to build the garage storage space you want to build, consider hiring professionals like Garage Excell to help you step up your Santa Monica garage organizing game.
At Garage Excell, we provide dedicated pro garage remodel services that you need to sort out your home this holiday season. We are aimed at providing the best possible garage organizing roadmap available for any budget. Revamp your garage storage cabinets with our innovative solutions and services for your garage. To set up a free consultation today – call 877-573-6637 or write to us online.