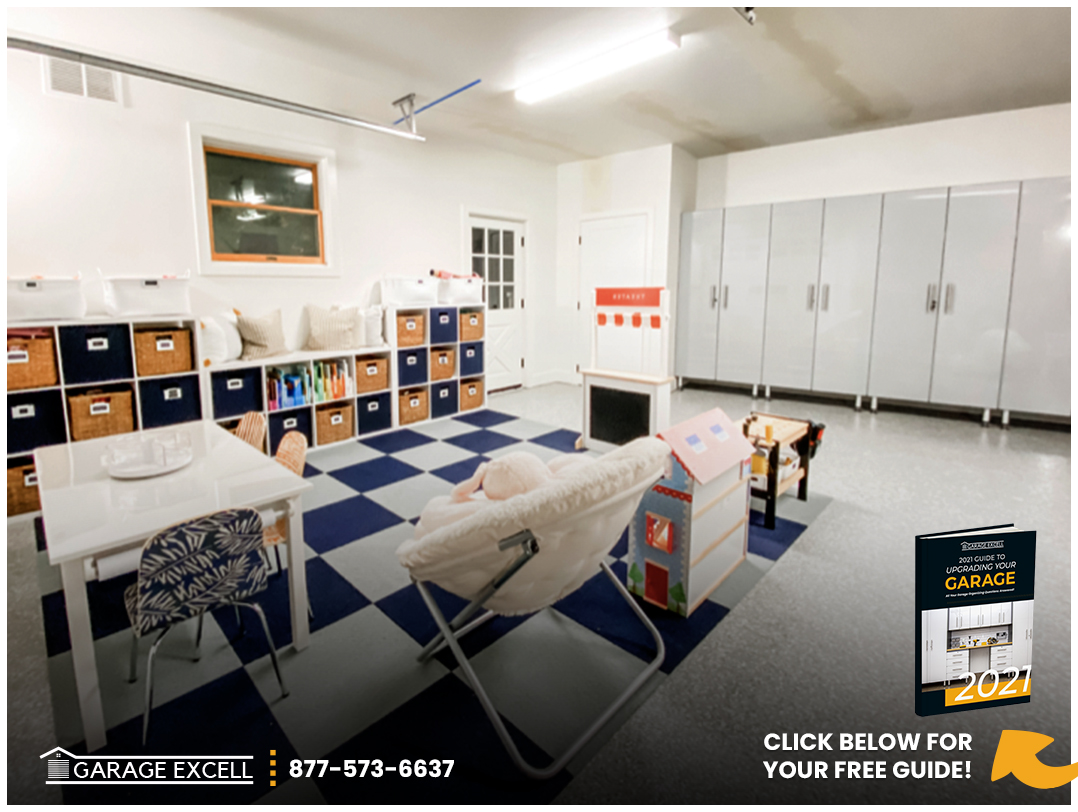 It's all right to have doubts, concerns, and questions about your garage storage system in Los Angeles. It's also OK to feel frustrated with the current state of your garage and feel the need to get a complete garage remodeling in Los Angeles. And don't worry if you are confused about how to proceed with garage organization in LA. You're definitely not alone.
There are so many who are just clueless about what to do with their garage space and how to create aesthetically appealing yet functional garage cabinets in Los Angeles. There is so much information out there, that researching to get started with your garage organizing journey is like a trip to a crowded theme park. Just 5 minutes in and you're lost.
So, our cabinet experts at Garage Excell have answered some of the most frequently asked questions about garage storage in Los Angeles. Here's what you wanted answered:
Every Garage Storage Question in Los Angeles Answered
#1. How Do I Organize My Garage Storage Bins?
These splendid ideas on garage storage will assist you with taking complete advantage of the space you have and put together all that you need to store! You'll have the option to utilize the garage storage as a place to store your vehicles as well as an unloading ground for extra stuff!
#Utilizing Vertical Spaces: Shelves
Virtually every garage in existence has ignored the vertical space that could have been put to good use for storage. This is why most of our customers want to know how they can better utilize their vertical spaces with garage storage shelves in Los Angeles. If you have been wasting precious floor space by placing your garage storage bins on them, it is time to utilize the vertical space.
Talk to a Los Angeles custom garage cabinet maker for installing overhead shelves. Depending on the height of your garage, your shelves might get pretty high, so make sure you have them installed at a safe and reachable height. Cheap shelves are easily available, but they might not be the strongest fit for you if you store heavy tools in your garage storage bins in Los Angeles. So, choose heavy duty wood garage cabinets for overhead storage (or even aluminum could be a good bet.)
#Utilizing Vertical Spaces: Garage Wall Cabinets
Another meaningful addition for the management of garage storage bins is garage wall cabinets in Los Angeles. These cabinets are essentially upgraded versions of shelves and are just much more durable. What's more? Psst, sometimes they might just be cheaper!
Garage wall cabinets are sleek shelves attached to the walls of your garage in which you can securely store various useful items and supplies. With custom garage wall cabinets, you're utilizing space in the garage that you would have basically just thrown away.
#Getting Bulky Items Off the Floor: Installing Hooks
During your Los Angeles garage organizing journey, you should aim to get as much stuff off the floor as possible. It simply keeps things that much cleaner and easier to manage. You may use racks, shelves and wall cabinets. But additionally, many LA residents use hooks attached straight up to the wall to get a bunch of your things – like sports' gear – up off the floor.
#Getting Bulky Items Off the Floor: Pegboards
Pegboards have always been highly functional additions to your garage storage system in LA. Also, let's be real, they are very aesthetically pleasing. These can be used to hang bulky items on your walls and clear space off the floors without a mess.
#Create DIY Toolbox Kits with Divided Containers
You can go a step further with your creativity and …well, create kits for specific tools. For example, you may get a container box with divided slots and store your nails in one of them. A bigger version of this container box might be used to store wrenches, screwdrivers, and so on. You can then cover these boxes and put them in your shelves to minimize the space they take up.
#2. What is a Good Height for Garage Cabinets?
Garage cabinets in Los Angeles come in a variety of sizes. It is actually not possible to suggest the best possible mounting height for your garage cabinets. But you should take in mind where and how you will be mounting your garage storage cabinet units. So, let us try to take a look at the options available to you.
#Standard Mounting Height
You can reach the top of this height by standing on the top of your toes or by getting an elevated tool. Standard mounted garage storage cabinets are approximately 96 inches from the surface of the ground to the top of the cabinets.
#General Cabinets
The general cabinet heights depend on the size of the garage storage cabinet. If the cabinet has standard dimensions of 12 inches of depth and 30 inches of height, the installation of the cabinet should be at 96 inches.
#3. How Much Does a Garage Remodel Cost?
Garage remodeling in Los Angeles can be daunting idea – both for technical reasons as well as the hit that the wallet takes. Most people do not understand the need for a garage remodeling, nor do they have much grasp over the costs. That's probably because of just infrequently people think about it.
But garage remodeling can, in a way, give your home storage a complete reset. After undertaking a major garage makeover in LA, many of our customers have reported having less stress, less difficulty storing their things, and less clutter. Due to the sheer magnitude of their scope, garages do tend to get cluttered. This is where proper garage organizing and garage remodeling come in.
Garage remodeling in LA reopens many avenues for you to store your supplies and gives your garage a new life. Depending on the size of your garage, a garage revamp might cost somewhere between $1,500 and $3,500. Remodeling a medium-sized two-car garage, with several tall garage storage cabinets, garage overhead storage, and shelves cost around $2,000. You may go a step further and choose to spend a sum of $5,000 for standard white fronts, aluminum shelving, and aluminum pulls on your garage remodels.
Several things determine the cost of your garage remodeling. Some of them are:
Your garage's size.
The color in which you want your garage storage system to be remodeled to (custom colors cost about 10 to 30 percent more).
Whether you are going for custom garage cabinets or the presets offered to you during your garage remodeling (custom garage cabinets in Los Angeles may cost between $2,500 and $5,000).
#4. How can I Organize My Garage Cheaply?
Garage organizing might look like a wallet-heavy affair on the surface. In cities where the living costs are already high, ahem, like Los Angeles, this proves to be a problem. So, before you start looking at garage remodeling and garage organizing plans, we at Garage Excell, suggest you to do the following:
#Plan for Your Garage Storage
Your priority here is to brainstorm ways to store your items and store them in good condition in your garage. You should take inventory of the things you will be putting in your garage storage system in Los Angeles, and creatively come up with plans to store them so it occupies the least amount of space. If you do not have a plan, you just might end up spending more money than you should.
#Find the Best Place for Everything
Everything has its place in your garage storage. You should know what goes in the top shelf, which tools are kept in which toolboxes, and what those drawers towards the backdoor contain. Brainstorm where you might be hanging gardening supplies and shovels. Here are some additions to your LA garage storage that might prove beneficial:
Pegboards
Garage wall cabinets
Wall hooks
Drawers
Overhead storage for garage
Plastic bins
#Use Plastic Storage Bins
Plastic storage bins are cheap, light-weight, and most of all, quite durable. They are easily the best alternatives to cardboard boxes. If you are living in Los Angeles, the last thing you want is insects infesting your cardboard boxes in your garage. Get plastic bins and store your tools and supplies. Stack them over one another strategically to save space.
#Label Appropriately
There is no point to garage organizing if you don't find your things when you need them the most. Label boxes, bins, and overhead storage racks to make things easier for everyone. These even help if you ever decide to move houses as you already have labels for everything.
#Get the High-Grounds
Is everything in your garage within reach? While this may sound counter-intuitive, having everything at arm's length might not be the best idea for if you are trying to save money and boost your garage organization in Los Angeles. While the spaces high above the floor might not be the best home for frequently used tools, they sure can store the rarer items. Take advantage of this and store lesser-used items in sturdy bins.
#5. How much do Custom Garage Cabinets Cost?
Quality garage cabinets in Los Angeles can make all the difference in how well your home organizing is. You can boost the space available in your garage, inflate your estate's value, and most importantly, have a functional garage storage system at your disposal in Los Angeles.
Custom garage cabinets, if executed well, might just turn out to be the home's biggest storage area. The range you may choose from is seemingly infinite. From top-notch garage cabinets to base models, we will try to answer what the average cost of installing a custom garage cabinet in Los Angeles is.
Most regular, two-car garages with a few tall cabinets, upper (overhead) garage storage cabinets, lower cabinets and shelves cost somewhere between two thousand to five thousand dollars. These might be standard white fronts, aluminum shelving, and aluminum finishes.
Prices definitely vary depending on the height, depth, width, color, build, material and functionality of your custom garage storage. Your countertop preferences will also play a role in the price of your garage cabinets. You can do your own exhausting research or let professionals like Garage Excell handle it for you. Reach us online or call us at 877-573-6637 to book a free consultation today.
#6. How to Choose Between Garage Wall Cabinets and Garage Overhead Cabinets?
Before you make a decision about whether you should pick garage wall cabinets or garage overhead cabinets, ask yourself the following questions:
How big is my garage?
How much storage space would I need to store the things available to me?
Which is the safest garage storage cabinet for me and my family?
Once you have answered these questions with intentional and deliberate thinking, you should already have a clear contender. But if you are still confused between garage wall cabinets and garage overhead cabinets, here are some pros and cons of both.
#Garage Wall Cabinets
Pros:
Everything is out there in the open. Therefore, everything is visible and accessible.
Frees up floor space.
Keeps small, frequently used tools at arm's length.
Easy access for kids' sports gear.
Attachable hooks, shelves, and baskets.
Cons:
Items are open to dust, and dirt.
Not the best bet for breakable items.
#Overhead Storage Cabinets
Pros:
Literally doubles the available storage space.
Frees up the room from the floor.
Height adjustable.
Available in numerous sizes
Cons:
Ladder access may not be the safest for everyone.
Lifting heavy objects might be dangerous.
Difficult to see what is stored in racks, unless appropriately labelled.
Transform Your Garage Storage in Los Angeles with Us!
Installing a garage storage system in Los Angeles has never been easy. The overwhelming amount of information online does more harm than good. But that is what we at Garage Excell are here to help you with.
Garage Excell offers the complete package for your custom garage remodeling in Los Angeles. Get yourself your dream garage workstation, free up space, build the most functional garage storage system – and do it all in style with Garage Excell.
Learn about our Los Angeles custom garage cabinets, garage wall cabinets or overhead garage storage cabinets. Give your garage a makeover and boost the market value of your home today. We have garage organizing Los Angeles plans to fit any and every budget. Preserve your savings and build a trustworthy relationship today with Garage Excell. To book a free design consultation today – dial 877-573-6637 or reach us online.