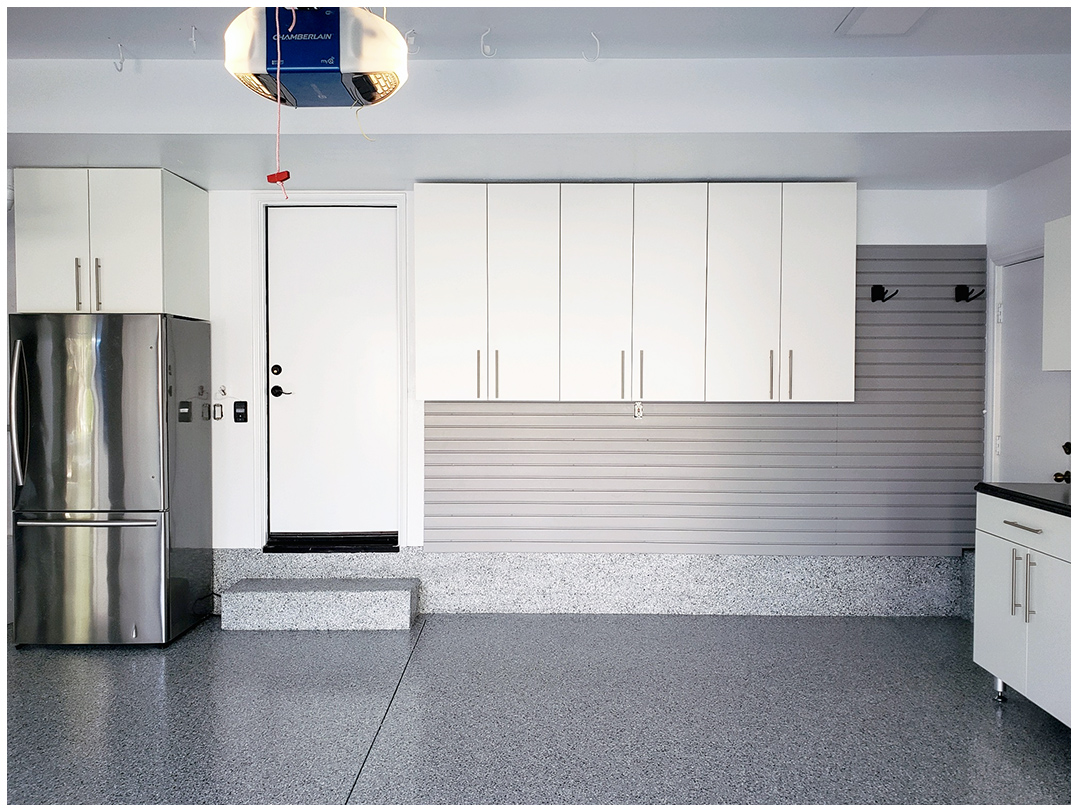 We all have different standards of how we wish to organize and maintain our homes. But sometimes, no matter how hard you try and how good your intentions are, it can be hard to keep on top of your space the way you'd like to.
You've probably also been bombarded with images on TV and Pinterest of immaculately tidy homes and garages. You may even know someone in your circle who manages to keep their abode perfectly organized while juggling work, kids, and pets, all with a smile on their face the entire time.
You wish desperately for your San Diego house to be spick and span, as your chest tightens at the simultaneous realization that you probably don't have the energy or time to achieve it.
We are here to tell you that you should not feel bad if your garage storage is not as neat as your neighbor's. There are several reasons why maintaining a clean garage might be a challenge for you, and trying to fit someone else's standards into your home and life is a recipe for poor home image and disappointment.
Main Reasons Why Can't Keep Garage Clean & Organized?
#You Don't Know Where To Start
When things are too far gone or out of control, it can be a real mental hurdle to even just begin. The inertia doesn't help, and since clutter begets clutter, the problem keeps worsening before your eyes. One of our favorite strategies to deal with this is to pick just one corner of the garage and start from there. Work your way around the space clockwise, clearing every corner and putting each item away.
Some people like to do what Marie Kondo recommends and declutter and clean out the whole space in one go. The idea here is that if you tidy a little a day, you'll be tidying forever. If you want to outsource this mind-numbing work to professionals, you can reach out to Garage Excell in San Diego and our experts will take care of the rest.
If you decide to do it yourself, don't get distracted or overwhelmed. Stay focused and you'll gain momentum; one clean corner will lead to another. Make sure you clear out your garage so thoroughly that even one little thing out of place is so obvious that you'll want to put it in its designated place immediately.
Important tip: If you don't have sufficient garage storage, which is causing the clutter, it is time to consider some garage remodeling and work with a reliable garage storage systems provider in Los Angeles or San Diego. You will have a choice between ready to use and custom garage cabinets. Explore all your options, including garage wall cabinets before you finalize your garage remodel plans.
#You Don't Have Enough Time
Sometimes, you just don't have the time to keep up with housework — and that's okay!  Whether you need to hire a professional garage cabinet storage and garage cleaning and organizing company, like Garage Excell, for assistance or enlist the help of a trusted friend who's known for their OCD-level cleanliness skills to deal with it all, get the help you need.
The key is to face your situation head-on and not feel guilty. At Garage Excell, we have helped thousands of homeowners in Sabre Springs and surrounding areas sort through and declutter their messy garages and utilize their space with best in class custom garage storage systems. If you think you have a lot of stuff and don't know where to start, give us a call and our garage cabinet and garage organization experts will do all the heavy lifting for you.
#You Have Too Much Stuff
If your Scripps Ranch garage seems to be busting at the seams so much so that you can't even park your car inside anymore, it's time to get rid of stuff. You need to discard and donate things in order to get things under control. If you don't, no matter how much time and effort you put into cleaning and organizing your garage, it will always go back to its messy state. That is, unless, you want to spend your weekends forever de-cluttering your garage!
One sign that you have too much stuff is that you find it hard to put your things back in your San Diego garage wall cabinets, so more often than not, you just leave them out. "Shedding" this excess will not only make space for your car and other useful belongings, but also give you peace of mind and breathing space. You'll find it so much easier to keep things in order.
#You Have Other, More Important To Do Right Now
We are not being sarcastic here. There are certain times in life when your routine is disrupted and you can't keep order in your garage the way you otherwise would. Maybe a family member is in the hospital or a newborn in the house.
When this happens, whether it's a good situation or bad, things become out of order in your environment because of the inward and outward upheaval. If you can handle the disorder, that's great. If you can't and it's having a negative impact on your life, reach out for help. Sometimes, the simple act of putting things in order can be immensely therapeutic.
#Your Family Members Are Not As Organized As You
Keeping your Scripps Ranch garage cabinets and your home as a whole, organized is a joint effort especially if you have a family. It's all about give and take. Expecting everyone in your house to do things exactly as you would do them or you think they would do them is a bit unfair, don't you think? While you should definitely communicate your wishes, make sure you're open to their point of view and are willing to compromise.
If you have kids, of course, help them learn to tidy up after themselves. BUT remember that they are learning. No matter what the situation, try to build cooperative routines of picking up into everyday life, whether through a checklist or a schedule.
#You Don't Have A Good System In Place
You may have heard that doing the same thing over and over again, but expecting different results is the definition of insanity (no, Albert Einstein did not say that). If you continuously having to declutter and clean out the same garage storage cabinets or racks, it's pretty obvious that your current garage cabinet system is not working. For example, if you have a clear plastic bin that's always overflowing, you can never find the tools or papers you need, and you waste a lot of time in the process, you need to rethink your garage storage system.
Maybe you need custom garage cabinets with drawers for all your sports gear, Slatwall panels for your workshop tools, and an overhead garage storage system for seasonal wear and holiday decorations. Consider consulting with Garage Excell experts to design and create a custom garage storage system based on your needs and budget. It will not only maximize the floor space in your garage but also ensure you banish those trouble spots for good.
#Your Have Unrealistic Standards
We see it everywhere – homeowners who are perpetually disappointed with the state of their homes. If this is you, might we interest you in a healthy dose of introspection?
What's really the problem here? Are you depressed because your garage is not as immaculate as your neighbor's? Do you think your garage should always be "magazine" ready at any given moment? Or maybe you think that you don't have the shiny, brand-new garage cabinets you've seen on Pinterest?
Look, unless you live alone and have an unhealthy obsession with cleaning and organizing, you are never going to have a perfectly tidy garage 24×7. You need to establish your own standard and learn to be content with it. You can definitely give yourself a head start by investing in good-quality garage wall cabinets, but don't hold yourself to an unrealistic standard.
Need A Hand With Garage Organization? Give Us A Call.
Rather than giving up on the way you want your garage to be, figure out why it isn't the way you visualize it in your mind. At Garage Excell, that's exactly what we can help you do. If you're struggling to create a clean, uncluttered, and organized space in your garage, we can fix that with good organizational systems and custom garage storage solutions. To schedule a free consultation, call us at 877-573-6637 or contact us online.