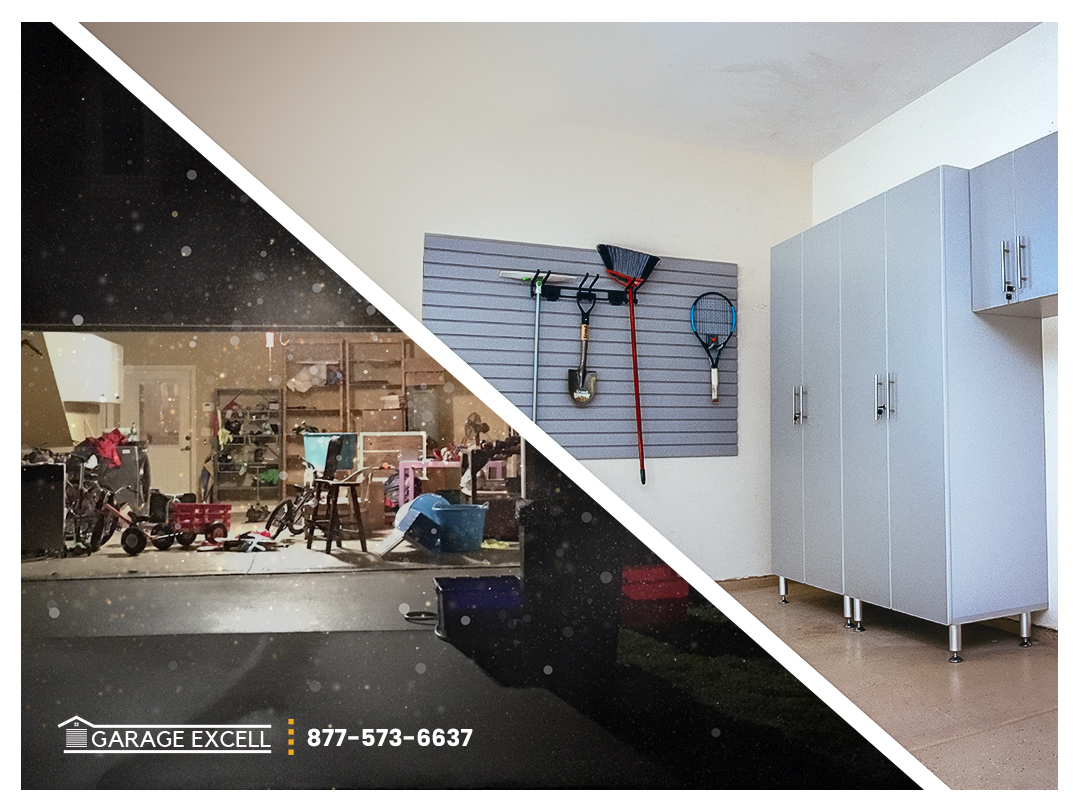 When your garage seems attract dust like a moth to a flame, regardless of your rigorous cleaning efforts, that's a real problem. Household dust comes from many sources. Dead insects, pollen, dirt, dead skin cells (yuck!), clothing fibers, pet dander, and particles from wood and paint are just some of the things that create dust.
Oh, we wish there was a way to utterly and completely eliminate dust in your Carmel Valley garage. We do. But we also wish we'd win the Powerball jackpot. At least the latter has a 1 in 292.2 million chance of happening (#FingersCrossed).
Anyway, the point is, you are always going to be dealing with some amount of dust in your garage. Thankfully, there are several garage dust control methods you can use to keep this space cleaner and your garage cabinet storage in Del Mar Heights fresh and healthy.
Where's All That Dust Coming From?
Keeping the amount of dust in your garage at a minimum can feel hopeless. There are many reasons why dust accumulates so quickly in this part of your house:
If your garage door opens and closes 3-5 times each day, it provides a large opening for debris and dust from outside to blow inside
If your garage is full of clutter and junk, it allows dust to settle on surfaces
Unsealed/unfinished concrete garage floors gradually wear down and leave a fine, powdery residue
If your garage door doesn't have a tight weather-stripping, it allows dust and dirt to blow indoors
Using poor cleaning practices or cleaning too infrequently
The moisture inside garages in Del Mar Heights makes it easier for the dust to stick to surfaces
Frequent foot traffic and vehicles coming and going stir up settled dust
Garden dirt and grass clippings from gardening equipment dry and turn into dust particles
Whatever the reason, keeping this dust under control is very important. Exposure to too much dust is not good for you. It can lead to serious respiratory issues like hypersensitivity pneumonitis and allergic reactions.
If you spend a lot of time in your garage because it's also your workshop or home gym, reducing the amount of dust in there should be a priority. And of course, there's the whole aesthetic factor. Too much dust doesn't look attractive no matter how expensive your garage storage system is or how much time you spend organizing it.
Ways To Deal With Garage Dust
Here are some effective garage dust control techniques that will give you instantly noticeable results:
Install a Custom Garage Storage System
An organized garage that is only filled with things you actually need and regularly use means there's less clutter for the dust to accumulate on. And less clutter = better airflow in the garage as well. Better Carmel Valley garage cabinet systems that make it easier to keep the garage tidy are an effective way to control dust in the space. Overhead racks and Slatwall panels that maximize your garage's ceiling and wall storage space are very effective at keeping the garage organized.
Garage cabinets for storage are also perfect for garages that have extreme dust issues. They give garages a sophisticated look and provide covered (and locked, if you need) storage space to keep all your possessions dust-free.
When there's less floor clutter, you won't find it such a chore to clean your garage more regularly. Because let's be honest, nobody likes cleaning. And if the floor is littered with piles of junk you have to move around, you'll be even less motivated to sweep it.
Coat the Concrete Floor With Epoxy
A concrete floor creates dust when its top layer slowly disintegrates over time and generates a chalky powder on the surface. Foot and vehicle traffic can accelerate this process. If the floor is really old, that can also be why you have such persistent dust issues in your Bel Air garage.
Concrete tends to break down prematurely if it wasn't applied correctly. For example, if the concrete slab was not allowed to cure properly, or the concrete was poured at a less-than-optimal temperature, it won't create a lasting result.
The best way to eliminate this risk is by investing in a garage epoxy floor in Carmel Valley. This coating seals concrete surfaces and prevents them from creating the fine dust that you're so sick of. It will also provide high-performance protection from abrasions, stains, and water damage.
Epoxy garage floor coatings are better than a plain sealer because they not only help to obscure dirt and dust on the floor but also include decorative flakes to add visual appeal to a garage.
Although a DIY garage floor epoxy kit costs less, it's worth the investment to have an expert like Garage Excell handle your flooring project. Our proprietary polyaspartic epoxy floor garage systems are superior to traditional epoxy coatings. We follow a 5-step application process using state-of-the-art equipment, to ensure your floor lasts a lifetime and looks incredible while at it.
Make Sure the Garage is Properly Sealed
A study shows that nearly 60% of the dust in your house comes from outside. If your garage door and windows don't have proper seals, they are a major entry point for debris and dust. Check your garage door for broken seals or any gaps that could be letting in dust, insects, and other debris. The bottom seal of the door must be in excellent shape and tightly fitted since this is the primary entry point for dust. Also check the seals around the garage access doors that open outside.
Clean Your Garage the Right Way
By just cleaning your Bel Air garage more regularly and the right way, you will have fewer issues with excess dust. We recommend sticking to a regular cleaning schedule, like once every 3-4 weeks. By "the right way", we mean cleaning more thoroughly and effectively. Get into those hard-to-reach corners. Always work from the top down so the stirred-up dust falls down to the areas you will be cleaning next.
Never use a dry cloth to dust your Del Mar Heights garage storage cabinets. Damp microfiber and cloths are best for this job. If you want to go fancy, you can try those electrostatic dusting cloths. For your garage floor, a good dust mop and dustpan or a push broom will catch most of the dust and debris. If the concrete floor doesn't have an epoxy garage coating, don't use a pressure washer with a high-pressure nozzle. It can damage the topcoat of the concrete and will lead to more dust.
Once you've swept the floor, hose it down and use a squeegee for a light cleaning. Another good tip is to clean your driveway. Occasionally sweeping it will ensure that you are not tracking in any dirt, dust, or sand inside your garage floor.
Want A Dust-Proof, Easy To Clean Garage Floor? Contact Us!
Like any other part of your house, dust is always going to be present in your garage to some degree. However, by using these dust control tips, you can improve the cleanliness and air quality of your garage.
And if you're ready to get organized with handcrafted garage wall cabinets in Pasadena and epoxy garage flooring that eliminate dust-collecting clutter once and for all, reach out to Garage Excell. Schedule a free consultation online or give us a call at 877-573-6637 to get started.