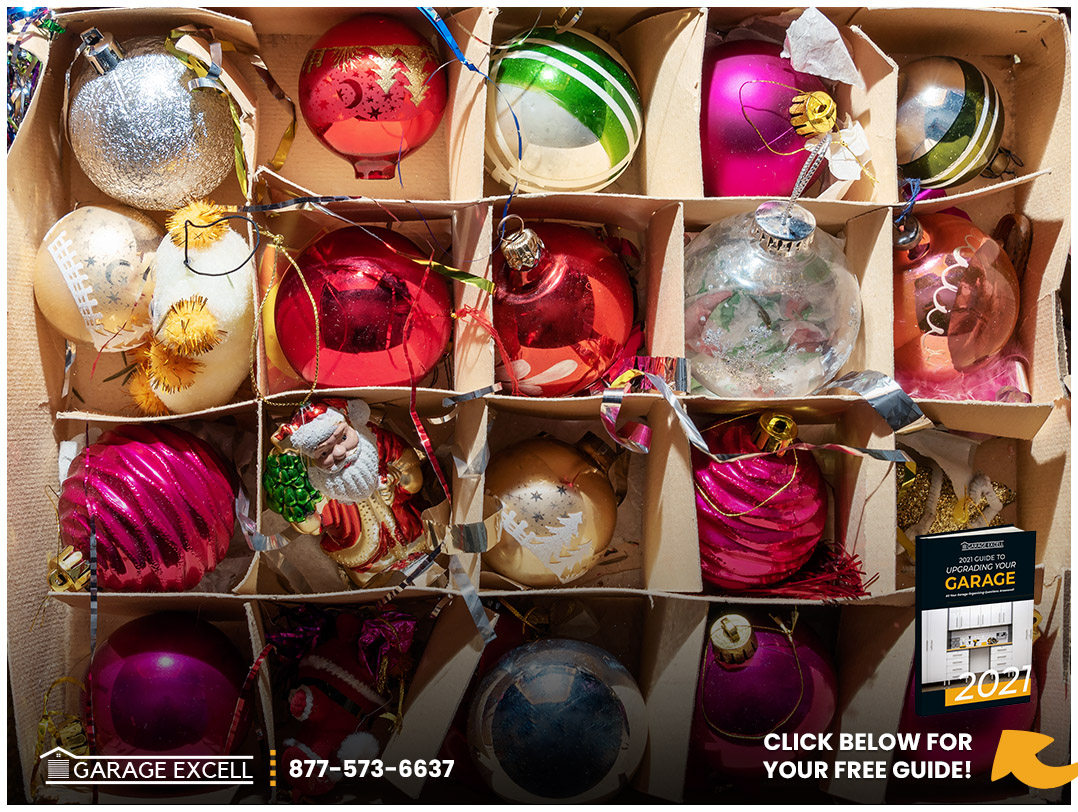 With the holiday season knocking upon our doors and chimneys, it's hard to think of anything other than food, family, and of course, gifts! So, we clean up our homes and get ready to welcome our family and friends. This is the best time of the year to let them know that our homes are clean, stylish, and brilliantly functional. After all, they care about how well the living rooms, bedrooms, bathrooms, and kitchen are maintained, right?
Well, you might be wrong about this. During the holiday season, every room is squeaky clean, unless it's Halloween. So, it's the lesser seen part of the home that truly reveals the aesthetics of the home – the garage!
The holiday season is no stranger to loads of shopping. There are dishes, garden flags, centerpieces, and Halloween costumes for everyone, including the pets to be shopped. But where do we accumulate and stash away all of this once they aren't in use? That's right – the garage!
You get the drift. Even if you're a "one-box-per-season" person, you can misplace and bury your stuff under the rubble. And that is how you skip on Holiday decorations almost entirely because you forgot where you stored the decorations.
We are here to help you take your garage organizing to new heights with these 8 smart tips on how to store your holiday decorations in your La Quinta garage storage cabinets.
Tips To Store Holiday Decorations In Garage
Artificial Trees and Wreath Storage
Artificial trees and wreaths are both delicate decorations that if placed haphazardly in your custom garage cabinets in La Quinta, they will easily get damaged. This is due to the delicate lighting and ornamentation on them. Here's how to store your artificial trees and wreath storage:
Use specialty tree storage bags. These bags are available for both standing disassembled trees. They often come with wheels and handles for smooth maneuvering.
Get crush-proof wreath containers. These come in different sizes and store your wreaths securely whether they are fully decorated, or not.
DIY wreath storage. Get a zippered bag. A garment bag or padded fabric would work too. Now hang them from a hook inside your Thousand Oaks garage storage cabinet or in a garage closet so that it stays safe. Ta-da!
Christmas Lights
Is it even a Christmas holiday without twinkling lights? And is the holiday really complete without going through the hassle of untangling them and securely placing them in your garage storage system in Thousand Oaks? Here are some tips on how to keep your lights healthy, easy to store, and bright:
When not in use, wrap the lights on a flat piece of cardboard. Cut small slits on one side of the cardboard and keep the lights in place.
Test each strand. You are about to find many expired and many functional bulbs. Keep your eyes peeled, replace dead bulbs, and store the extra bulbs and fuses in one place.
Store strands of smaller lights in their individual sealed freezer bags. This helps prevent tangling.
To protect bulbs from breaking, leave some air inside these freezer bags. In addition, pad them with bubble wraps. Store these sealed bags in a large storage container.
We invite you to take a look at our Garage Excell custom garage cabinets where you can easily store these containers.
Ornaments Storage
If not on holidays, when else are you supposed to show these ornaments off? Your ornaments come in a wide variety of styles, shapes, and sizes. Each kind requires an appropriate way of handling it. Here are some tips on how to store your ornaments:
Store fragile ornaments and decorations in their original boxes.
If the original boxes are lost, get ornament storage chests with dividers. These can safely accommodate lots of breakables.
Wrap ornaments with bubble wrap, individually. Place them in plastic bins or crush-proof boxes. Label them "fragile".
Egg cartons can hold small ornaments.
Build a DIY garage storage system in Santa Monica. Drink cups glued to cardboard that is fitted to a box will do the trick. You can now put these on your garage cabinets and not stress about it.
Put unbreakable ornaments made of plastic, brass, etc. with tissue paper and put them between layers of ornaments.
Use anti-tarnish bags for gold- or silver-plated decorations.
Tree Skirts and Holiday Linens
Fabrics are often left untouched for months. This is what makes them extremely susceptible to moisture, dust, and insects. Christmas stockings, placemats, napkins, table cloths, holiday throws and pillows – all need extra care when being stored.
Do not put away soiled linen. Instead, clean and dry them before storing.
Keep linens fresh by placing herbal sachets and scented dryer sheets among them.
Store linens in different boxes for different bins and label them appropriately.
Wrap vintage fabrics in acid-free paper before you place them in sealed bins.
For large items like table cloths, runners and throws, use hanging garment bags or under-bed storage.
The point of holiday and seasonal decorating is to make sure you can enhance the holiday experience for you, your family, and your friends. You know you are doing it wrong when it starts to feel like a chore. And that's ok. We at Garage Excell provide custom garage cabinet plans to help you boost your garage organizing in Santa Monica. This holiday season, bring in our talented designers and find the space you need that you didn't know you had!
Organized Storage For Easy Retrieval
By now, you have stored everything in your La Mesa garage storage cabinet. Now is the time to make sure you can find it all. Holiday decorations can often take up a lot of space. This is why garage cabinets with adjustable shelves are the best option.
You can transform your garage storage system in La Mesa into a super storage with custom cabinetry and coordinating epoxy garage floor coating. Here's how:
Floor-to-ceiling garage wall cabinets in Santa Monica grant the most space for your holiday decorations.
Decorations, sports gear, gardening tools, mechanic tools, etc. all can have a designated space in your garage storage system.
Garage storage's cabinet enclosures keep your garage free from clutter.
Overhead garage cabinets in La Mesa can almost double the space available for storage. Large items like Christmas trees and oversized decorations can find a perfect home here.
Don't Store These Types of Holiday Decorations in the Garage
Despite being one of the biggest storage hotspots in your household, your garage may not be the perfect storage space for certain items. These are items that are affected by external conditions – mostly, the climate. Temperature fluctuations are expected in the garage. Add to the inherent moisture inside garage storage systems, and you have a list of things you shouldn't store in your garage.
Some of them include:
Table cloths, Christmas stockings, hats, tree skirts, and other fabric-based festive decorations and adornments. However, if you absolutely have to store them in your Thousand Oaks garage cabinets, seal them tightly in plastic containers. To prevent moisture, wrap them in acid-free paper or store them in silica packets.
Candles, owing to the risk of getting wet and/or melting.
Delicate glass-based or crystal ornaments.
Food-based decorations.
Give Yourself the Perfect Gift for the Holidays: Garage Cabinets
Garage storage cabinets are the ideal additions to your home before the holidays. Garage remodeling in La Quinta becomes so much easier with workbenches and custom garage cabinets.
Garage Excell can give you the gift of organization. Transform your garage into a functional, personally stylized, and productive workspace today! Our designers work closely with you to create your dream garage storage system. We have custom garage storage and garage organizing plans designed for every budget.
Bring the professionals in and build the garage of your dreams today. To schedule a free consultation today – call us at 877-573-6637 or contact us online.