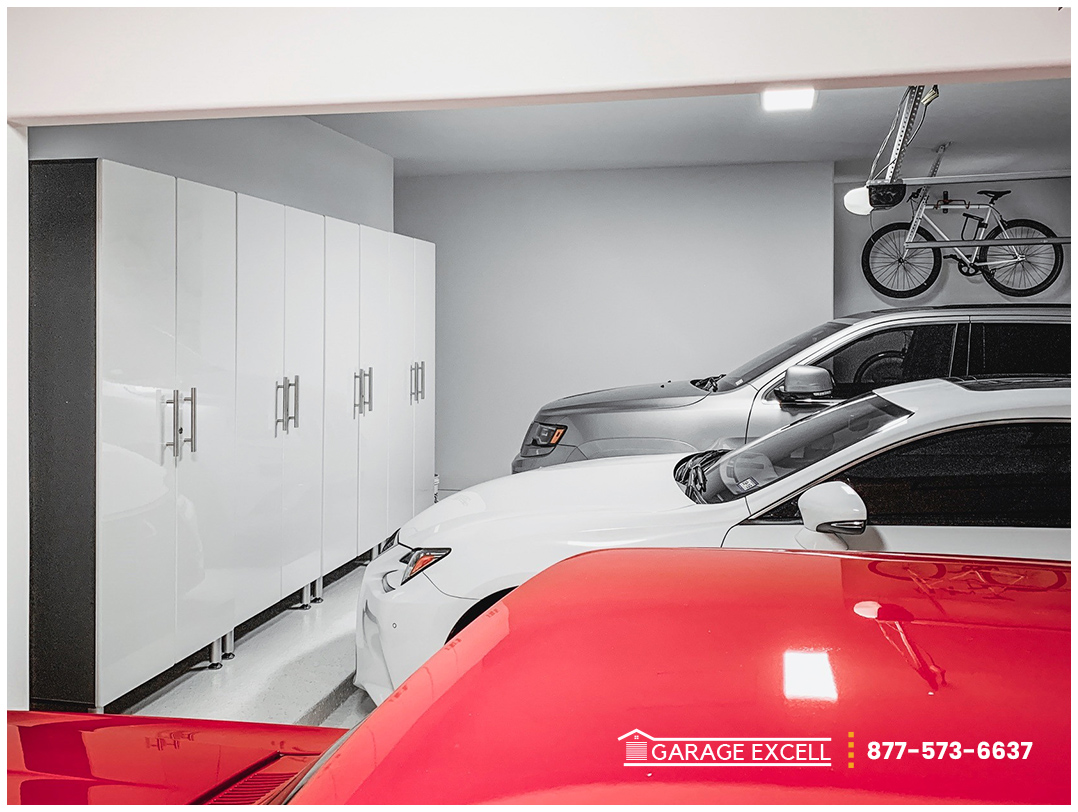 Minimalism is the buzzword these days and your garage presents the perfect home space to implement this understated aesthetic. As they say, beauty is in simplicity. But simple doesn't mean boring – not by a long shot. A minimalistic garage storage system in Scripps Ranch is all about neutral colors, clean lines, and efficiency that can look incredibly stunning when done right.
Marie Kondo and The Minimalists (Ryan Nicodemus and Joshua Fields Millburn) have made the idea of living with less a global movement and we are all for it. If you like this less is more approach to interior design, we can bring your minimalist garage makeover to life.
What Is A Minimalist Garage?
A garage can be classified as minimalistic when it has two elements:
Plenty of open space; only the most essential items are being stored in garage cabinets in an organized and tidy manner; and
A neutral color palette to give the room a simple yet appealing look
Above all, a minimalist garage has zero clutter. Keeping a large room like your Rancho Santa Fe garage clutter-free may seem like an impossible task. It is, after all, the catch-all space where you put things that don't have a designated home. And after a while, you become accustomed to keeping that clutter around.
Unfortunately, this results in a garage that's far less functional than it should be. Having worked in the Dana Point garage storage and organization industry for over 13 years, we can tell you that getting your garage to the point where clutter is a thing of the past is not as herculean a task as you may think. All it takes is a little discipline and hard work. And maybe a little help from the professionals.
Garages are the most precious storage space in a La Jolla house, not just for things like sports equipment, gardening tools, and overflow storage from your living quarters, but for your cars. By getting rid of unessential items in your garage storage system, you allow the room to have more open space which you can use as a workshop, home gym, entertainment center, and more.
Getting Started With A Minimalist Garage in Rancho Santa Fe
Here's your new mantra: less is more. It all boils down to not allowing your possessions – that you don't need – to inhabit your space. It's practical, it's affordable, and it's good for your mental health. Follow these steps to create a clutter-free garage and reclaim valuable space in your house:
#Visualize It
Start with visualizing how you want your home to look before taking on this giant decluttering project. We recommend setting goals for how you want your garage to eventually look. For example, your goal may look something like this:
Having enough space to park your car comfortably
Turning your unfinished, ugly garage into a stylish space you enjoy spending time in
Keeping stuff organized in well thought-out garage wall cabinets so they are easy to locate quickly
Eliminating the never-ending anxiety and stress that comes with dealing with a junk-filled garage
Creating enough space to convert your garage into a more comfortable and functional extension of your house
Being able to clean your garage easily and quickly
At Garage Excell, our designers use innovative 3D software to help our clients envision what their finished minimalist garage will look like. Our Chula Vista garage storage design process also ensures that you are happy with the design before we begin "the works".
#Declutter
You could spend thousands of dollars on a luxury garage renovation project that makes the space look like a Bentley showroom. But it won't mean much if you can't actually see those upgrades because of the boxes of clutter.
Now, we know that decluttering is not exactly an enjoyable pastime. So, think of it as curating your garage. Curating involves choosing, organizing, and displaying something, and that's what we are trying to do with your garage storage system. Go through each item and ask yourself if it is of any use to you – be practical and honest. Use the 1-year rule to make these decisions, i.e., has the item been used at least once in the last year?
#Add A Stylish Garage Storage System
Part of creating a minimalist garage aesthetic is to use garage storage systems that are beautiful but not flashy. They should be able to blend well with the rest of the garage décor. Any garage cabinet systems you choose should be highly efficient to maximize the available storage space. Garage wall cabinets and overhead storage systems are perfect for achieving this goal.
Make your Scripps Ranch garage walls and ceiling space work for you by installing Slatwall panels and overhead racks. Each of these provides ample storage space that will keep your floor free and open, which is just what you want for that neat minimalist look.
Remember, empty space is the keyword when it comes to minimalism. Avoid having too many shelves or storage bins in the racks. Overcrowded open shelves create visual clutter so closed garage cabinets are far better for the minimalist look.
#Use Colors To Your Advantage
To give your La Jolla garage a minimalist design feature that stands out, a neutral color scheme will go a long way in sprucing up the place. Pick a combination of subdued hues like tan, taupe, beige, gray, brown, white, and black for your color palette.
Garage Excell's Slatwall panels and garage storage cabinets come in a wide range of neutral colors and accents that complement each other brilliantly. Our designers can also help you choose the perfect color epoxy garage flooring that blends harmoniously with the rest of the garage. A new floor coating will not only beautify the space but also provide much-needed protection for your floor.
Let Garage Excell Create the Minimalist Garage Design of Your Dreams
One of the biggest challenges with a minimalist Chula Vista garage storage system decor is to avoid having it look bland and sterile. It's important to use subtle accents, lines, and textures to create more visual appeal. And your garage cabinets are not the only element that can help you add that appeal. Look down, the floor has a lot of potential too.
Garage Excell's garage epoxy floor coatings have decorative flakes in hundreds of colors and are perfect for giving the floor a textured, distinct appearance. If you don't have a color palette in mind, we'd be happy to sit down with you and show you all that we can do to transform your garage floor.
Plus, our epoxy garage floor coatings come with a lifetime warranty so it's an investment worth thinking about. After all, isn't minimalism all about reducing waste and spending less on unnecessary stuff in the long run?
The garage cabinet ideas mentioned above are a good place to start, but if you need personalized guidance, our garage storage and improvement experts will be happy to help! All you need to do is set up a free, no-obligation design consultation and we will take care of the rest. Give us a call at 877-573-6637 or say hello here to begin your Rancho Santa Fe garage's minimalism journey without feeling overwhelmed.