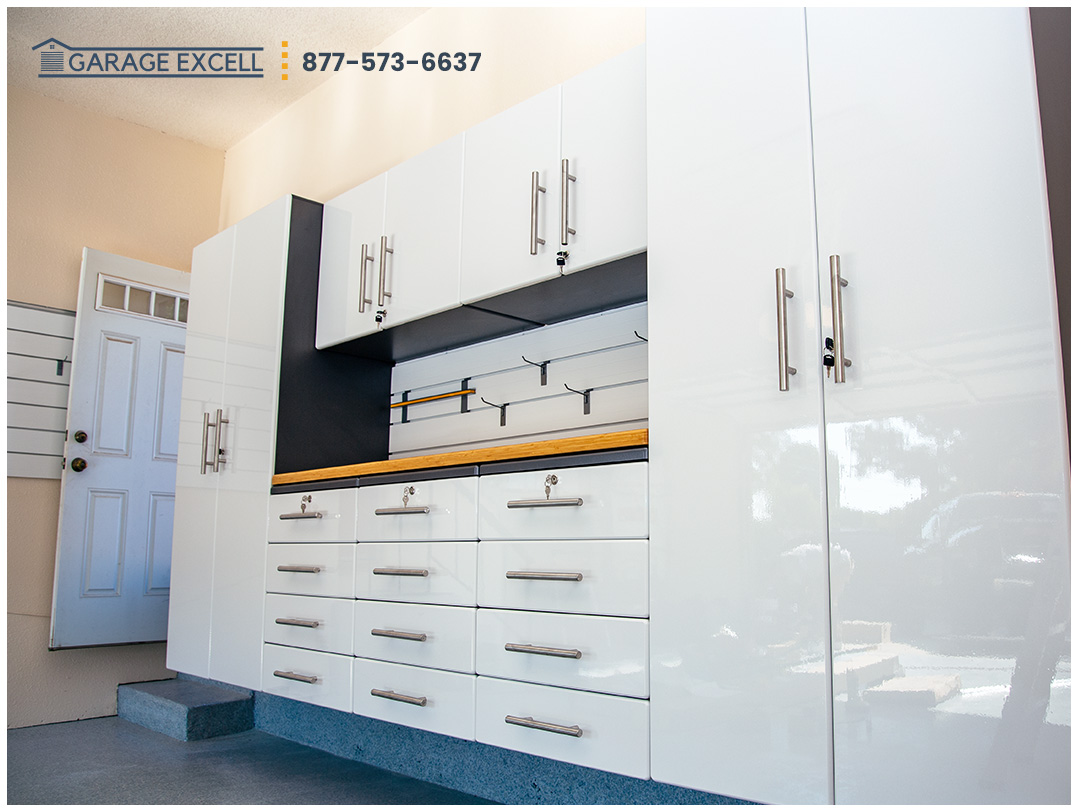 Steve Jobs famously said: "Simple can be harder than complex. You have to work hard to get your thinking clean to make it simple. But it's worth it in the end because once you get there, you can move mountains."
If you are organized, you can take over the world. It is in our own living spaces that we must first make a start to get organized. Your home is a reflection of your state of mind. Every part of your home in Orange County, including the garage, speaks about your lifestyle and nurtures yours and your family's physical, individual, and spiritual needs.
Besides epitomizing gracious elegance, your home also needs to stimulate your inner senses whenever you enter its premises. If you feel that your Orange County home needs a makeover, first make a quick survey of the physical spaces. While doing a conducting your reconnaissance, don't forget that your garage is an integral component of your home waiting to be remodelled and waiting to be crafted to satisfy your needs.
How Orange County Custom Garage Cabinets Impact Your Home
When it comes to the decision of having custom garage cabinets in Orange County, many people assume that it will only transform the appearance of their garage and provide them with the much-needed garage storage space. But in reality, garage cabinets in Orange County will also create an opportunity for you to enhance the rest of your home. The moment you are able to remove various items and materials from other living spaces and store them in your garage wall cabinets and other types of storage that you create in your garage, it gives you the freedom to redesign and redecorate various other rooms in your home.
Your home is your own little world which gives you solace, revitalizes your inner senses and energizes you every time before you step out into the wide world outside. So, every space in your Orange County home, be it the kitchen, the living room, the bedroom, or the garage, needs your care and scrutiny in order to bring out their full potential.
Identifying your needs and giving broad indications of what you are looking for will enable a skilled Orange County garage cabinet maker to customize your storage to your specifications. You may even want to go for a complete garage remodel in Orange County if you work with an experienced and resourceful garage storage specialist.
The fundamental idea behind custom garage storage cabinets is to organize your possessions which in turn will help organize your personal and professional life. You will simplify and uncomplicate your life once you have created adequate storage in the garage. Survey your interiors at home and you might discover that your living spaces are crying out for your attention. It is then up to you to respond and overhaul your living spaces with the support of a trusted and knowledgeable Orange County custom garage cabinet provider.
Choose Items that are Ideally Suited for Storing in Garage Cabinets
There are certain items like clothes and kitchen appliances which are for everyday usage. Items like tools, DIY accessories and memorabilia are not used regularly, and these kinds of items are ideally fit for the garage storage cabinets. Though sports equipment can be used every day, it's also ideally stored in the garage cabinets because you can easily grab what things you need in the garage itself and toss them in the car and hit the road. Don't forget to regularly clean your garage storage cabinets with a sanitizer as the garage air tends to get musty. This will keep bugs at bay and give a crisp and fresh aroma in the garage.
Be smart about space and invest in custom garage storage cabinets because a reliable and dedicated team can tailor the storage space precisely according to the unique needs of your Orange County home. When you are able to segregate and organize your possessions you will be amazed at the structure and organization this will bring into your life. You need to take control of your living spaces and find a practical solution to the clutter that has invaded your home.
Organizing and segregating your knickknacks, tools and other assorted stuff in your garage will lend an aura of ample space and minimalist sophistication to the rest of your home. Garage cabinets will enhance the functionality of your home and give your more space to play around with ideas. Though every item in the house has a purpose, we must always be mindful that every item also has an appropriate placement. Custom garage storage cabinets in Orange County are the ideal way to organize your essential items while keeping the rest of your house uncluttered.
An Organized Garage will Take Away Your Clutter Blues
We take enormous care of our cars but many of us don't pay the same attention to the garage itself. Your garage does not have to resemble a musty smelling junkyard. First of all, the garage should not be dark and dreary. You could incorporate a skylight into it to let in some natural light which will give a cheerful ambience and minimize the chances of a musty odor. You can also consider some wall hangings or some paintings of vintage cars or landscapes or maybe some natural wallpaper to embellish the walls.
Another way of adding some color and warmth into the garage is to artfully place some ferns or Bonsai trees which will bring about a sense of nature into the stark interiors. Using such natural elements will induce some serenity and an elegant feminine touch into the garage. This needs to be done while striking a balance with the open spaces in the garage.
Your home should not be just a space you inhabit but should also induce a sense of serenity within you which will ultimately energize your inner nature.  Your home is a place where you can forget all your worries engendered by the world outside and envelope you with its warmth and tranquility. But you cannot be calm in an ambience of clutter and disorder. You need garage remodel in Orange County to restore order in your life. Order in your life will induce serenity into your soul, your body, and your mind. You do not want to live in a home which triggers anxiety but one which brings tranquility. A garage storage system will go a long way in banishing your clutter blues.
Bring Serenity to Your Home with an Orange County Garage Storage System
It all comes down to organization and how you are able to take charge of the clutter in your home and bring a sense of order in your possessions. We cannot live like hermits in the modern world and we need all our possessions which bring ease into our day to day living. We need our possessions of the modern age but we cannot allow them to rule our lives or be overburdened by them. Organizing your possessions will bring order in your life. Always be mindful of the fact that clutter and disorder will breed anxiety, while order nurtures serenity within your soul.
A creative Orange County garage wall cabinet designer will be aware of the fact that while the color white is always associated with elegance and harmony, it also brings a sense of roominess and space. It may be a good idea that the walls in your garage and are either white or another light or pastel shade. You wouldn't want to live in a house which makes you feel suffocated. White makes you feel calm and you feel that you can breathe. The serenity induced by white pervades every nook and corner of your home and every pore of your body.
Your home need not be perfect like some soulless mannequin. It is after all a home, not a museum. But you have to strike a fine balance between functionality and aesthetics for your Orange County garage storage system. This can only be achieved if you always keep in mind that though everything has a purpose, it also has a place. Don't be weighed down by the proliferation of your possessions. Clutter at home will impair your ability to function effectively. Confusion engendered by clutter will ultimately spill over into your professional and personal life.
Garage cabinets in Orange County are an excellent way to bring a semblance of order into your life. Once you have neatly organized your possessions in custom garage cabinets, you have to be rather disciplined and regimented to make sure that you do not leave things lying around in other places again. Doing so will only lead you towards disorder once again. Aristotle said: "Through discipline comes freedom." Discipline in adhering to the rule that there is a place for everything will set you free from stress and anxiety.
Consider Garage Cabinet Ideas that Inspire and Empower You
Once you have freed yourself from disorder you will discover how truly liberating the whole exercise has been and you will feel free to pursue your interests unencumbered by various minor irritants. You will feel empowered and invigorated. Once you have set the ball rolling, you must maintain the momentum and not stray from the path.
Look to the Spartans of ancient Greece for inspiration. You need to develop willpower like the Spartans to triumph over disorganization in your life. Disorder restrains you from achieving your goals while freedom from clutter propels you to move forward and has an immense influence on the trajectory of your life. Invest in Orange County garage storage and experience a truly liberating feeling.
The bare walls of your garage have a great unrealized potential for storage waiting to be tapped. Garage wall cabinets to store hazardous chemicals or sensitive documents can be mounted at a height way out of reach from inquisitive children. Don't wait for such accidents to happen. Procrastination can cost you dearly. Custom garage cabinets enable you to sort all your possessions and knickknacks, which will not only increase your functional efficiency and save time, but also add outstanding aesthetic value and appeal to your home.
Increase the Value of Your Orange County Home with Garage Storage
Garage Excell is one of the premier companies offering unique custom garage cabinets, garage slatwalls, accessories and epoxy flooring. We have been serving Orange County residents for over 13 years with innovative and reliable garage storage solutions. We also do complete garage remodeling in Orange County to enhance the appearance as well as boost the financial value of your home.
Our garage cabinets are built to last and come with a 10-year warranty. We encourage you to make a start with a free design consultation with our experienced team and get ready to transform your Orange County garage into a highly desirable and functional space in your home. Speak to us at 877-573-6637 or request a quote online.