How Garage Organization in Los Angeles Can Help Reduce Stress
In Los Angeles, residential real estate has become increasingly valuable as families seek more space. With many people working from home either part or full-time and even kids spending relatively more time at home, LA residents want more space for living, working, entertainment, fitness, school projects, hobby or DIY pursuits, and more storage space for their household items.
While modern architecture has provided LA residents with stylish and functional open floor plan homes, many families also want space for indoor hobbies.
"Mess Creates Stress"
Garage organization in Los Angeles is probably the smartest move you can make to create a more orderly living at home and restore your peace of mind. After an exhausting day at work, when you return home, you should feel rewarded and happy to be back – and not stressed out by the overflowing sea of objects occupying every part of your home. A garage storage system in Los Angeles can do the magic for you.
An extensive research study led by UCLA's Center on Everyday Lives of Families reviewed the lifestyle of families in Los Angeles. During the detailed analysis and interactions with mothers and other family members, the researchers found that people were spending more on buying things they believed would make their lives more exciting and fulfilling.
But as they continued to fill their homes with countless items, it seemed to have an opposite effect of what they had intended. According to the research team, in as many as 75 percent of the Los Angeles households that participated in the study, the diurnal cortisol (stress hormone) levels had gone up because of the clutter and mess at home that had gone out of hand.
Garages are the unsung heroes of residential real estate. Every homeowner dreams of a garage that offers excellent space for parking, storage and organization, hobbies, home gym equipment, and more.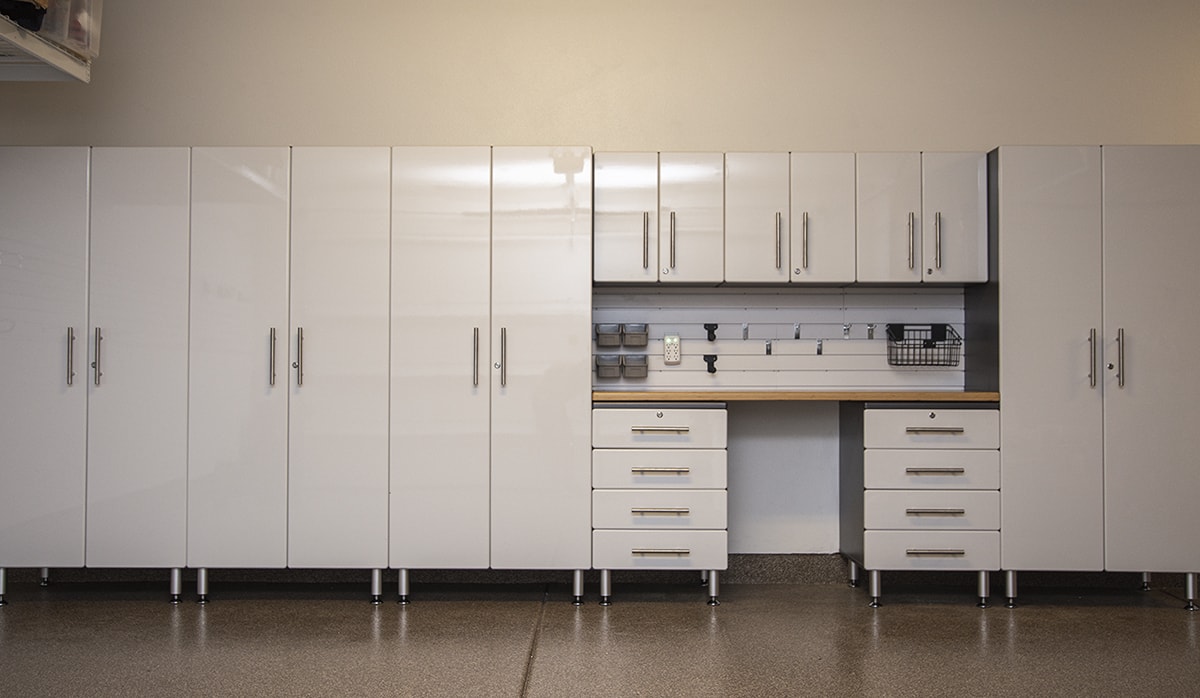 Invest in Custom Garage Storage Racks in Los Angeles
While you have numerous options available today for garage upgrades in the LA area, the most important element you should be looking at is garage cabinets. A full-scale garage remodeling in Los Angeles or garage conversion might be a good choice if you have plenty of free space and a reasonable budget.
But if that is not an option, you can focus on maximizing your garage wall and overhead storage racks in Los Angeles within your budget in order to securely store everything from seasonal items to toys to DIY tools to sports and camping equipment, and eliminate clutter from every part of your home.
Material Quality
For perfect peace of mind, choose robust, attractive and durable custom garage cabinets from Garage Excell. These MDF & particle board based cabinets are differentiated from most others in Los Angeles because of the way they are sealed to withstand the harsh garage environment. From solid T-molding to PVC lamination, these garage storage racks combine toughness with elegance; perfect for Los Angeles garages.
Water Resistant
The PVC laminate sealing of each garage cabinet in Los Angeles not only provides a glossy finish, but also protects the MDF board from moisture. Sturdy steel legs or wall mounted garage storage cabinets in LA will keep them off the ground level. Unlike the standard edge banding, the superior T-molding in these cabinets will resist moisture. Garage Excell offers a 10-year warranty on all cabinets to free you from any worry on quality issues.
Sturdy & Adjustable
For ideal garage organization in Los Angeles, you should be able to safely put away items of different sizes, shapes and weights in your cabinets. Each cabinet from Garage Excell has a capacity to hold up to 150 lbs. per shelf. Height is adjustable for most shelves, except in larger cabinets. You can anyway get the large sized cabinets customized to suit your specific requirements. Garage Excell can even provide custom sizes for additional shelves, should you need them for cabinets later on.
Customization
With Garage Excell, you will have the choice of custom sizes for your wall and overhead garage storage racks in Los Angeles. Apart from the standard sizes, you can get your cabinets made in wider/narrower or deeper/narrower sizes. You can choose from custom design selections in wood-grain and colored patterns. The experienced master cabinet craftsman can help you visualize and create the right aesthetics and functionality you need.
Quick Installation
To minimize any stress or disruption in your schedule, our experienced installation team at Garage Excell specializes in expediting the remodeling of your LA garage storage system in a matter of days. If you additionally require garage epoxy floors in Los Angeles, it will be installed prior to the cabinets. Our dedicated team can arrange for limited advance preparatory work, such as drywall, painting, and texture for your garage remodeling in Los Angeles.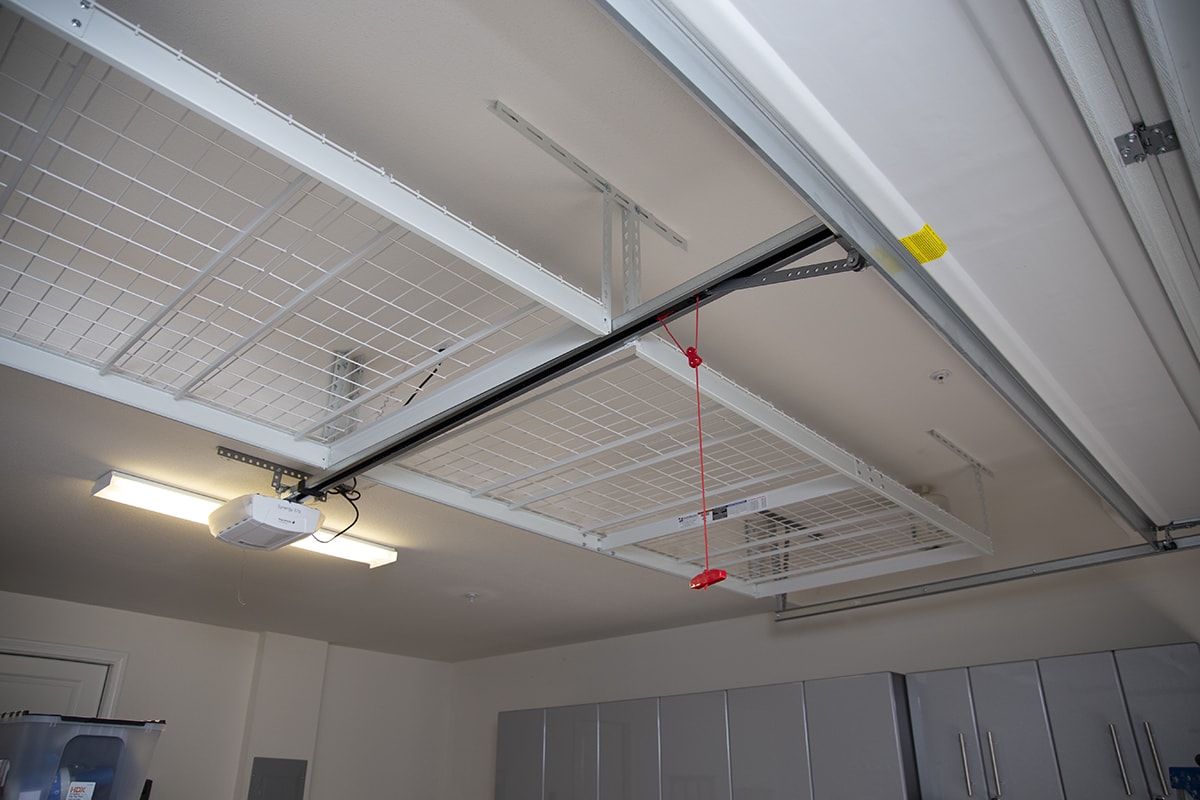 Why Organizing Your Garage Can Help Reduce Your Stress
Organizing your garage in Los Angeles will undoubtedly make the space safer for your family as well as for your cars and other belongings. It will improve the indoor air quality in your garage because the airflow will be better when the clutter is eliminated. With more productive use of space following a garage makeover in Los Angeles, you can perform many tasks and activities that you could never imagine before in your garage.
Moreover, a noteworthy garage upgrade in LA will add to the resale value of your home. Discerning buyers are going to appreciate an outstanding level of garage storage system in Los Angeles and will be willing to pay more for your property. In addition to these physical health and financial benefits, a garage remodel in Los Angeles will also significantly cut down your mental stress in the following ways:
Your mind and sensory organs that were previously working overtime due to an overdose of stimuli (visual, sound, touch, and smell) will begin to ease once your garage organization in LA is complete.
As your home becomes free of the clutter, and various items you don't immediately need are put out of sight in the garage cabinets, it will make you and your family members feel relaxed and cheerful.
You will be able to get rid of your erstwhile stressful feelings of embarrassment and guilt, particularly when you are going to have guests or visitors coming over to your home.
Your productivity and creativity will go to the next level once you have managed to create a functional and appealing garage storage system in LA, and free your home from disorderliness and clutter.
Need a Garage Upgrade in Los Angeles? Garage Excell is Here to Help.
Garage Excell is one of the most respected and dependable providers of garage improvement systems in Los Angeles, including garage wall cabinets, overhead storage racks, slatwalls, and epoxy flooring. Our innovative design teams and experienced craftsmen are here to provide you with a professional garage makeover in the LA area that you and your loved ones with appreciate for a long time to come. To request a complimentary 3-D design consultation, call us today at (877) 573 6637.