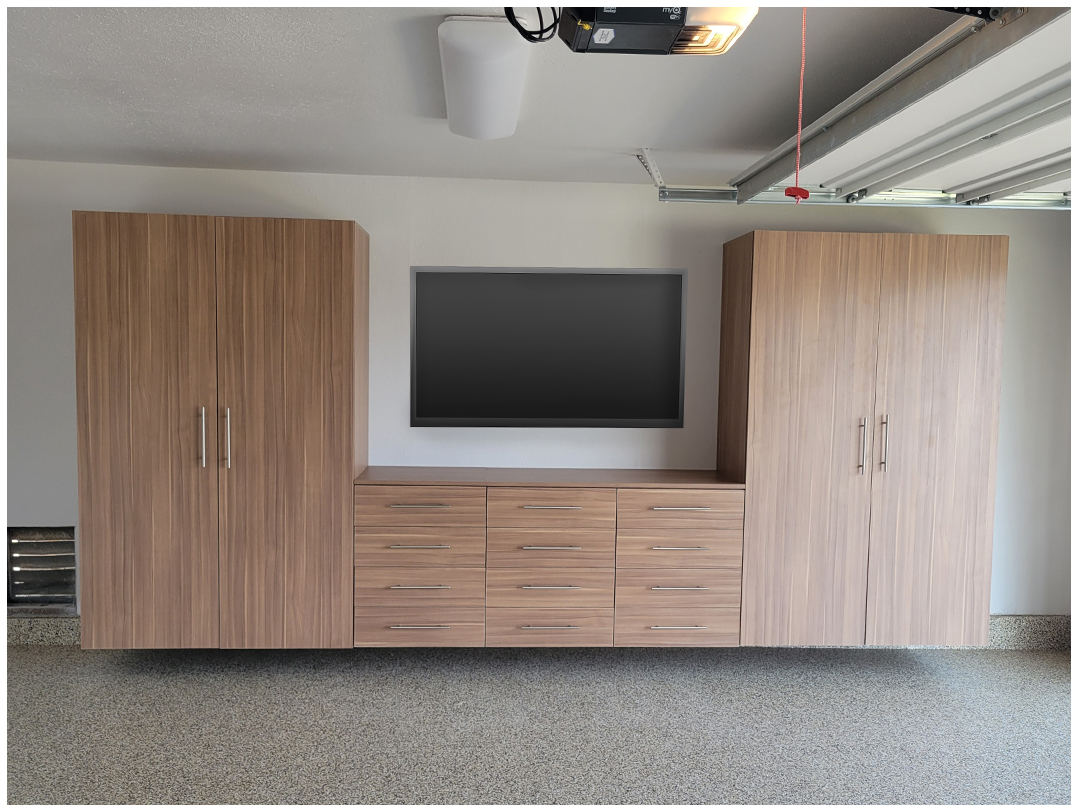 Fall is upon us, which means
football season
is finally here. Things were a bit touch-and-go with the global pandemic but all's well that…reschedules well.  And while we are not completely out of the corona-infected woods yet, we bet you're already planning to have a few friends over to watch some of the games this year.
This is where you ask yourself one of the most important questions you'll ever ask yourself: are you okay with your buddies hanging out in your living room and spilling chili all over your couch? And what if the worst happens and one of your kids gets to the remote first and starts one of their Peppa Pig marathons? Again?
What you need is a sacred space – away from your main abode – that's all about football and nothing else. Someplace that can endure its fair share of roughhousing and still looks good and comfy. If you've got a garage in your Los Angeles home, you already have the perfect spot.
A well-organized garage with sufficient garage storage is the best place to host cookouts, watch parties, and tailgates this time of the year as the weather is still nice and you can avoid making a mess inside your home. A garage is no longer just a place to park the car or install custom garage cabinets; it's also an area where you can entertain or work in peace.
If you are considering converting your West Hills garage storage into a man cave for this football season, we can help. No matter which team you're rooting for, here are some tips that will help you make your garage man-tuary as close to perfect as possible.
Important Tips To Get Garage Ready For The Football Season
#Cleanliness Is Where It All Begins
Have you ever seen an impressively glorious den that was full of clutter? If you've accumulated a lot of junk in your garage over the years, whipping it back into shape for the game-day might be a bit challenging. You'll need to store most of your work tools, lawn equipment, holiday decoration, and other random items in proper garage wall cabinets if you want a comfy entertainment area this fall.
#Don't Ignore the Floor
Once all of your belongings are safely tucked away in a garage storage system, take a look at your garage floor. Do you notice any oil stains, grease, or dirt that may have accumulated over the summer? If so, consider getting the floor professionally cleaned.
Most people in LA tend to have an exposed concrete garage floor. A dirty, gray, cracked, and sorry-looking floor doesn't exactly add to the game-day ambiance unless you're going for an old and ugly themed décor.
We recommend polyaspartic epoxy garage floor coating to remedy the situation. These floor systems have long been used in gyms, showrooms, and factories, and offer unmatchable durability and finish. If you've always wanted that granite-like look and sheen on your garage floor minus the cost of real granite, polyaspartic epoxy is a great option.
At Garage Excell, in addition to designing and building custom garage cabinets, we also install garage epoxy flooring in Hollywood Hills and surrounding areas. Our floors are built to last for decades – there is absolutely no peeling, cracking, fading, or yellowing. Epoxy also has a super-fast curing time, so you can start using your garage floor within 24 hours of the application.
Once the game is over and your friends head back home to celebrate (or sulk), you won't want to spend hours cleaning up your garage floor. This is another benefit of a polyaspartic epoxy garage floor. You can just hose the whole thing off and send any dirt, debris, and spilled liquids right down the drain.
#Organize It Like You Mean It
Once your fancy, glossy new garage floor is laid down, you'll notice right away that the rest of the room is suddenly looking a little drab by comparison. So, before your friends show up, you're going to want to add a customized garage storage system and organization accessories that will declutter and organize your space while providing a neat little corner for snacks and beverages to feed your brethren.
Sturdy garage wall cabinets and shelving units are a must. Garage Excell's signature Ultimate Cabinets are a good option because they are not only extremely durable – hello, 10-year warranty! – but they're also engineered to be water- and dirt-resistant. Plus, they look really good.
Here are some of our favorite garage storage systems that any self-respecting media room should include:
#Custom Garage Cabinets: Custom-made garage cabinets are perfect for holding hockey sticks, volleyballs, footballs, tennis rackets, and other sports equipment while hiding all the stuff you don't want your guests to see.
We can customize your garage cabinets to store different-sized items off the floor so you'll have all the space you need for your couch or La-Z-Boy recliners. If you have a smaller garage, we can create an overhead or ceiling garage storage system for you to make the most of the limited space.
#Shelving Units: If you don't have the budget for custom garage cabinets, you may consider good quality shelves that can handle the weight of heavy items (like paint cans and tools). You can also install a rack to set out the snacks and beverages for your buddies.
#Workbench: Usually, a workbench provides a perfect surface for crafts and DIY projects. And you know what else it's perfect for: A buffet surface complete with dinnerware, cutlery, and snacks. You can even set up your George Foreman grill on it!
#Slatwall Panels: Garage slatwall panels are an incredible option if you want to organize long tools and other oddly-shaped items.
These wall panels have grooves or slots which are used to hang wire baskets, hooks, shelving, and many other accessories. There's not much that you can't hang on these panels. We have designed panels to mount flat-screen TVs, lighting fixtures, rain jackets, kayaks, bicycles, power tools, paintings, you name it.
If your garage is large enough, there's really no reason not to install a refrigerator and a full wet bar to make the most of it; it will save you a few trips to the kitchen between pays. And think about the seating too. You can go with a full couch, barstools, or small chairs depending on your budget and the amount of space available.
Want A Game-Day-Ready Garage? Reach Out To Us.
If you need help with cleaning, decluttering, and organizing your garage, let Garage Excell do the heavy lifting for you. We can completely transform your garage storage system and the floor, and take care of the trash and recycling! Along with first-rate construction materials and dozens of customization options, our modular garage cabinets also have a superior level of craftsmanship.
We understand that you put lots of demands on your garage – storing your valuables, protecting your car, pursuing your hobbies, and of course, hosting the watch parties. But at the same time, it's a harsh environment and is subject to chemicals, dust, and temperature changes. You need a durable garage storage system that is built to withstand it all.
That's exactly what Garage Excell's one-of-a-kind garage cabinet systems bring to the table. To get started, set up a free, no-obligation consultation with our garage organization experts in Los Angeles. Give us a call at 877-573-6637 or leave a message here and we will get back to you right away.