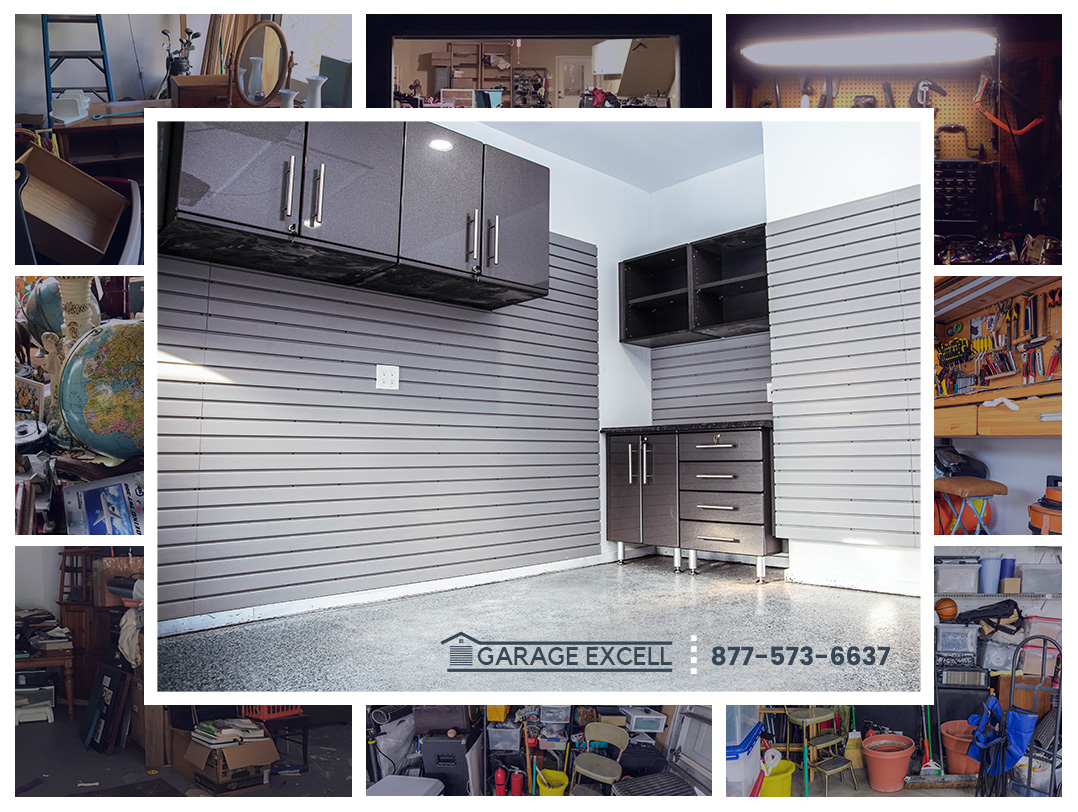 Banish Clutter With Garage Cabinets in San Diego
I got clutter in my closet
Clutter on my bed
Clutter in the office
And clutter in the shed
And I can't find a thing
In all of this confusion
I can't think a thought
All the way to its conclusion
— 'Dithering' by American poet and singer Ani DiFranco
There are organized people and disorganized people. The organized folks like everything in their proper places, be it in the kitchen, bathroom or study or the garage. It may seem that those who are not-so-organized actually revel in clutter and go along their life merrily in a disorganized fashion. But in reality, they may just be procrastinating on taking simple steps such as doing a garage remodel in San Diego to create significant storage space.
Disorderly living spaces create chaos in your life and in your mind. Disorder creates stress in your life and a disorderly home is a stressful home. Every object in the house has a place and should be in its rightful place. Keeping things scattered about everywhere impacts your life in a multitude of ways such as:
Time spent searching for lost objects leads to lesser time spent on more important chores
Always searching for things means you get late for appointments
Precious time in the day lost means you can never effectively plan your day
A disorganized home has an adverse impact on your personal life and ultimately it impacts your professional life. The impact of a disorganized lifestyle on your mental health is something which is usually not taken seriously by most people. A disorganized home contributes to your anxiety and stress, leading to missed opportunities and decreases your productivity.
However, not many of us are aware of how clutter affects our brains and our bodies. Think about it. We are surrounded by hundreds of knickknacks in our life. If things are not in their proper places, our sleep and ability to focus are severely impacted and our anxiety levels skyrocket. We become less productive, our relationships with people are impacted and our cognition is negatively influenced.
The good news is that it is easy to restore order in your home (and indirectly in your life) simply by installing an efficient San Diego garage storage system. Highly functional and aesthetically appealing custom garage cabinets in San Diego can eliminate much of the clutter and disorganization in your home, and add outstanding value to your property and to your lifestyle.
Clutter harms your brain
Clutter and disorganization may seem harmless and mildly annoying or exasperating but any behavioral expert will tell you how your brains and bodies are harmed by your lack of will to be organized and take charge of your life. There is a place for everything, books and important documents in the study, shoes in the shoe rack, tools in your San Diego garage storage cabinets, medicines in one place.
Life is short. We are all living on borrowed time. Do you want to fritter away precious minutes of your life searching for things? It's not a joke. You know what happens when you can't find something when you urgently need it. Think about it? It's a situation that plays out regularly in almost every home, because most of us are disorganized. You can't find something, then you get irritated and frustrated. Then you vent your irritation on some hapless member of your family for no fault of his.
Disorganized living and workspaces have a cumulative negative effect in your life. Chaos in your cabinets breeds chaos in your brain which becomes muddled. You cannot achieve results in the midst of chaos. You blunder through the day without any specific aim or purpose. Your children inherit your messy habits and your house becomes a functioning anarchy. The disorder in your home gradually spills over to other aspects of your life.
Therefore, when you go for a garage remodel in San Diego, or simply add new garage wall cabinets and other garage storage solutions, it can deliver transformative benefits. You will save valuable time each time you want to look for something, you will feel motivated to preserve and maintain your things and keep your home clean, you will set a shining example for your kids in organized living, and above all, you will have healthier and happier home.
Clutter and stress
You might say, you are disorganized and messy. So, what's the big deal. Well, it's a big deal.  Clutter and a disorganized lifestyle leads to stress. Research has established a clear link between stress and elevated levels of the stress hormone cortisol which in turn can impact your physical and mental health. You might say that this is an exaggeration, but the fact is that mind and body have a symbiotic relationship.
Increasing awareness about the need to declutter and organize was also brought about by Marie Kondo, the bestselling author of "The Life-Changing Magic of Tidying Up: The Japanese Art of Decluttering and Organizing" and a Netflix show, "Tidying Up". The elevated anxiety levels engendered by a disorganized lifestyle impact our immune systems, the inefficient working of our digestive system also leaves us vulnerable to heart disease and type 2 diabetes.
Experts are also of the opinion that clutter propels us to binge on unhealthy food. For instance, living in a messy room you are more likely to gorge on a sugary doughnut instead of low-fat yoghurt. Consequently, 77% of people inhabiting cluttered living spaces tend to be overweight.
If it sounds incredulous, ask those people whose lives have changed for the better after they undertook a substantive garage organizing in San Diego, and brought a permanent end to the constant stress of dealing with clutter at home. Elegant San Diego garage cabinet and storage solutions will make you feel proud of your home and make others feel envious.
A spark of inspiration to organize your life
If you are attempting to live a more organized and productive life, then you could not have a better role model than Dwight Eisenhower, the 34th President of the United States. Eisenhower lived an incredibly productive life. Ike, as he was affectionately known, was a five-star general in the army and went on to become the supreme commander of the Allied Forces during the Second World War – and he still found time to indulge in his passionate interests, such as oil painting and golf.
That's what an organized life does for you. If you are trying to adopt a more disciplined lifestyle, then Eisenhower is the man by whom you need to be inspired by and to emulate. We all need role models in order to reinvent ourselves and Ike will always remain an inspiration for one and all. If you think it is time to press the reset button on your home storage in San Diego, begin with a plan for custom garage cabinets or garage wall cabinets.
Nurture your organizational skills
A disorganized home means you can never plan your day. Your inability to plan your day leads to missed appointments which means that henceforth you are perceived as an unreliable person. If you spend your time searching for objects, this is not good news if you are still working and still a long way from retirement. Ultimately, disorganization at home will in some way impact your professional life. A disorganized person cannot easily climb the professional ladder and will be left behind by employees who have their homes and workspaces well organized.
Time is an extremely valuable resource and should be treated as such. In order to complete your chores for the day on time, you home should be in order first. You cannot spend your day searching for things, whether they are your car keys or an important document or some DIY tool. Remember the rules of garage storage solutions in San Diego:
Arrange
Order
Sort out
Assemble
Organize
Benefits of high-quality garage storage cabinets in San Diego:
You will save time
Plan your day better
Structure your day effectively
Enhance your productivity
Sense of satisfaction at the end of the day
You will sleep soundly
Focus on your tasks with more clarity
Achieve what you aimed for
Manage your working hours constructively
Making optimum usage of your living spaces will reflect on how you structure your day, whether you blunder through the day in a haphazard fashion or you are able to manage your day fruitfully. The ample space in your garage can be used not only to store loads of things but also ensure that you also have all the space to segregate things to make them easily accessible.
Garage cabinets in San Diego are a practical way to neatly organize all your stuff. There is so much underutilized space in a garage that can be put to good use. If you are a man who loves his tools, there is no better place to store your precious implements. It would be even more practical to store your tools in different sections based on the nature of their requirements or the particular hobby in question such as:
Tools for carpentry
Gardening tools
Tools for DIY
Sports equipment
Books
Shoes
Mementos, family heirlooms, old family albums
If someone in your family loves stitching or designing clothes, a San Diego new age garage cabinet can also be used to store all the accessories for tailoring. If you are a voracious reader and have a sizeable collection of books which are spilling out of your study, your precious books can also be stored in a separate section of the garage wall cabinet.
There are a lot of things that are not for day to day use or things of sentimental value which we would never throw away. These objects need a separate section in the cabinet where they can be safely stored. You could also consider a section for heavy winter clothing, curtains, your wedding gown, tuxedos, and so on warrant only special occasions and as such need not clog your bedroom's wardrobe.
Everything should be readily accessible and neatly organized. Consult an expert for smart garage cabinet ideas in San Diego. Remember that the ultimate goal is to organize all your stuff and consequently organize your life.
Touch base with Garage Excell in San Diego and give your garage a makeover
If you have been tossing about some ideas in your head with regard to revamping your garage interior, drop your hesitation and give Garage Excell a chance to give your garage a spectacular makeover.
Our design specialists at Garage Excell come with years of experience to completely reengineer your garage interior and give it a transformation you had never anticipated. Don't forget that our design consultation is completely free. You have nothing to lose and everything to gain.
To schedule a visit and a design consultation with one of our team members for garage remodel in San Diego, give us a call at 877-573-6637 or request a quote online.